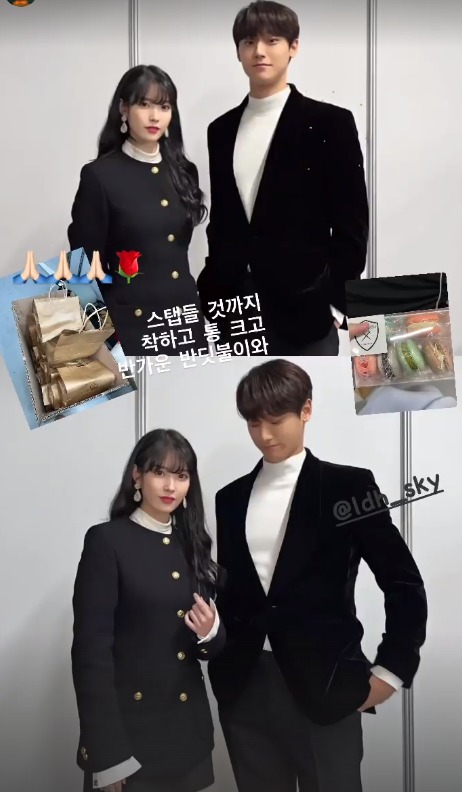 Hotel Del Luna actors IU and Lee Do Hyun reunited at the awards ceremony.
On the 10th, IU took to Instagram to thank her Hotel Del Luna co-star for his sweet and thoughtful gift when they reunited at the Golden Disc Awards this weekend.
Along with two photos that show the two posing together, IU also showed off a bag full of sweets like macarons that Lee Do Hyun had prepared for her and her staff. She then added the caption, "He even [brought] them for the staff." Even referring to their character's story in the drama, she added, "A kind and generous firefly came that I was so happy to see."
Since her Instagram Story had gone viral online, fans who have supported IU-Lee Do Hyun's romance in Hotel Del Luna showed enthusiastic responses. They left numerous comments wishing for their reunion in a project: "I'm going to hold my breath until you guys do a drama together again," "Chung Myung and Mal Wol, I'm crying," "I just love their chemistry."
Meanwhile, IU and Lee Do Hyun took part in the 36th Golden Disc Awards held on the 8th as a winner and award presented. On this day, IU won three awards, including the Digital Song of the Year, becoming the first artist in Golden Disc Awards history to win the award three times.
Translator Kim Hoyeun: If you are a fan of K-drama, K-movie, and K-pop, I am your guy. I will continue to provide you with up-to-date K-entertainment news.