Edited by Seo Hae Lan
Translated by Kim Hoyeun
Start-Up has drawn attention since the production announcement with the fact that Suzy and Nam Joo Hyuk have been cast in the "youth romance drama" that writer Park Hye Ryun and director Oh Choong Hwan joined hands for since the 2017 drama While You Were Sleeping. But now that drama has reached two-thirds of its story, there seem to be more criticisms than favorable reviews. How should we keep on watching this drama, which overshadows the actors' passionate performance with its absurd plots and development?
The most important storytelling within the drama starts with a lie. Fifteen years ago, Won Deok arranged a penpal with a boy named Nam Do San for her granddaughter Dal Mi. But the letter was actually written by Ji Pyung, a boy who was beholden to Won Deok, and Dal Mi has been in love with this "Nam Do San" in the letter for a long time. And now, from the moment Dal Mi insisted on taking Do San to a party, the lies that could have been just left as pretty memories started to spin out of control. Ji Pyung finds the real Do San and turns him into a "decent guy." And Do San falls in love with Dal Mi, who makes him out to be the most awesome person in the world, and actively engages in this "lie."
And the more these white lies pile up and the more people get involved in this, the setting that was just meant to be a dramatic device for the plot becomes heavy enough to pressure the drama's central theme, "life and love of the youth." The moment the truth needed to come out was pushed behind for various reasons. The emotions between characters have heightened, but voices of empathy for their choices have reduced significantly. Was the topic of "finding real Nam Do Sam" really something that needed to be dragged out till now?
Ji Pyung is very attractive and has a solid narrative, which is quite rare for a second lead. He is handsome, witty, capable, and someone who has the story of rag to riches. On the other hand, Do Man's character seems a bit incomplete. Not only is the business that takes his own name is about to go bankrupt, but he is also passive and is not really good at communicating with others. Compared to Ji Pyung, he is immature in both thoughts and minds, and his future looks dim at best. No wonder there are complaints asking why Ji Pyung isn't the lead or why the story revolves around the second lead rather than the first lead.
Their relationships with Dal Mi are also quite different. Ji Pyung advises Dal Mi so she doesn't get sidetracked, and she relies heavily on his words. He even shows a willingness to bend the principle as an investment associate for her. However, Do Sam grows up with Dal Mi. He tries hard to correct his passive attitudes and develop his own skills. He never lets what Dal Mi says go out the other ear and does his best to implement her ideas within his capacity.
This editor believes that the drama will be in line with its initial intention if Dal Mi's choice is Do San. Dal Mi will need someone to walk with once she stands on her own two feet. The mentor-mentee relationship between Dal Mi and Do Sam is unequal, but Do San and Dal Mi are equal partners. And yet, will it be persuasive if a character with all the "perfect storytelling for male protagonist" is not chosen? It's quite difficult for viewers to understand Dal Mi twinking her eyes at Do San without knowing the truth.
Wouldn't the character who changed the most from the initial intention is Won In Jae? Although her conditions and abilities are different from her younger sister Dal Mi, we thought she would be building up her own "story story" while fanning Dal Mi's growth. But up until the 10th episode, there are not that many moments when In Jae was spotlighted. As the drama mostly focuses on the story within Samsan Tech and the love triangle between Dal Mi-Do San-Ji Pyung, In Jae and Injae Tech are forced to take a minor role. For Start-Up to present In Jae as someone who has ambition, abilities and spirit, her role and her screen time are just too trivial.
While the story's pace and pace control and persuasiveness fall short of expectations, there is a reason why we still watch Start-Up. First, it gives room for every character to expand or jump over their limits. Finding out the truth, Dal Mi calmly looks into her confused heart. Do San relieves some of the weight after confessing his lie, and Ji Pyung reflects on his philosophy about his job after recalling the past he had forgotten.
Second, it encourages the process of finding the "best choice" rather than the "right answer." Like how Samsan Tech finds the best condition to implement image recognition technology while pondering over accuracy and lightweight, every character in this drama fiercely agonizes over the tasks and searches the path to the best choice. What choice will Samsan Tech make as they are about to be acquired by Silicon Valley company? What changes will be brought onto Dal Mi-Do San-Ji Pyung's love triangle and Dal Mi-In Jae's rivalry? I wonder the "best choices" that the characters will make in the chaotic world within the drama that confuses them in their choices, just like the reality.
Verdict: Is the drama also in its youth? It's fresh and beautiful but too strong (5/10)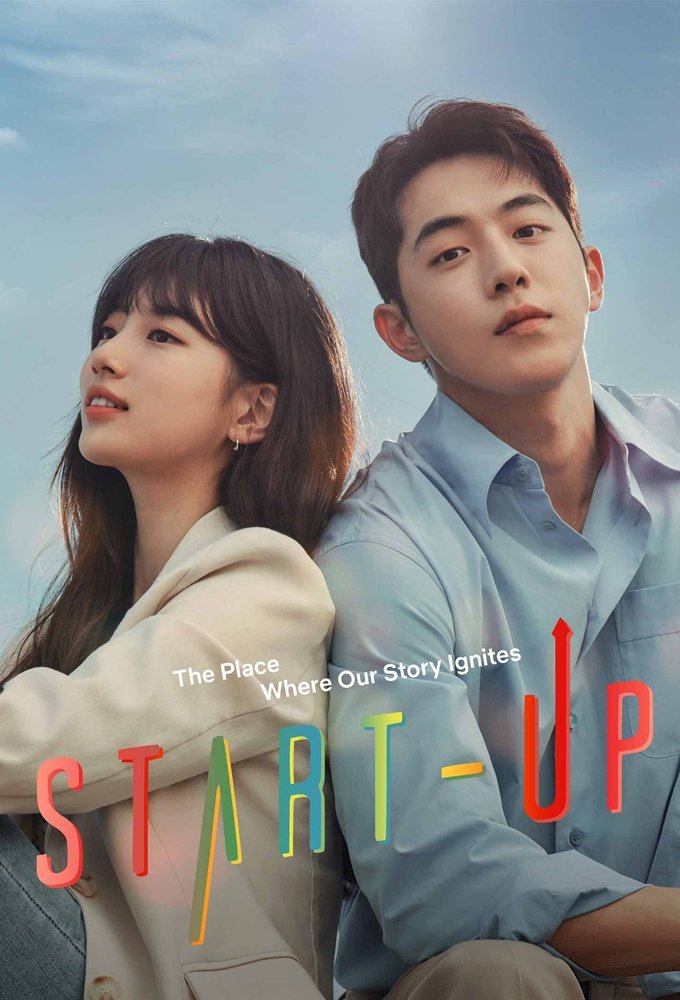 Start-Up (2020) - 11DB.IO
Set in South Korea's fictional Silicon Valley, START-UP tells the story of people in the world of startup companies.