The Twitter world has been blowing up with support for former MONSTA X member Wonho as #FightForWonho has been trending worldwide with fans speaking out against his contract termination with Starship Entertainment.
Wonho recently left the group after allegations of different issues were made by former reality star Jung Da Eun and Han Seo Hee, such as not paying back money, juvenile detention, and illegal activities.
Global and Korean fans alike were expressing their thoughts on the matter by using the hashtags, #FightForWonho, #StarshipWeWantAnAnswer, and #WeSupportMONSTAX.
What are your opinions about Wonho's contract termination?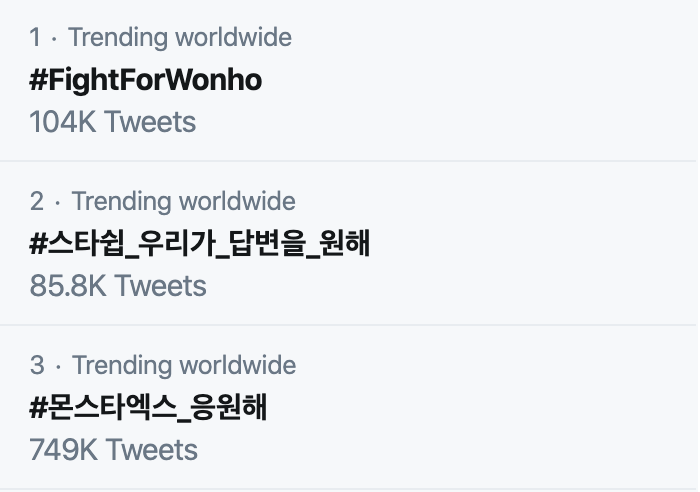 I just became a Monbebe, I'm not giving up one of my favourites. ❤️
7 – 1 = 0 #FightForWonho #스타쉽_우리가_답변을_원해 pic.twitter.com/HihBojHLxg

— Tamara (@ktamara18) November 1, 2019
WE WONT GIVE UP UNTIL WE WILL HAVE WONHO BACK @STARSHIPent @OfficialMonstaX #FightForWonho #스타쉽_우리가_답변을_원해 pic.twitter.com/RnqBKySmm6

— PLEASE WONHO STAY #원호사랑해 (@_radiantsoul_) November 1, 2019
Wonho still deserves his place in the group #FightForWonho #스타쉽_우리가_답변을_원해 pic.twitter.com/bnNnCTKyxs

— 𝒢𝓇𝒶𝓋𝒾𝓉𝓎 ⋈ ☔️ #원호탈퇴반대 (@45objectiff) November 1, 2019
Watch more of Wonho and all of MONSTA X here:  https://www.ondemandkorea.com/k-pop/artists/monsta-x