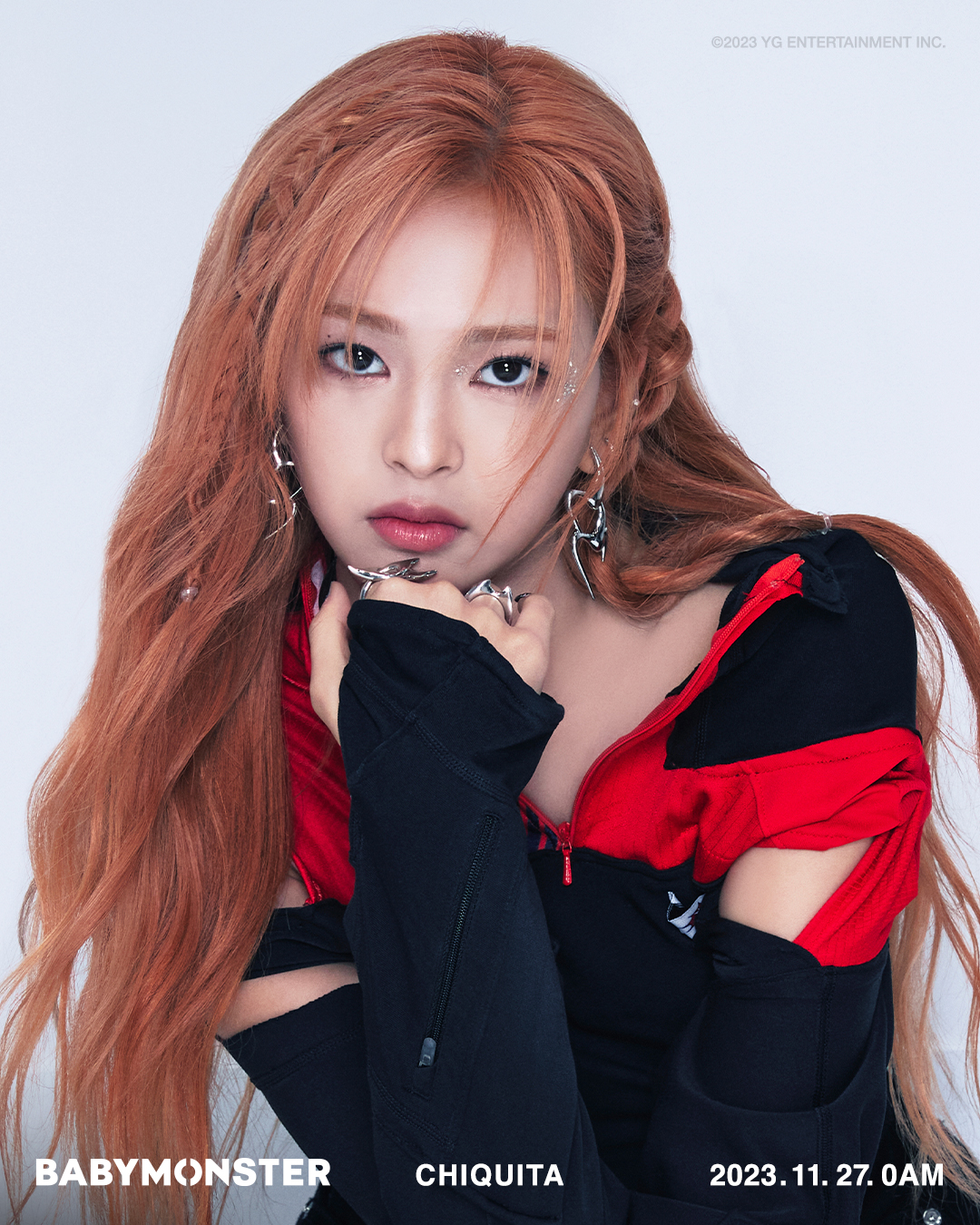 YG's new girl group, BABYMONSTER, has confirmed their debut on the 27th, and the first member to be revealed is Chiquita.
Chiquita immediately captured attention with her untouchable aura. Her hair dyed in vibrant orange, paired with black and red street fashion and high-top shoes, adds a hip charm to her look. This reveal has sparked curiosity about the yet-to-be-revealed debut song concept. Chiquita, who has shown growth since her earlier appearance in the debut reality show, draws interest to the other members who will be unveiled sequentially.
#BABYMONSTER VISUAL PHOTO | CHIQUITA

✅2023.11.27 0AM (KST)#베이비몬스터 #CHIQUITA #치키타 #VISUAL_PHOTO #DEBUT #20231127_0AM #YG pic.twitter.com/i542qmsx8r

— BABYMONSTER (@YGBABYMONSTER_) November 12, 2023
Born in 2009, Chiquita is the youngest member and has been introduced as YG's next-generation artist from Thailand, following in the footsteps of BLACKPINK's Lisa. Praised for her unlimited potential, including star quality and solid musical prowess, Chiquita joined the BABYMONSTER project just three months after becoming a trainee.
Meanwhile, BABYMONSTER is YG's first girl group in about seven years since BLACKPINK. Comprising members from Korea, Thailand, and Japan, they are noted for their exceptional vocal, dance, rap, and visual capabilities, already making them a "monster rookie" in K-pop. Even before their debut, their official YouTube channel has already amassed 3.17 million subscribers, with total views exceeding 450 million. Billboard has spotlighted them as "K-Pop Star to Watch," anticipating they will bring a new wave to the K-pop genre.
The group will make their grand debut on November 27th. The music video, shot over five days, is a culmination of YG's expertise, showcasing each member's individuality and the team's identity.
Source (1)