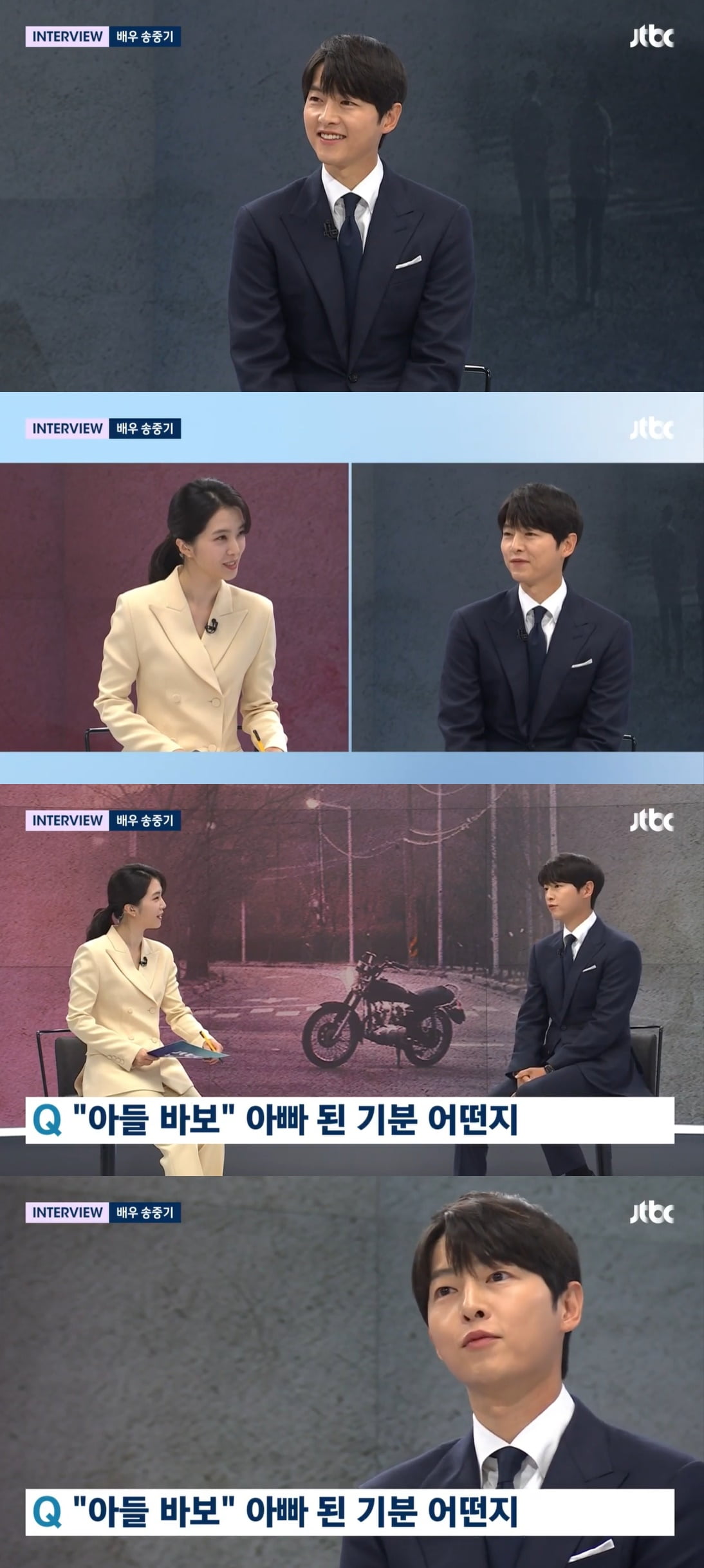 Song Joong Ki shared his glee in fatherhood.
Appearing on JTBC's Newsroom, the actor not only talked about his movie Hopeless but also gave a heartwarming glimpse into his new delightful family life.
Hopeless made its world premiere at the 76th Cannes International Film Festival's "Un Certain Regard" section back in May, where it was met with rave reviews from both the media and critics alike. The film was recently showcased at the 28th Busan International Film Festival as its Asian premiere. In it, Song Joong Ki plays a mid-level crime boss named Chi Geon and has passionately committed to the film, even going as far as to forgo his fee.
Interviewer Kang Ji Young then steered the conversation towards fatherhood, asking, "You became a father last June. I read the articles, and you've shown immense love for your child. What was it like when your child was born? I bet you'll look for things about him resembling you."
Song replied, "I really do. I frequently hear, 'His lips look a lot like yours.' Eight out of ten people say that to me. So, I tend to look closely at his lips. When I hear that, it feels good, fascinating, and still kind of surreal. 'Have I really become a father? Do I have a son?' It's still mind-blowing."
When quizzed on what fatherhood has been like so far, given that it's been a little over 100 days, the new dad shared, "My wife and I think we're doing a pretty good job together. We cheer each other on, and it's an incredibly rewarding experience. These days, I'm just filled with happiness."
So, whether he's stealing scenes in a crime drama or simply soaking up the joys of fatherhood, it seems that Song Joong Ki is winning on all fronts.
>> Song Joong Ki Finally Addresses His Comment About Parenthood and Losing Jobs
Source (1)