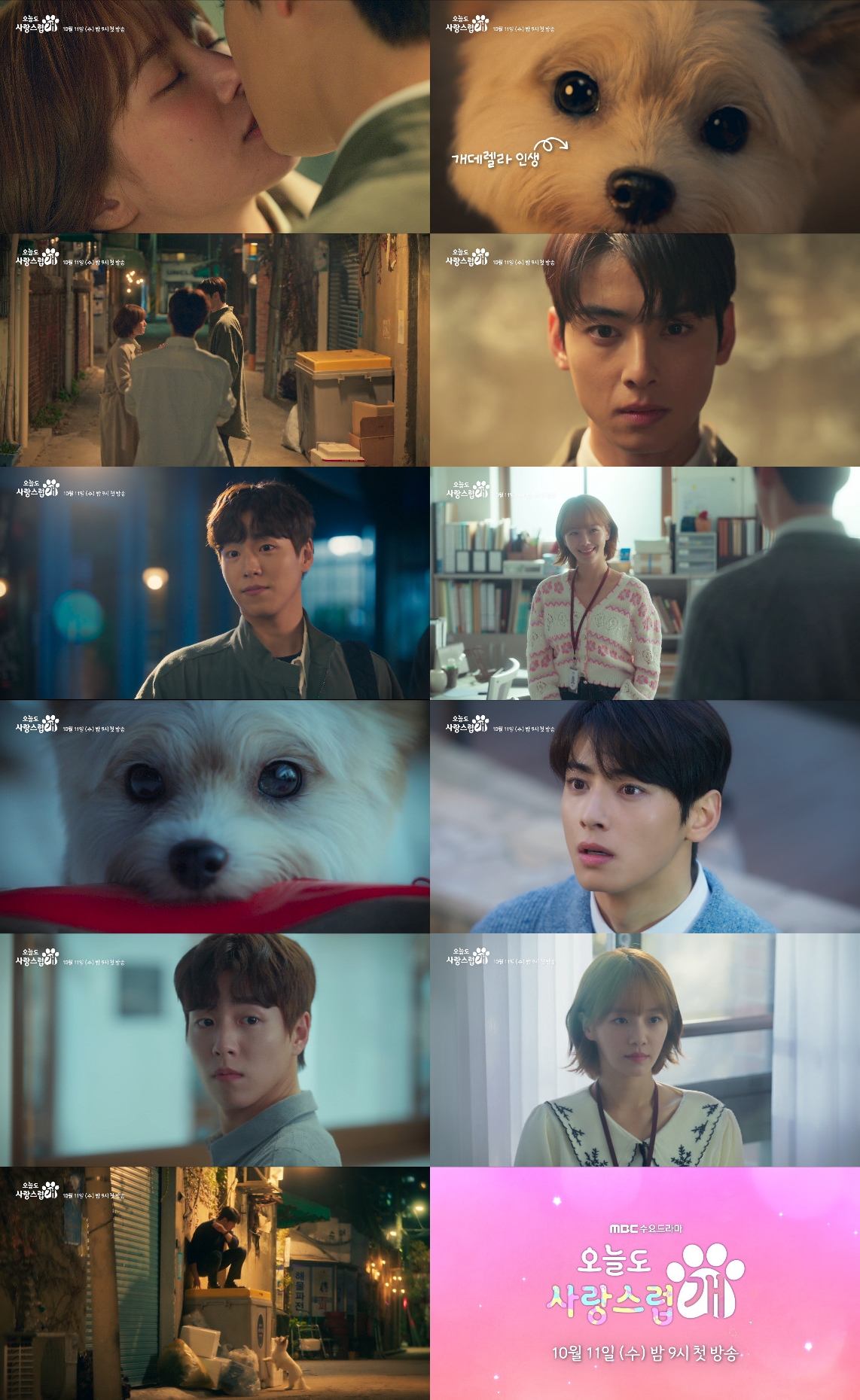 Get ready for a romance that'll make your heart—and tail—wag! MBC's new drama, A Good Day to Be a Dog, revolves around a special curse that entangles the lives of Cha Eun Woo (as Jin Seo Won), Park Gyu Young (Han Hae Na), and Lee Hyun Woo (as Lee Bo Gyeom).
The drama has dropped its third teaser, showcasing the intricate dynamics among the trio. The teaser dropped today has particularly caught attention for featuring a kiss between Cha Eun Woo and Park Gyu Young.
Hae Na is cursed to turn into a dog if she kisses a man, and her eyes widen in shock as she ends up kissing Seo Won, not her long-time crush Bo Gyeom. This lands her in a nightly canine transformation from midnight until 6 AM, and the only way to break the curse is another kiss with Seo Won. Needless to say, she's feeling pretty overwhelmed. Her "puppy eyes" as Dong Hae Na are making everyone's hearts skip a beat.
As the chemistry between Hae Na and Seo Won heats up, a watchful Bo Gyeom cryptically notes, "To grow distant, we need to get closer first." Towards the end of the teaser, Hae Na vows, "I have to kiss him again today," and struggles to muster the courage for a second smooch in her dog form. However, Seo Won's fear of dogs gets him to scamper atop a trash can, inducing laughs all around.
Will Park Gyu Young successfully plant another kiss on Cha Eun Woo to break her furry curse? The anticipation for this "pawsitively captivating" romance is skyrocketing.
Meanwhile, A Good Day to Be a Dog will air its first two episodes on October 11th at 9 PM KST.
>> Cha Eun Woo on Why He Chose to Star in 'A Good Day to be a Dog'
Source (1)