Jeon Yeo Been, the leading lady of the Netflix series A Time Called You, gave us the inside scoop on the series in an interview this morning. The show, a remake of the popular Taiwanese drama Someday or One Day, features Jeon Yeo Been as Jun Hee, a woman mourning her late boyfriend who unexpectedly finds herself transported to 1998. There, she encounters two men—Shi Hun, who bears an uncanny resemblance to her late love, and his friend In Kyu.
When asked about her chemistry with co-stars Ahn Hyo Seop and Kang Hoon, Jeon gushed, "Hyo Seop and Hoon are both such nice guys. I knew Hoon was a fun guy, especially after his recent variety show appearance. Their synergy was really off the charts. They were definitely the mood-makers on set."
Buzz has been building about Ahn Hyo Seop's shocking visual as a 40-year-old Shi Hun, and Jeon had thoughts. "Hyo Seop has a towering presence, making anything he does look cool. There have been some skeptical responses about him as a 40-year-old, but I never imagined that. We wanted to show a weary, worn-out side of him. He looks great in other timelines, so I accepted the transformation smoothly."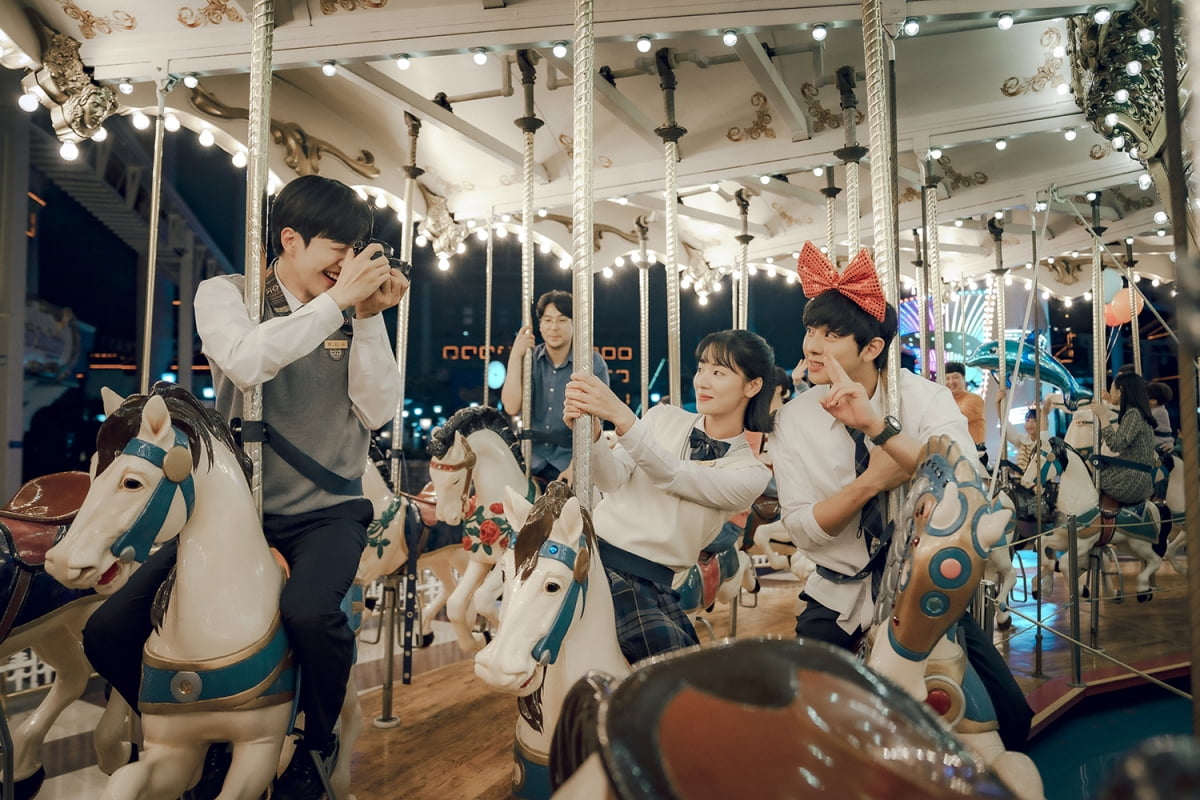 As for which timeline made her the happiest, she said, "The ending was especially happy for me. When Min Ju and In Kyu look back on their dreams and muster courage together. I also like the final moment when Jun Hee and Shi Hun meet after the bus ride after all the memories are gone. I love the last timeline."
In a drama filled with tender moments and time-travel complexity, Jeon confessed that the rooftop scene was challenging due to strong winds, requiring a change in location. "Our final trip was in Jeju Island, and (shooting there) was a race against time. Whenever we filmed kissing scenes, people would shout 'Oh my God!' around us. It took a lot of focus to stay in the moment (laughs). I had to think of parting ways with Si Heon despite all the cheers."
When probed about why she was drawn to the complicated narrative, the actress mused, "Though the story is complex, the human quest for love is universal. Even if love flows in a predestined or inevitable way, the desire for that one person to recognize it is something I believe we all share."
With a tale of love that transcends time, along with the laughs and challenges that come with bringing it to the screen, A Time Called You will be your next Netflix binge.
>> 'A Time Called You' Audience Reactions: 'Most Beautiful Drama of the Year', 'Captivating Yet Confusing'
Source (1)