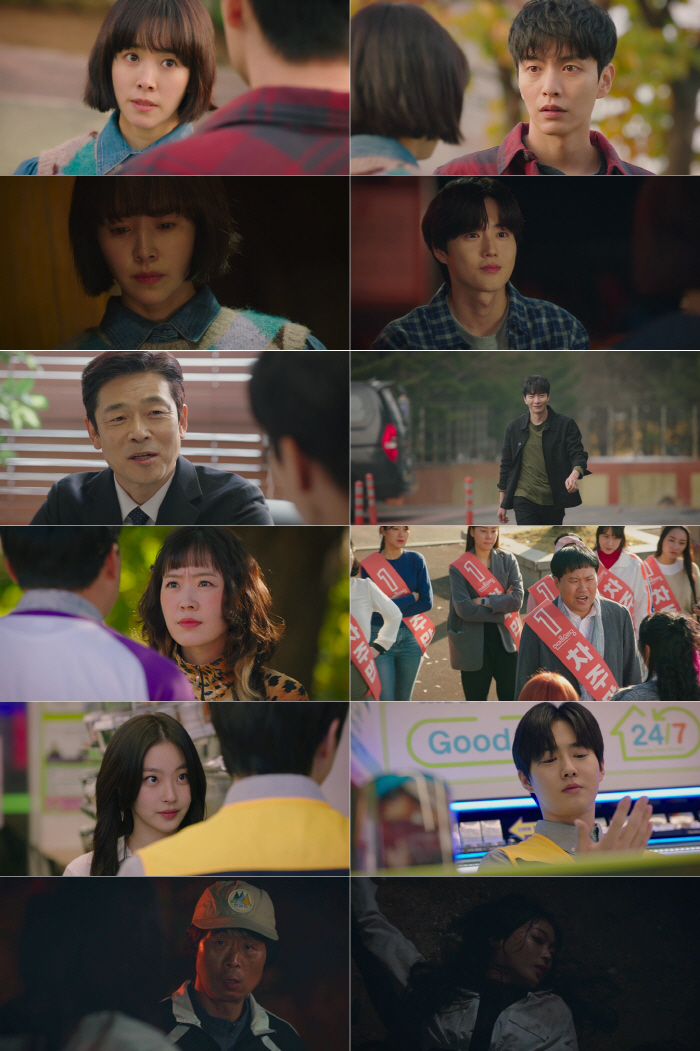 In Episode 4 of JTBC's Behind Your Touch Bong Ye Bun (played by Han Ji Min) becomes perplexed upon uncovering the harsh truth about her grandfather.
This show is mature content 🤣😂😭#BehindYourTouch #BehindYourTouchEp4#kdrama pic.twitter.com/cD6sySwh6H

— Oo_Womanyiaa (@KDramaWomaniya) August 20, 2023
jangyeol : "okhui-ssi, how to tell if she's lying?"
okhui : "she can't look straight to people's eyes when she's lying!"

and jangyeol just casually force yebun to look straight at his eyes hdjshsjsj 😭😭😭#BehindYourTouchEp4#BehindYourTouch pic.twitter.com/iGUEMVJYol

— ☘️ (@rainsketches) August 20, 2023
Ye Bun continued to explore her superpowers through experiments, while Moon Jang Yeol (Lee Min Ki) dedicated himself to solving cases to fulfill his dream.
During his quest, he found out that someone had stolen the list of supporters for National Assembly member Cha Joo Man (Lee Seung Jun). Determined to uncover the truth behind the incident and regain his position at the Seoul Metropolitan Policy Agency, he embarked on a mission to resolve the matter.
These two are the best running gag in #BehindYourTouch for real 🤣#BehindYourTouchEp4 pic.twitter.com/baMJOlgmQ2

— frankie (@kdramamementos) August 20, 2023
They turned this drama into "Howmany butts can you touch challenge" This scene was done on crack. How come writer came with this idea 😭🤣#BehindYourTouch #BehindYourTouchEp4 pic.twitter.com/iGnfc5Np3b

— Lee Yun (@LeeYunnes) August 20, 2023
Following Ye Bun's request, Bae Ok Hee (Joo Min Gyung) and her friends created a scene on the campaign site. Amidst this chaos, Ye Bun used her psychic abilities to uncover what truly happened on the day of the incident. The surprising truth came to light: her own grandfather (Yang Jae Seong) had taken the list of sponsors.
Yet, this was only the start of a string of revelations. Popular online streamer Xia (Choi Hee Jin) was suddenly kidnapped and visibly terrified before an unknown attacker, who she seemed to recognize. Viewers are now left wondering about the real identity of the culprit.
girl literally spit a bubble gum out of her mouth just so she could touch her crush butt😭😭😭 A for effort😭👍🏻#BehindYourTouchEp4#BehindYourTouch pic.twitter.com/EIwKxVhFPd

— ☁️ (@kdramacokr) August 20, 2023
I squealed at this part. I MEAN WHO DOESN'T? Is he interesting in #BongYeBun like we thought or there is something behind it? 🤔 I can't tell which one but I can say I admire looking at this man 😍#BehindYourTouch#Suho#KimSeonWoo#HanJiMin pic.twitter.com/OkItNaNCuG

— 👈🏻 e_xiu_o 💕 (@minseoksgirl) August 20, 2023
Meanwhile, Bong Ye Bun and Kim Seon Woo (Suho) grew one step closer. During a conversation, they discovered that both of them grew up without mothers. Seon Woo shared that he arrived in Moo Jin because his mother had mentioned that the hometown had clean air and was a good place to live. When he confessed to having a crush on someone, Ye Bun felt a mixture of shyness and relief, entertaining the thought that she might potentially be the one.
//spoliers//

I'm kind of positive about two theories:

1. seonwoo is the real grandson of the grumpy grandpa, not yebun
2. seonwoo whacked the annoying piece of sh!t vj girl

what do you guys think? 🤔#BehindYourTouchEp4#수호와_힙하게_3회#SUHO_BehindYourTouch pic.twitter.com/DzaH6mYkgx

— Iris ✴︎ (@cottoncloud0522) August 20, 2023
>> 'Behind Your Touch' Stars Han Ji Min and Lee Min Ki Share a Laugh with ELLE Korea
Source (1)