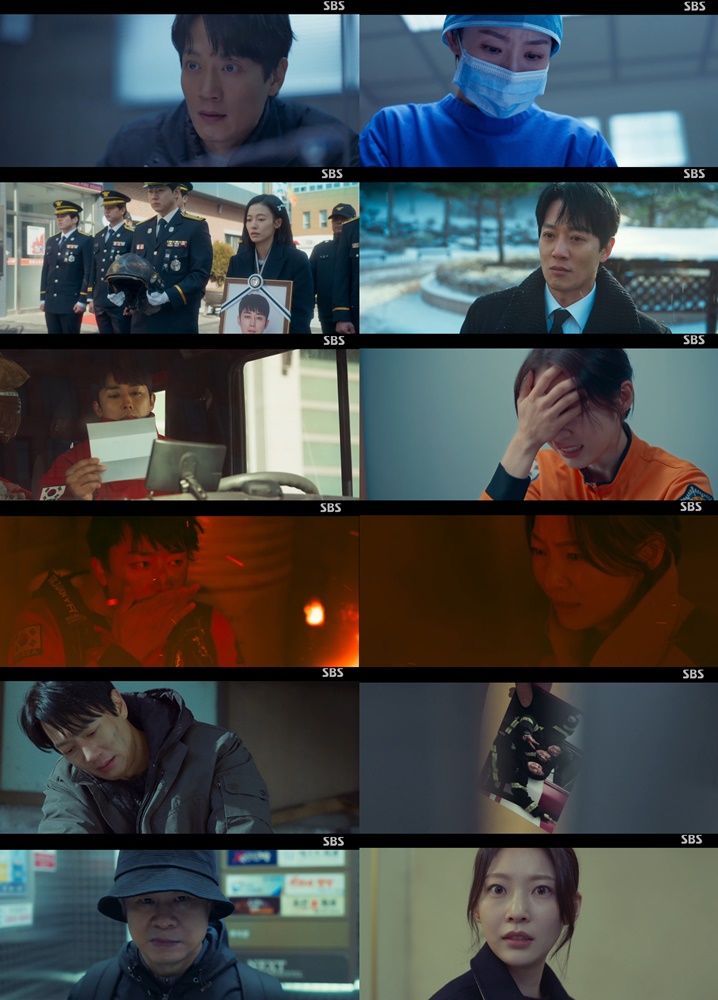 The First Responders 2 is currently facing a wave of criticism following the unexpected death of its main character in the third episode. Viewers are expressing their disappointment over how the show killed off a character too soon, treating them as if they were just an insignificant extra.
During the episode that aired on August 11th, audiences were left in utter disbelief as Bong Do Jin (played by Son Ho Jun) met his demise in a fiery explosion. Even in a life-threatening situation, Do Jin was portrayed giving his all to gather evidence against a serial arsonist. The dramatic turn of events prompted a swift and negative reaction from a significant portion of the show's audience.
Comment sections are now flooded as viewers voice their concerns, with remarks like, "I can't even picture the show without Bong Do Jin," "His death can't be real, right? Please tell me he'll miraculously return in the next episode," "How could they let him die? The heart of the series lies with Song Seol and Do Jin," and "Unbelievable, why would they subject the main character to such a tragic fate?" The sudden loss of the lead character has clearly struck a chord, prompting passionate discussions about the show's direction.
I'm not okay. and maybe I'll never be. #TheFirstResponders2Ep3 #TheFirstResponders2 pic.twitter.com/6TxsltNiE9

— yooonie 🥢 #heartbeat era (@yooooooooonie) August 12, 2023
I DIDN'T WAIT FOR S2 TO HAVE THIS FVCKIN PLOT?!?!??!?!!! THIS IS NOT FUNNY AT ALLLLLLL 😭😭😭😭😭😭😭😭#TheFirstResponders2 #TheFirstResponders2Ep3 pic.twitter.com/cHIrpycLGk

— liy (@kimyoungdaes) August 11, 2023
This is beyond shock, to kill off the main lead in just episode 3. Why was he even placed in the main role roster if only to be killed this early on? I had initially thought this could be a plan to make him look dead to catch the serial arsonist, #TheFirstResponders2Ep3 pic.twitter.com/ccmsX6ZU1S

— Gorgeousbabe11 (Anj Alfieri) (@Gorgeousbabe113) August 12, 2023
no one believes this, either do I. he's leaving too soon. wanna keep denial that he stay alive. but for now I want to say, you returned for good, fly away peacefully, Bong Dojin.#TheFirstResponders2#TheFirstResponders2Ep3 pic.twitter.com/V3VLZMXsYD

— tsab. (@moontalkabit) August 11, 2023
In the fourth episode, the serial arsonist is finally apprehended, while Song Seol (Gong Seung Yeon) mourns Do Jin's death. Despite Jin Ho Gae (Kim Rae Won) expressing his love, Seol declines to accept his confession.
hogae was the one who removed the ring from dojin and put in on seol…

dojin's dream came true either way and hogae's playing fair till the end…….. honestly, i never asked to be hurt this way 😔😔😔😔😭😭#TheFirstResponders2Ep3 #TheFirstResponders2 pic.twitter.com/fRbEpx2v8W

— ☁️ (@delunaluv) August 11, 2023
During a previous interview, Son Ho Jun was questioned about how he felt about his character's death in the series. He responded, "It was tough keeping the story under wraps. Everyone I met asked me if I was going to die in the new season even before it aired. The strong affection and support for my character really reflect how viewers feel about real-life firefighters. To be honest, I'm not disheartened about Do Jin's death in Season 2, as I was already aware of it. Nevertheless, it's saddening to bid farewell to such an amazing cast and crew that I've worked with on the show."
>> Will 'The First Responders 2' Recover From Its Untimely Character Death?