Song Hye Kyo's sincerity in her craft is resonating with audiences like never before, and her ardor recently translated into a Baeksang trophy.
On April 28th at the 59th Baeksang Arts Awards, the seasoned actress took home Best Actress (TV Series) for her role in the Netflix series The Glory. While Song has graced countless award stages in her illustrious career, her emotion that evening was palpable. Amid chuckles, she playfully paraphrased a famous line from the show, saying, "I won the award, Yeon Jin. I'm so thrilled right now." Her candid confession, "I really wanted to win this," garnered a thunder of applause.
In an interview with JTBC, Song shared her heartfelt sincerity. "It's not so much that I wanted to win this award because I did well. I was part of a truly wonderful production, alongside talented actors, a gifted director, and an inspired writer. I wanted to share this joy with them then," she shared.
When probed about the challenging journey of her role in The Glory, the actress mused, "It was more of an adventure I had been longing for. Finding a character and a story I so fervently desired wasn't easy. I waited for a long time." She added, "There were moments of doubt, wondering if I was portraying the character right. But I still had fun. Despite the worries and doubts, the experience was refreshing, fun, and exhilarating. I believe that came through to the audience."
Recalling the most challenging moment on set, Song reminisced about a particularly emotional scene with Dong Eun (the role she played) and Dong Eun's mother. "It was both physically and emotionally taxing. We filmed from morning to night. And by the end of the day, I felt utterly drained."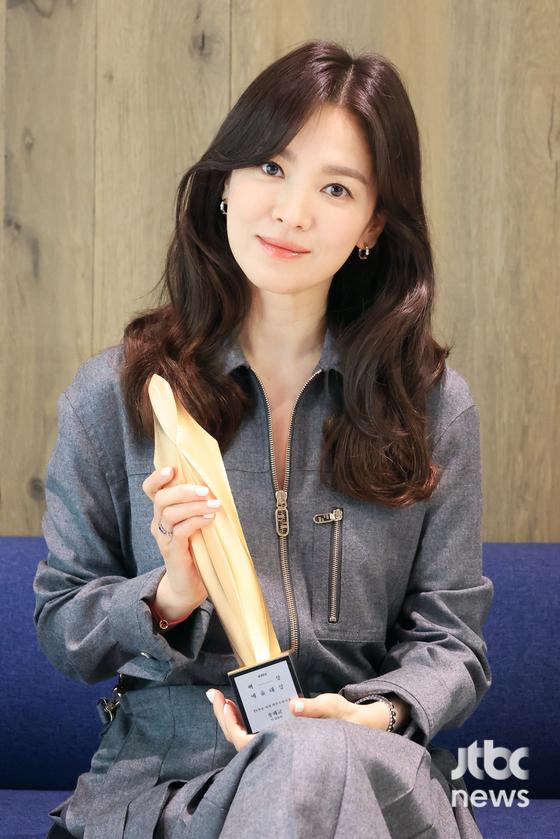 Discussing the intricacies of acting as she matures, Song reflected, "In my 20s, I thought acting might get easier as I grew older." She added, "But as I age, so do my characters, and it becomes even more complex. I might be able to portray a character in her 20s if my appearance allows since I've lived that phase, but looking forward, there's uncertainty about how characters my age would live, which requires research and understanding. That's what makes it challenging."
As for what the future holds, the actress hinted at her eagerness to return to the screen. "While no specific project has been decided yet, The Glory reignited my passion for acting. I want to get back to the set and act. I'm keen to get back on set soon and am actively searching for the right script."
Source (1)