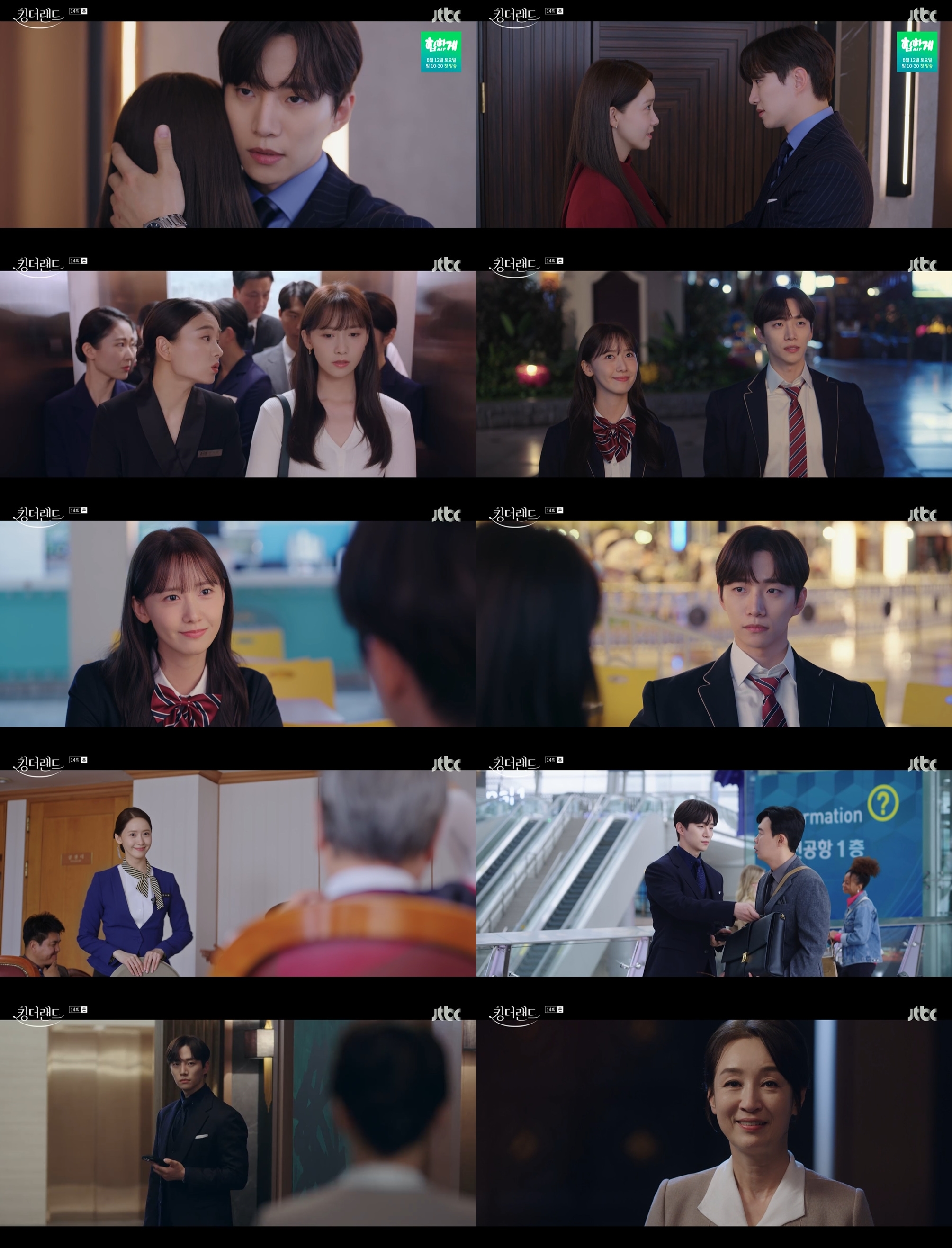 In Episode 14 of JTBC's King the Land, Goo Won (played by Junho) and Sa Rang (YoonA) faced a crisis as their relationship was exposed to the public.
Employees : How did she made Head Manager fall for her
Gu Won : "I fell for her first are you satisfied now ?" 💘
YOU TELL THEM GU WON 🔥#KingTheLand #KingTheLandEp14 #킹더랜드 #LeeJunho #Junho #이준호 #LimYoona #YoonA #임윤아pic.twitter.com/a2H4DnkTLI

— Daisy loves KING JUNHO ✨ (@daisy_talks) July 30, 2023
A picture of the two embracing each other made headlines, causing a stir on the Internet. Goo Won came across the articles and tried to protect Sa Rang's identity from being revealed online. However, all his efforts went down the drain due to Goo Hwa Ran's (Kim Seon Young) scheme. Meanwhile, Goo Il Hoon (Son Byong Ho) stripped her of all her positions upon discovering her intention to bring her younger brother down by scandal.
the reason why king the land is such a good rom com is because it so easily avoided an unnecessary breakup and instead gave us such happy content of them being couple and like no unnecessary angst 😭#KingTheLand #KingTheLandEp14 pic.twitter.com/ZkQ15m2S7O

— rishi ☾ DP brainrot (@_choikangho) July 30, 2023
The way he held on to the rope, screeched when the bar came down and just teared up while stunned… 😅😅😅 As a wimp myself when it comes to rides, I relate to Guwon at the most basic level. 😄😄#KingTheLandEp14#이준호 #LEEJUNHO #임윤아#준호 #JUNHO #YoonA#킹더랜드… pic.twitter.com/EE9rBVH5Bc

— 💛NuneoLove🌻 (@NuneoLove1) July 30, 2023
No matter what kind of situation Sarang found herself in, she will never lose her smile and her sincerity in wanting to make the day a happy one for all the guests #임윤아 #LimYoonA #윤아 #YoonA #KingTheLand #킹더랜드 #CheonSarang #천사랑 #KingTheLandEp14 pic.twitter.com/nEAWkUAr4j

— Mystarmyangel (@mystarmyangel) July 30, 2023
Chairman Goo also asked Sa Rang to stay at the King Tourist Hotel, a place where employees who have made mistakes were usually sent until things were settled. However, she didn't inform Goo Won about it as he had an important event to attend.
Upon his return from a business trip, Goo Won hurried to King the Land to see Sa Rang, but she was nowhere to be found. When he asked employees about her whereabouts, he received no answers other than the fake smiles on their faces, which triggered traumatic memories from his childhood. Despite facing emotional turmoil, he eventually discovered that Sa Rang was at the King Tourist Hotel.
My heart breaks seeing Guwon facing the very thing he fear the most that's the possibility of losing track of the one he loves as people just smile at him

on top of that he just happens to find his lost mother he must be going tru so much 😭#KingTheLandEp14 #Yoona #Junho pic.twitter.com/S1MPGOaox2

— 𑣲🏰 (@KJS1O3) July 30, 2023
This whole scene *screams* Junho you are such a good actor. His eyes alone conveyed so much in that small amount of time #KingTheLand #KingTheLandEp14 pic.twitter.com/E16a6FzVlv

— SHA (@SHA88SO) July 30, 2023
He went off to see Sa Rang but soon encountered his mom, Han Mi So (Nam Gi Ae), on his way. Viewers are curious about what will happen next as he finally meets his mother, whom he has missed for a long time.
>> Junho's Dazzling Performance in 'King the Land' Sparks Gu Won Syndrome
Source (1)