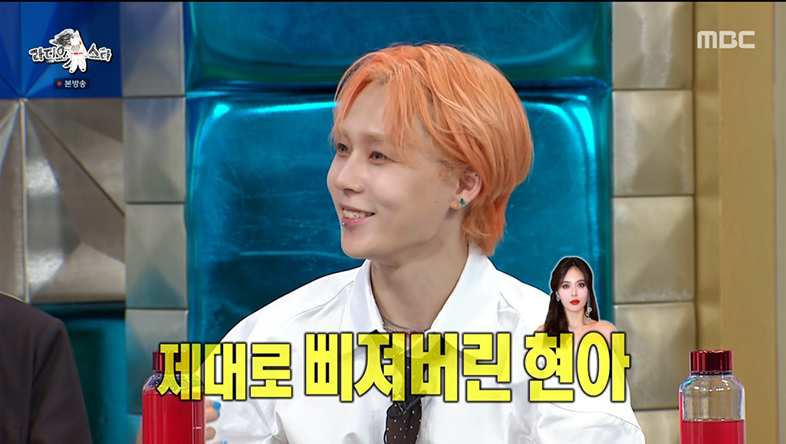 Dawn made a guest appearance in the latest episode of MBC's Radio Star and showed his unfailing love for HyunA. Kim Jong Min, Honey J, Dawn, Jo Kwon, and Meenoi guest starred in the "Why Dance Geniuses" special.
In the show, Dawn shared a story about how HyunA suddenly sang him a strange song she heard from her label mate, Jo Kwon. Jo Kwon responded, "I think she's referring to back when we were both still trainees at JYP Entertainment. I was a middle schooler, and she heard me singing along to NSYNC's "Pop."" He then jokingly added, "You know what else she likes? She loves reading shop signs backwards."
Also, the former member of PENTAGON shared that his girlfriend looks similar to his mother. He also revealed that his mother is passionate about doing many activities, including starring in a movie as an extra, running a belly dance academy and learning free-diving.
The former Pentagon member revealed the story behind the proposal ring he gave to HyunA. He said, "I was planning to surprise her with the ring, but then she asked me, 'We don't do rings?' So I had no choice but to give her the ring. But the ring did not fit her finger and the design was awful." He added, "I proposed to her again to make it up to her, with a decent ring this time."
When Kim Gook Jin asked him, "Have you guys set a date for your wedding?,' Dawn showed his love for his girlfriend and answered, "I always think HyunA is the love of my life and that I want to marry her. We both are the type of people who would marry each other if the time allows us." Hearing him, Kim Gu Ra gave him a warm applause and said, "We should congratulate them on their future wedding."