Jeon So Min's witty response to a hate comment became a hot topic.
Recently, Jeon So Min posted a short clip of her playing in the water with Haha on her Instagram along with the caption, "A kind brother who's playing with his little sister. Let's watch 'Running Man' then 'Cleaning Up'!! On SBS at 5 PM and on JTBC at 10:30 PM."
On the 5th, two days after she posted it, a hater wrote the comment "Please, get out Running Man" with three fire emoticons. Judging from poor English, it's suspected that it was written by an overseas Running Man fan.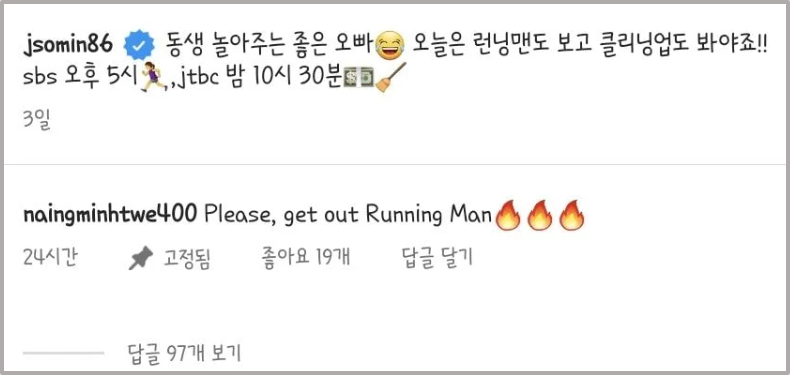 Jeon So Min pinned the comment, making all those viewing the post see the comment.
Jeon So Min joined Running Man as the new regular member with Yang Se Chan in 2017 and brought new energy into the show. However, she's been receiving hate comments from the fans who supported "only the original cast members."
Back in 2020, the Running Man production team closed its viewers' bulletin boards "due to abusive language, excessive slander, and impersonation of the cast. We ask for your understanding."
View this post on Instagram

Source (1)