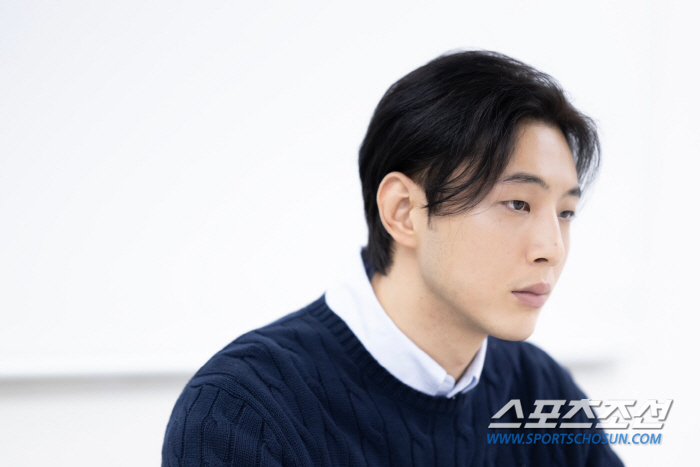 Ji Soo had found himself ensnared in a school violence scandal before immediately enlisting in the military.
>>The Alleged Victims Who Accused Ji Soo of School Bullying Found Not Guilty
After serving about two years fulfilling his national duties, he's back. When asked if he felt wronged, Ji Soo confessed, "If I said I didn't feel wronged, that would be a lie. Rumors about things I never did were accepted as truth."
What hit hardest was the sexual assault allegations. Despite being debunked at the time, the charges heaped fuel on the fire of the existing bullying scandal, causing further damage to his image. In March 2021, a comment that read, "Remember how you sexually assaulted a girl when you were a senior in high school? I'm her husband," appeared on Ji Soo's Instagram. After the news made headlines, "I am the person who wrote the 'husband' comment. I am now humiliated because this became news. I never imagined reporters would run with this without verifying the facts. Please take down the related articles."
The gravity of the situation escalated rapidly as news outlets picked up the story. However, the commenter quickly recanted. "I am the person who wrote the comment claiming to be her husband. I'm humiliated that this has made headlines. I never thought journalists would run with this without verifying the facts. Please take down the related articles." Ji Soo's agency also received a message. "Please tell Ji Soo I'm sincerely sorry for posting that comment in the heat of the moment after reading articles about school violence. I'll do my utmost to correct and remove each article," the commenter stated.
Just as when the first allegation dialed down, another allegation arose. This time, the writer claimed Ji Soo had sexually assaulted a 13-year-old middle school girl only recently. Ji Soo's legal team expressed their intent to take action, and the writer also expressed remorse. "When I got my draft card, I projected my anxieties about military life onto Ji Soo," he wrote. "​​I ended up writing a damaging post that has caused Ji Soo irreversible harm. While I know it's like crying over spilled milk, I do regret it."
A particularly shocking episode involved a rumor that Ji Soo had engaged in indecent behavior—peeing—inside a classroom. "Could something like that even happen?" Ji Soo mused, wearing a dejected expression. To make matters worse, MBC's investigative program True Story even floated rumors that he had masturbated during class in elementary school. The actor responded, "Elementary school is co-ed. How could anyone do such a thing during class?" Ji Soo categorically stated these rumors were "false."
All these allegations traced back to a post by A, who initially claimed that "Ji Soo and his gang of bullies ostracized me after stealing gift certificates." Ji Soo reflected, "I met A, and we talked for a long time. It turns out A thought I was part of the bullying because I was friends with B, who was actually involved in the gift certificate incident. We clarified misunderstandings, and A now knows I didn't do it. I still apologized because, while I wasn't involved, it's true I was friends with B. I want to apologize to other friends as well."
School bullying is undeniably a grave issue, but so are fabricated allegations. All the rumors that spiraled out of control in 2021 turned Ji Soo into a monster. Jisoo opened up in a remarkably composed manner, "I wish these ludicrous stories could be corrected. My drama was on-air at the time. I had to quickly apologize and step down."
Jisoo and A have since cleared the air and resolved any lingering animosities. Now, the two have evolved to a point where they occasionally keep in touch. A expressed remorse and regret over how his post escalated into numerous malicious rumors. "We've reconciled and are now supporting each other. I hope things get better for Ji Soo," conveyed A.
Source (1)