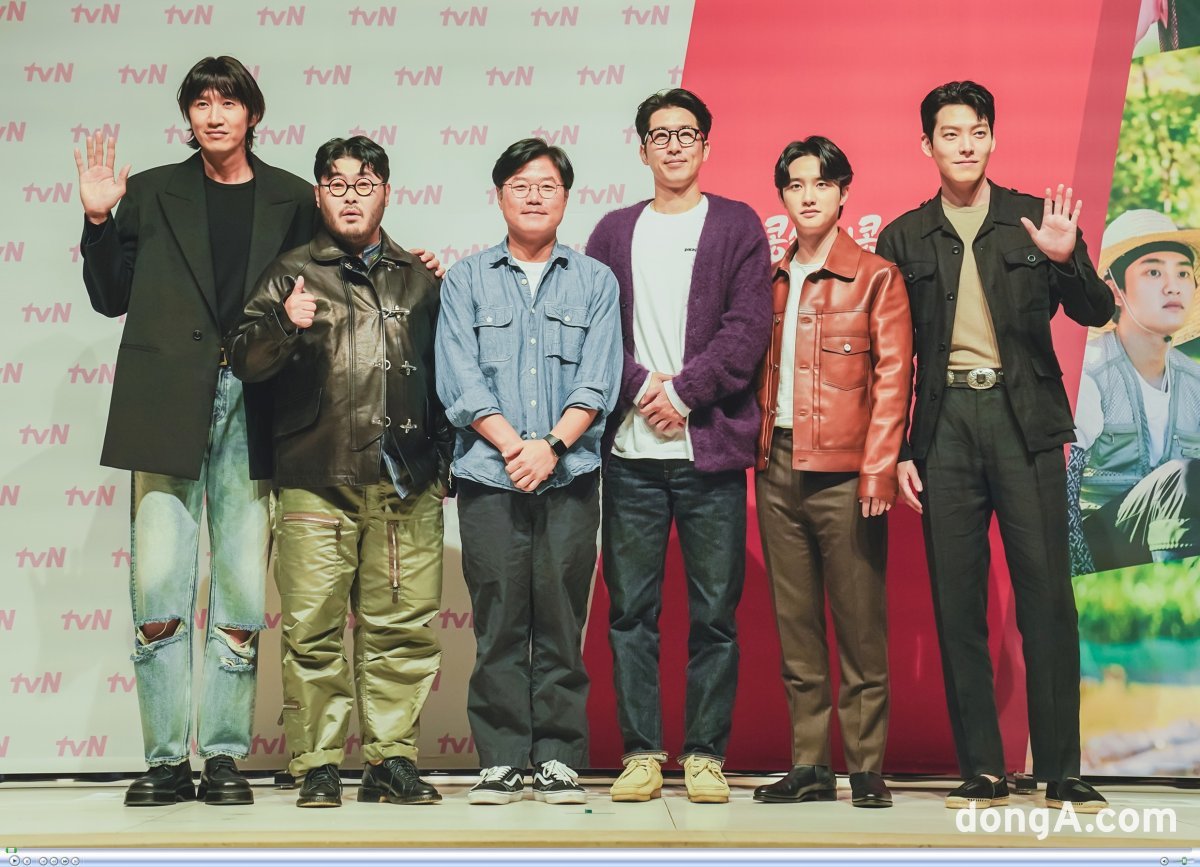 Kim Ki Bang, Lee Kwang Soo, Kim Woo Bin, and EXO's Do Kyung Soo are already famed BFFs in the entertainment world. However, these amigos got to "rediscover" one another during their summer filming of the tvN show Green Bean, Red Bean. Having taken on the task of farming a whopping 16,520 square meters for the first time, the gang quipped at a recent press conference held on the 11th, "We were surprised to discover hidden layers of the friends we thought we knew so well."
>> Kim Woo Bin, Do Kyung Soo, and Lee Kwang Soo's Exciting New Variety Show Confirms October Airing Date
The genesis of the show came from their own chit-chat. Earlier this year, Kim Woo Bin floated the idea of doing "something new together." Lee Kwang Soo directly pitched the idea to Producer Na Young Seok, the creative mind behind shows like Three Meals a Day. "When I gusted on tvN's Unexpected Business for Cha Tae Hyun and Jo In Sung, I had to check how they were doing, so it was a bit stifling. Now that I'm one of the older ones, the level of comfort I experienced was unparalleled," Lee Kwang Soo exclaimed. "We did, however, have some bickering while farming in the scorching heat. It's been a while since I've seen grown adults squabble like that."
Kim Woo Bin, making his regular variety show debut, shelved his usually charismatic persona behind the flower-printed work clothes. "I'm both nervous and excited. When I said we shouldn't do season 2, it's because I think we should go all the way to season 7. I'm eagerly awaiting Fridays filled with excitement," he expressed.
Na Young Seok couldn't contain his surprise at Do Kyung Soo, who earned the nickname "The Youngest On Top." "I was surprised watching Do Kyung Soo. He has some hidden charms I hadn't noticed," he divulged. "This group of four is really close. They argue, reconcile, and debate nonsensically. And while observing all of this, I noticed Kyung Soo wasn't listening to anyone. He wasn't listening at all," he added with a laugh.
Na Young Seok further elaborated, "He's really good at planning and executing tasks. Though the youngest, he knows how to take the lead. His youthful face and mature masculinity are polar opposites. It was the biggest character discovery."
Even at the press conference, Kim Woo Bin and Do Kyung Soo couldn't resist teasing their older co-star Lee Kwang Soo, revealing a playful side that's rarely seen in dramas and movies. "I often wish Kwang Soo and I were the same age. There are moments when being the younger one feels unfair. You'll understand if you watch the show," Do Kyung Soo joked, to which Kim Woo Bin heartily laughed, "I always think the same thing."
Meanwhile, Green Bean, Red Bean will air on October 13th at 8:40 PM KST.