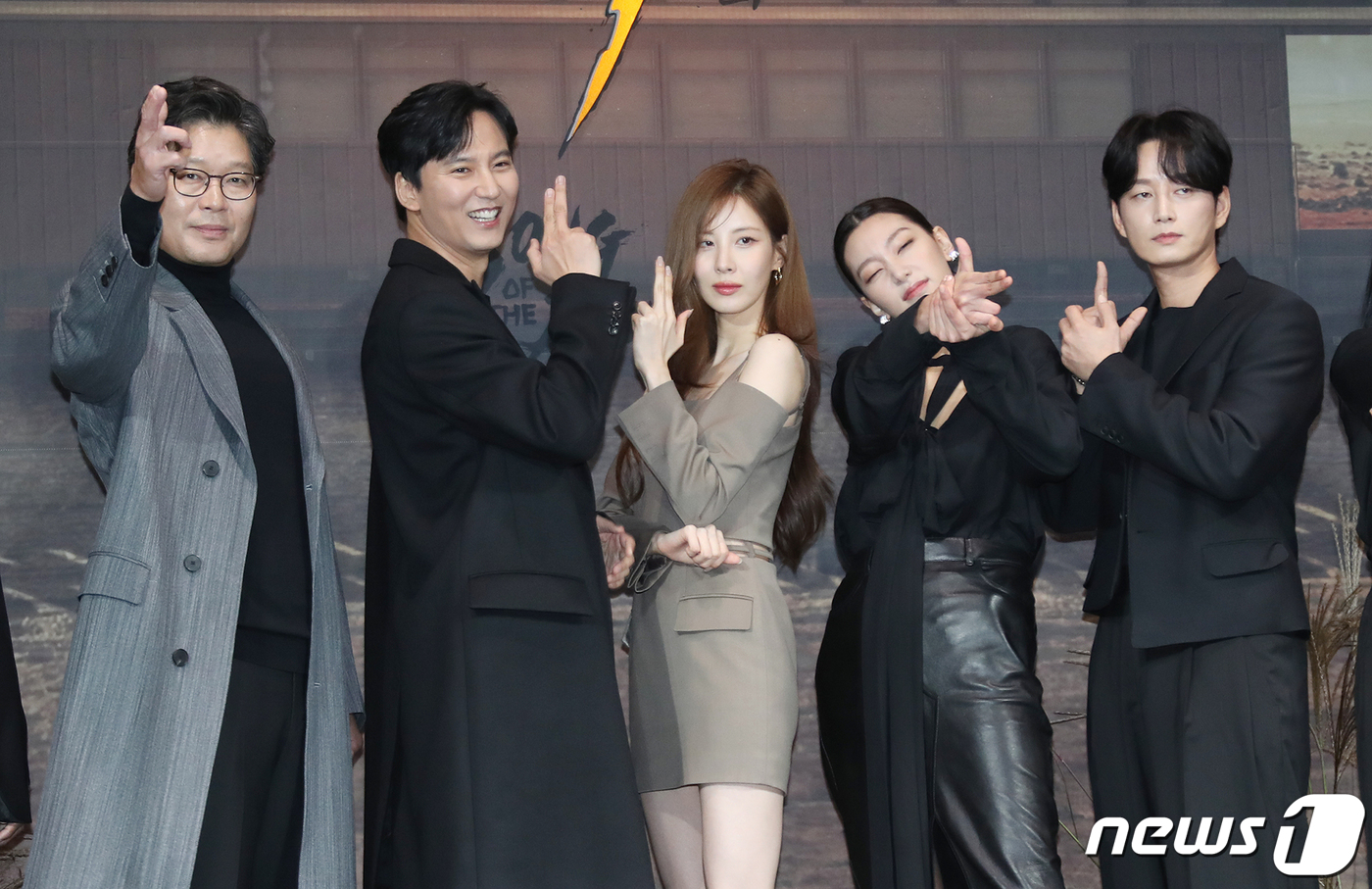 New action-packed series Song of the Bandits is gearing up for release.
The show conducted its press conference on the 19th, with stars Kim Nam Gil, Seohyun, Yoo Jae Myung, Lee Hyun Wook and more, along with director Hwang Jun Hyuk in attendance.
Song of the Bandits is set in the lawless territory of Gando (north of the Tumen River) during the 1920s. In this Chinese territory where Japan's money and Korea's people converge, the series explores the relentless fight of those determined to protect their loved ones and homestead.
Director Hwang describes the show as "a period piece delivering a new form of catharsis by combining Western action and Eastern heroes." He emphasized, "Projects set during Japanese rules need to maintain a sense of gravity. This story does so without losing sight of its core themes, all while delivering action catharsis."
On choosing Song of the Bandits, Kim Nam Gil said, "While there may be various stories set in the 1920s, I've never seen a production that takes on the Western genre. I found it intriguing." He added, "The unique attributes and tendencies of the bandits, especially the distinctive weapons and tools they use, make the action sequences feel special. The drama also portrays the various walks of life of people living in that era. I believe audiences will find it captivating."
The anticipation for action sequences with guns is off the charts. "The Winchester rifle best represented the era. We paid a lot of attention to long-take actions and did the gun action scenes in one go," said the director.
Seohyun, who plays the role of an independent activist, shared, "The character required me to have an unusually deep sense of emotional responsibility. I thought I needed to fine-tune the emotional build right before the filming. Rather than just sadness, I felt I had to accumulate layers of the era's deeper sorrow and anguish."
Lee Hyun Wook goes up against the two as the youngest Japanese military lieutenant. He described his character as "someone who becomes intricately entangled with both individuals, feeling betrayed after setting his slave (played Kim Nam Gil) free and falling in love with Hee Sin (Seohyun)." He humorously added, "I felt quite lonely on set, often teased about my 'snake eyes.'"
Meanwhile, the Korean Western action drama Song of the Bandits will be available on Netflix starting the 22nd.
>> Unveiling the Eclectic Characters of Netflix's Upcoming Period Piece 'Song of the Bandits'