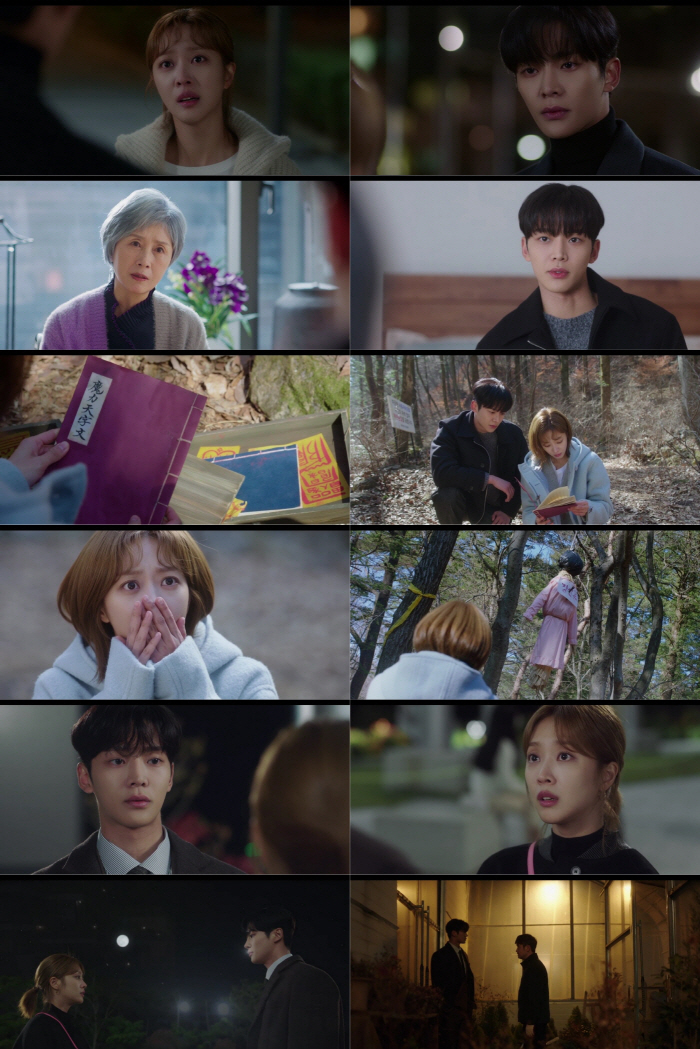 Lee Hong Jo (played by Jo Bo Ah) distanced herself from Jang Shin Yu (Rowoon) in Episode 8 of JTBC's Destined With You.
Shin Yu finally realizes his feelings for Hong Jo. As his kiss begins to get more heated, Hong Jo pushes him away. When she asks him whether he broke up with Yoon Na Yeon (Yura), he does not give her any striaght answer, making her even more confused.
Hong Jo decide to keep distance from Shin Yu by refusing to meet him personally, except for business purposes.
Meanwhile, Shin Yu takes the wooden chest to the shaman. Hearing that the chest should be buried by its owner, Shin Yu and Hong Jo head to the shrine together.
The story just took a dangerous turn and I am so seated 😱☠️🗡️🩸Somehow we knew that honjo's lost nightdress will definitely be used by the stalker but the knife with SinYu's name was so shook! #DestinedWithYouEp8 #DestinedWithYou pic.twitter.com/WjLqQI9cdk

— Anuradha Gupta (@AajKiRadha) September 14, 2023
There, the two get thrust into an unexpected situation. They discover a black magic book and a cursed doll, which has a piece of paper with the name Jang Shin Yu written on it nailed to its chest.
The two then goes on a fake date to catch the culprit. The atmosphere between them, which has been awkward after their initial collision, slowly changes.
Just them holding hands like this gives me the butterflies 😭 I was expecting more fluff this week but they're giving us angst & thriller even before they get together. I believe the impact we get when they're finally together will be great! #DestinedwithYouEp8 #DestinedWithYou pic.twitter.com/FKZ4CfF9qM

— free falling. (@duhh_uhhh) September 14, 2023
The way ShinYu moves HongJo hair by barely touching it, the control of his hand, the way he swallows, he has a desperate desire to touch her that is consuming him inside 🔥 #DestinedWithYou #DestinedWithYouEp8 pic.twitter.com/a2jNIN7YpV

— 𝘴𝘦𝘭𝘦𝘯𝘦'𝘴 𝘤𝘩𝘪𝘭𝘥🌙✨ (@tehsohaew) September 14, 2023
"i don't want to steal someone else's boyfriend. so don't do anything. let's just stay that way. let's not get any closer"

………..i know it's the best for both of them….but shinhong really give me a good pain today 🥹👍🏻#DestinedwithYou #DestinedwithYouEp8 pic.twitter.com/9bp64LuoYl

— liy 🪄 (@kimyoungdaes) September 14, 2023
When Hong Jo asks Shin Yu why he kissed her, he replies, "I cannot control myself when I'm around you." Despite being swayed again, she eventually refuses him, saying, "I don't want to be the girl who steals other girl's man."
Towards the end, Shin Yu runs into Na Jung Beom (Ahn Sang Woo) holding a pair of scissors at the Green Landscape Garden. The tension futher intensifies as a mysterious figure tails Hong Jo.
>> 'Destined With You' Review: A Fantasy Rom-Com That Keeps You Hooked
Source (1)