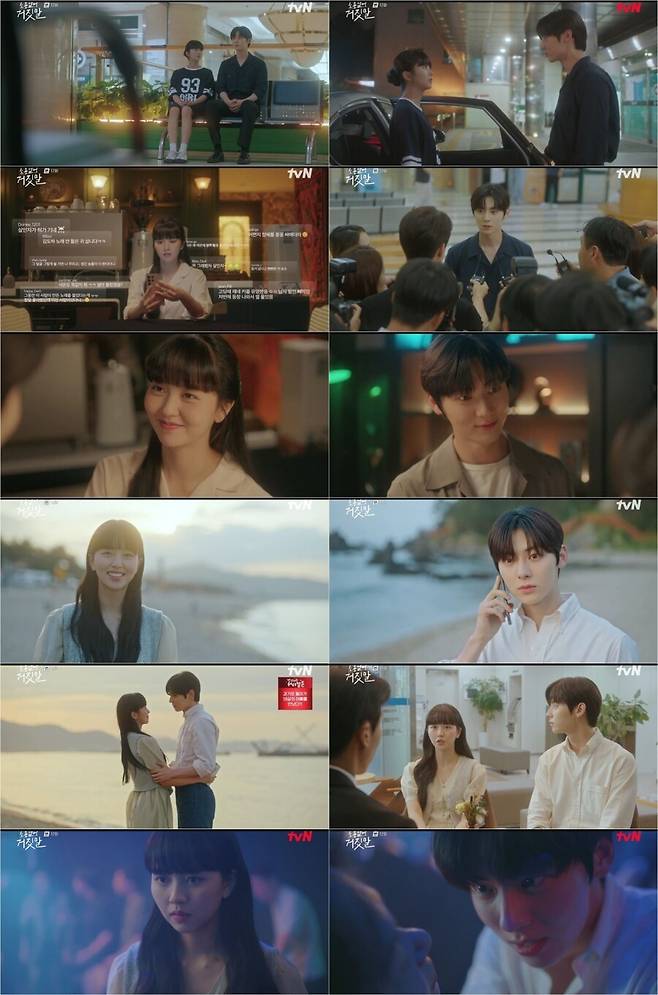 Kim So Hyun and Hwang Min Hyun set out to uncover the truth behind his ex-girlfriend's death in tvN's My Lovely Liar.
In Episode 12, Mok Sol Hee (played by Kim So Hyun) and Kim Do Ha (Hwang Min Hyun) work tirelessly to uncover the truth. Kim Do Ha chose to confront the situation head-on to prove his innocence, and Mok Sol Hee offers him a helping hand. Their relentless pursuit led them to finally find Choi Um Ji's (Song Ji Hyun) father, Choi Young Guk (Yoon Sang Ho).
Later, Kim Do Ha is revealed as the prime suspect in the Hakcheon Beach disappearance case. This revelation shocks everyone, leaving Do Ha feeling bewildered and increasingly guilty about potentially endangering Sol Hee. However, she reassures him, saying, "You didn't put me in gander. I was simply with someone I care about."
Do Ha is exposed now.

Seeing Sol Hee in the crowd. He doesn't hesitate to answer every question truthfully.

Because i was a murder suspect. I did hid my identity

Why did you hide all these years?
No one believed me. Just like now.

SolHee did😊#MyLovelyLiar #MyLovelyLiarEp12 pic.twitter.com/6vPrM55gLN

— Austin🤗 (@K_DramaClips) September 5, 2023
Doha: "Don't ever put yourself in danger like that again. Okay?"
Sol-hee: " I can't promise that. How could I stay still when you could die Doha? Is that really liking someone?"🥺😭#HWANGMINHYUN #kimSohyun #MyLovelyLiar #MyLovelyLiarEp12 #kdrama pic.twitter.com/oMRt23ZXuc

— Kdrama Lover Globe (@KdramaLoverG) September 5, 2023
Unable to bear the thought of putting his loved ones in jeopardy, Do Ha resolves to prove his innocence by finding the real culprit.
this cliffhanger ass ending 😭 minhyun was so hot in this scene tho the way he sent eumji's dad flying oof need more angry mad doha #MyLovelyLiarEp12 #MyLovelyLiar pic.twitter.com/vqiA1TRfpt

— 🎧 (@seizingdream) September 5, 2023
Sol Hee willingly lends her assistance, using her unique abilities. As they gradually unravel the mystery surrounding the case, they eventually discover Choi Yong Guk at a gambling establishment. The episode concludes with Do Ha passionately asking, "Did you kill Um Ji?" intensifying viewers' curiosity.
Tensions rise further as Lee Kang Min learns from Choi Um Ho's notebook that there were attempts to silence witnesses.
>> 'My Lovely Liar' Review: A Heartwarming Rom-Com With Unforgettable Characters
Source (1)