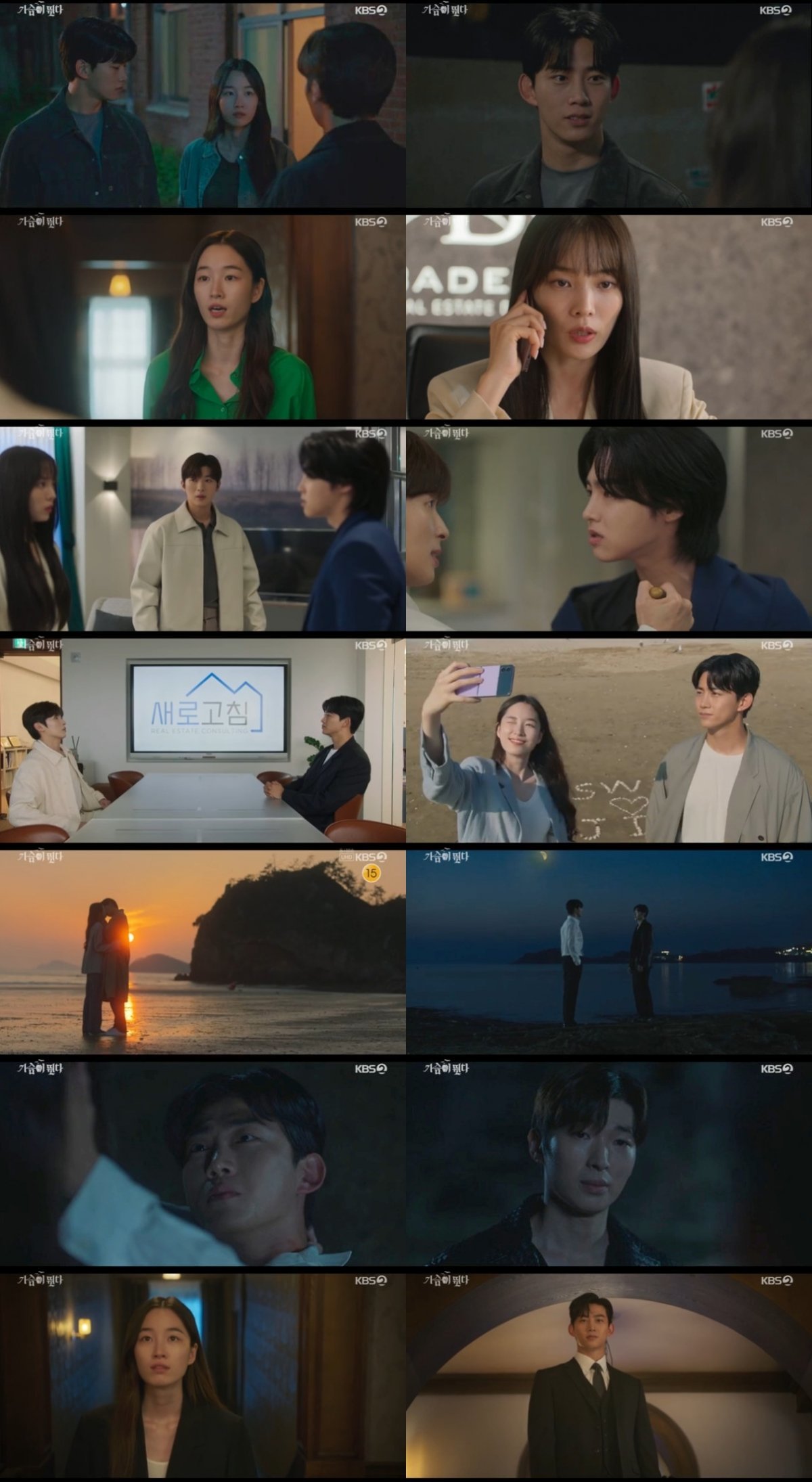 KBS' Heartbeat concluded with the reunion ending of Seon Woo Hyeol (played by Ok Taecyeon) and Ju In Hae (Won Ji An).
In the final episode, In Hae was afraid that Woo Hyeol might disappear again. Sensing this, Woo Hyeol decided to spend his remaining time with In Hae.
Shin Do Sik (Park Kang Hyun) discovered that Na Hae Won (Yoon So Hee) was the one who spread rumors about Woo Hyeol's true identity. At that moment, Ri Man Hwi (Baek Seo Hoo) appeared in front of them and revealed to Hae Won that Do Sik was after Woo Hyeol's blood. However, when Do Sik and Hae Won ignored him, Man Hwi bared his fangs and threatened them. In response, Do Sik pointed a knife at Man Hwi's chest.
Later, Hae Won informed Woo Hyeol about Do Sik's plan to take his blood. Upon hearing this, Woo Hyeol confronted Do Sik. Afterward, Woo Hyeol then suggested a trip to the beach to In Hae.
"thanks to you, I'm living a life that makes my heart beat"
"likewise, thanks to you I know what love that makes your heart beat feels like"
"Inhae, I love you"
"I love you too, woohyeol"

I just going to pretended this is how the drama ended 🧡#Heartbeat #HeartbeatEp16 pic.twitter.com/whpNJAHS5E

— lau (@diaryoflau) August 15, 2023
So Inhae was Haesun!

You know why I don't hate this now? Bc he didn't know until the end. He fell in love with INHAE, with who she was in the present life. Not from his memories of Haesun.

at least, that's the way I see it#Heartbeat #HeartbeatEp16 pic.twitter.com/gmknCFLMkC

— r o s e ✵ (@kdramasrose) August 15, 2023
i'll just pretend that their beach date scene is the real ending #Heartbeat #HeartbeatEp16 pic.twitter.com/c8EAEqrOMZ

— ً (@kdramamiss) August 15, 2023
However, Woo Hyeol's time was running out. Seeing Woo Hyeol weakened, In Hae gave her blood and he realized that In Hae was the reincarnation of Hae Sun. Tears welled up in his eyes.
In that moment, Do Sik appeared before them. Taking matters into his own hands, Woo Hyeol pressed a knife against his own chest, bravely confronting death in In Hae's arms.
"I will cherish our memories forever, I love you"

the whole drama was about seeing how inhae & woohyeol brought the light back into each other's lives and then they just decide to end their story like this? leaving them in the dark again? I'm devasted#Heartbeat #HeartbeatEp16 pic.twitter.com/hJMeWJVQZD

— lau (@diaryoflau) August 15, 2023
Afterwards, In Hae spent time protecting the mansion and remembering moments with Woo Hyeol. And in the end, Woo Hyeol reappeared before her just like he used to be, leaving a strong impression.
THE END.🤍🤍😭😭#HeartbeatEp16 pic.twitter.com/NoIUkzmfi3

— Y O O (@_YOO42) August 15, 2023
this drama was supposed to be a romcom why did we get a heartbreaking ending ?!! was it that hard to let him become human and end it on a good happy note i'm so devastated right now 💔😭#Heartbeat #HeartbeatEp16 pic.twitter.com/Wgyo7assGQ

— ً (@kdramamiss) August 15, 2023
a romcom ended sadly 😭 i still can't believe they left us with this sad/open ending and let us imagine what we want i'm gonna jump off a cliff #Heartbeat #HeartbeatEp16 pic.twitter.com/oPCCarMfHq

— ً (@kdramamiss) August 15, 2023
#HeartbeatEp16 VIEWERS DESERVE a little BETTER ENDING, if showing that love can conquer all the obstacles of life, then show properly.
Whatever it's, I'm GLAD that WOOHYEOL is back. His undying devotion & love deserves reward of happiness. ❤️#Heartbeatpic.twitter.com/gHIu4QGej3

— Diya (@Diya8765) August 15, 2023
>> Ok Taecyeon and Won Ji An Open Up About Their Characters in 'Heartbeat'
Source (1)