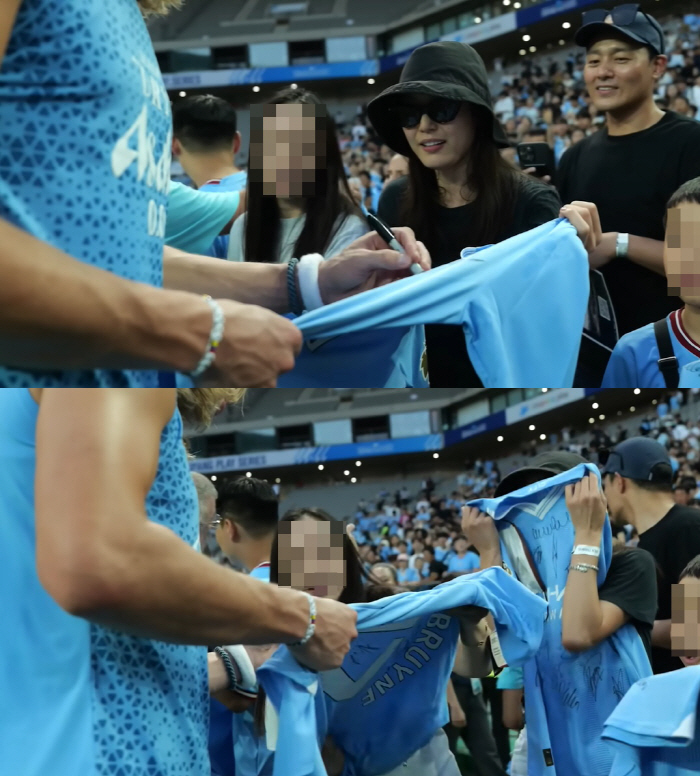 In the blistering heat of August, stars are flocking to the soccer field.
Recently, prestigious soccer clubs such as Paris Saint-Germain (PSG) and Manchester City have made preseason visits to South Korea, and local celebrities have been spotted enjoying the games.
Among those in attendance, actress Jun Ji Hyun caught everyone's attention when she was spotted receiving an autograph from Manchester City's star striker Erling Haaland.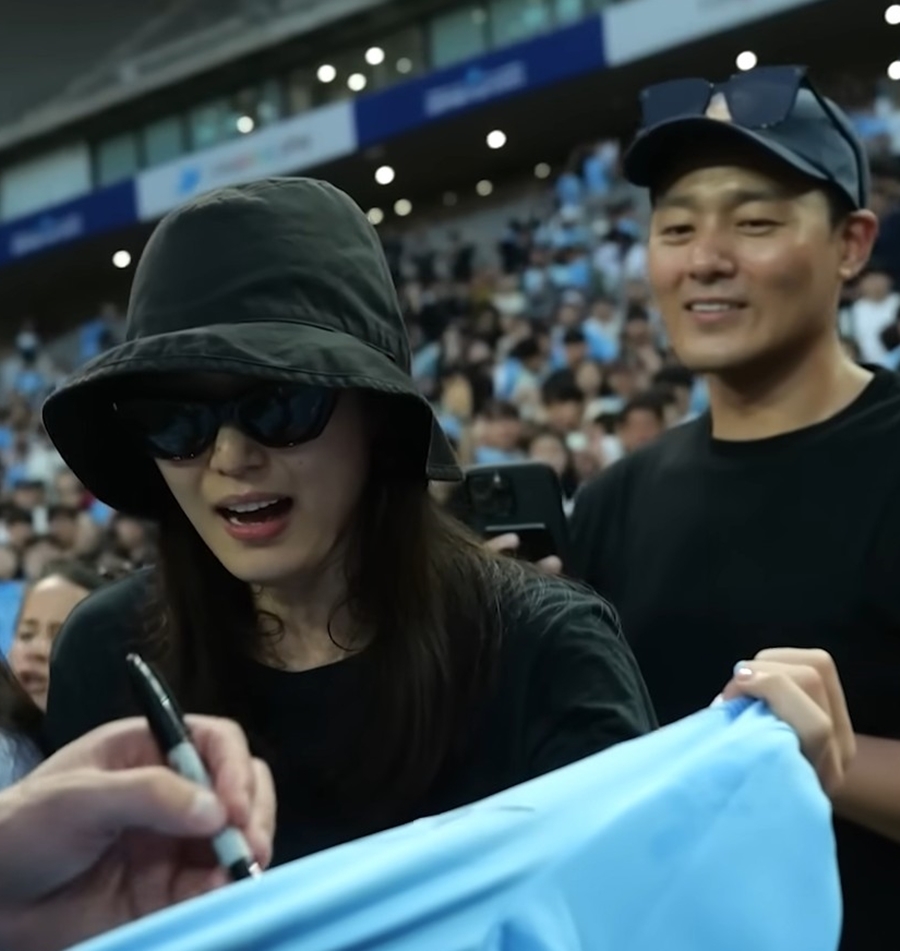 전지현 홀란드 사인받고 향 맡는 거 개웃긴데 뒤에 서있는 최준혁씨는 익숙하다는 듯이 웃는 게 날 미치게 함
전지현 진짜 현실 천송이라고ㅋㅋㅋㅋㅋㅋㅋㅋㅋㅋㅋ pic.twitter.com/cu05eE2Imr

— 올리 (@mslajh_) August 3, 2023
Manchester City lost 2-1 to Atletico Madrid in a game played at Seoul's World Cup Stadium on July 30th. A video captured the Manchester City players signing autographs after the game, where a woman in a black hat and sunglasses looked giddy after getting Haaland's autograph. This woman was none other than actress Jun Ji Hyun, setting social media abuzz. The beaming actress happily pressed the signed uniform to her face as her husband put a big smile next to her.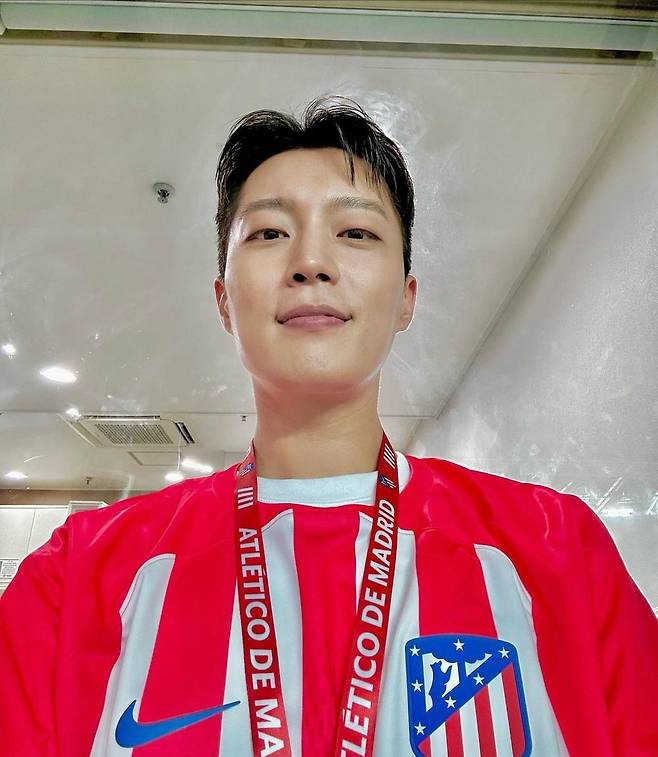 Well-known soccer fan Yoon Doo Joon also attended the match. On July 31st, Yoon shared on his social media, "I hope everyone's keeping cool in this heat. I had a great time watching an amazing match, thanks to Atletico Madrid yesterday. Let's fight off the heat this week," along with a photo of himself in a soccer uniform.
On the 3rd, a friendly preseason match between K-League's Jeonbuk Hyundai Motors and Lee Kang In's PSG held at Busan Asiad Stadium also drew a star-studded crowd.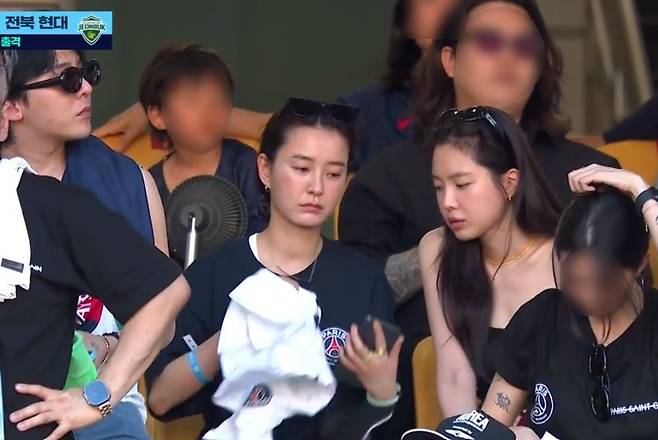 Look at G-Dragon #GDRAGON #빅뱅 #지드래곤 @IBGDRGNpic.twitter.com/8Ef5Un17cI

— G-DRAGON INTERNATIONAL (@gdragonintl) August 3, 2023
Jung Yu Mi, Son Na Eun, and G-Dragon were in the stands before the match. All three had traveled to Busan to watch Lee Kang In's game in person. Notably, G-Dragon sported a PSG uniform, which was a collaboration with his brand, Peaceminusone. Jung Yu Mi and Son Na Eun, too, enjoyed the game in their own style, either wearing or draping the team's uniforms.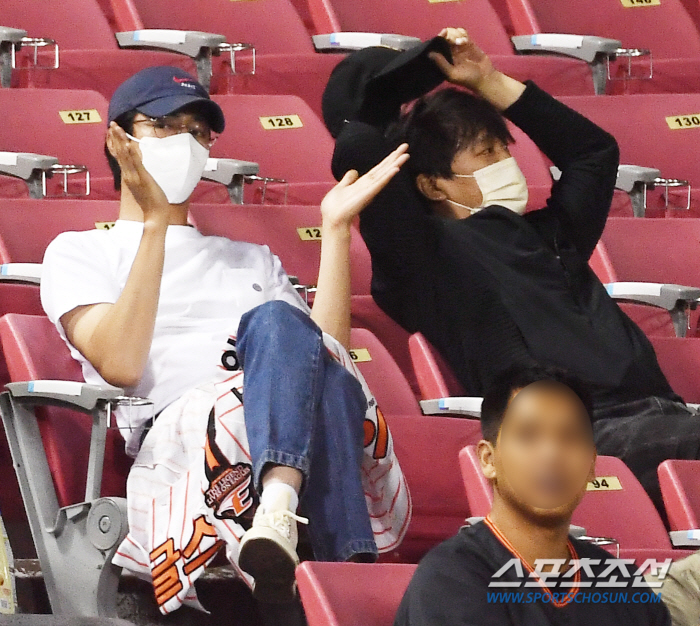 >> BLACKPINK's Jisoo Leaves Erling Haaland Blushing in Memorable Meetup
Source (1)