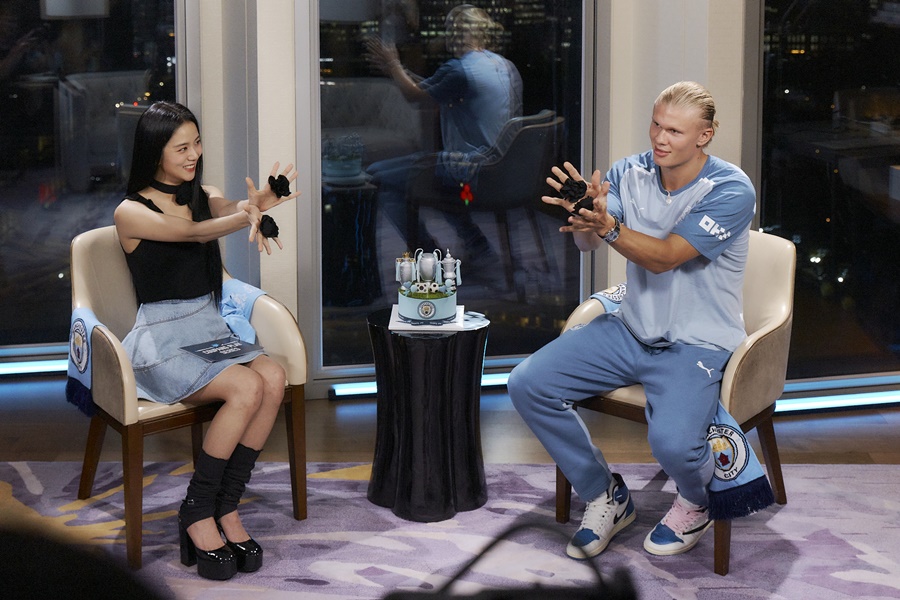 A delightful interaction between BLACKPINK's Jisoo and Manchester City FC's 23-year-old Erling Haaland became the new buzz.
An unexpected dynamic duo recently graced the Coupong Play series when BLACKPINK's Jisoo took the interviewer's seat to chat with the star soccer player.
Jisoo revealed a popular Korean phrase that fans often use to express their admiration for Haaland and his superb performance on the field. She said, "There is a phrase that Korean fans frequently use for you. It's 'His form is crazy.' It's something we say when something or someone is incredibly cool."
Haaland repeated the phrase in an impressive Korean accent. Jisoo immediately complimented him, saying, "Your pronunciation is flawless."
The conversation took a playful turn when Jisoo asked Haaland to call her "Jisoo noona," which translates to "older sister." This triggered a bashful smile from Haaland, who is five years the idol's junior. He responded with a perfectly pronounced "Hi, Jisoo Noona," prompting Jisoo to quip, "Now, we've officially become siblings," stirring up laughter all around.
Meanwhile, Haaland also opened up about his first-time experience in Korea, his friendship with fellow footballer Hwang Hee Chan from their shared days on the RB Salzburg field, and a sneak peek into the final league's victory party.
>> Ahn Bo Hyun's Ideal Type Aligns Perfectly with BLACKPINK's Jisoo
Source (1)