Junho has undoubtedly won the title "rom-com King" with JTBC's weekend drama King the Land. Junho's portrayal of the tender and considerate hotel director, Gu Won, has sent viewers into a frenzy every weekend, his every move tugging at viewers' heartstrings.
Let's revisit the unforgettable moments that only Junho could create.
In episode 5, Gu Won took the love-troubled Cheon Sa Rang (YoonA) to a restaurant to cheer her up. Unaware of her favorite dishes, he ordered an assortment of dishes, leaving Sa Rang taken aback. He tells her, "Tell me. Everything you like," showcasing his consideration for the woman he likes. The scene was immortalized by Junho's sweet gaze, leaving a strong impression on viewers.
Then, in the very next episode, the memorable market date featured Gu Won's unexpected cuteness as he attempts to win a king-sized fish-shaped yeot. This scene highlights Junho's mischievous yet charming acting prowess.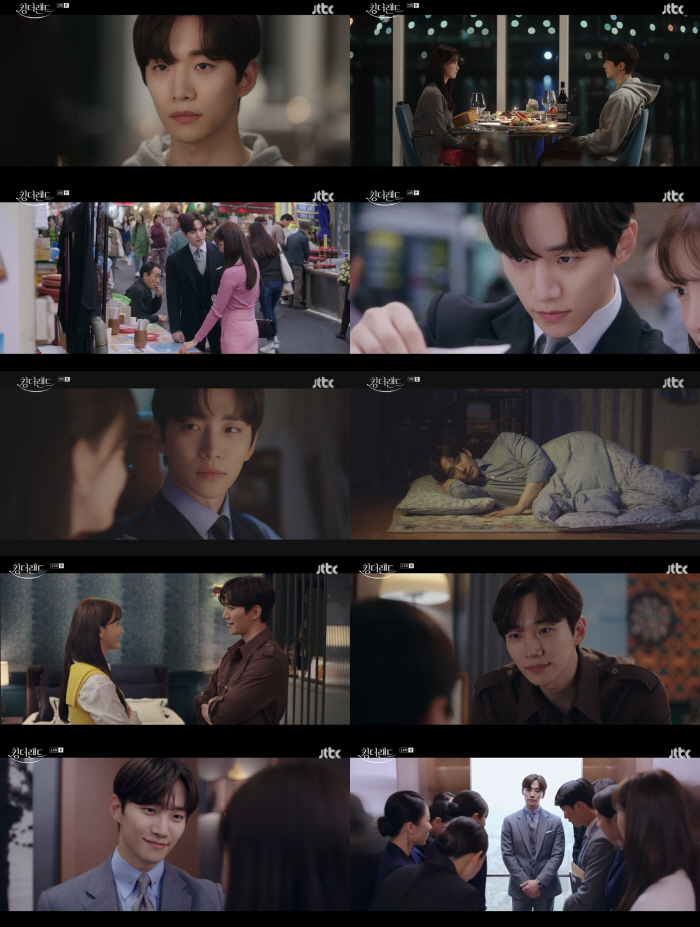 Episode 9 was a heart-stopper when Sa Rang's grandmother told Gu Won that he should express love verbally. In a tender moment, he confessed to Sa Rang, "Will you accept my feelings?"
His sincere declaration, heightened by his deep voice and intense gaze, transformed the scene into a truly romantic spectacle.
The fourth one is in episode 13. In the episode, Sa Rang, much to her surprise, found out that Gu Won had kept the fish yeot from their market date. His gentle words, "It's our memory. From our first date," revealed his thoughtful nature, while his tender gaze and touch melted viewers' hearts.
The most recent heart-thumping episode is in episode 14. When Sa Rang finds herself in a scandal, Gu Won courageously confesses in front of everyone, "I was the one who fell in love first." Even in the face of adversity, Gu Won's determination to protect his loved one shone through, showcasing the depth of his love.
With only two episodes left until the finale, expectations are high for Junho's performance that promises to keep the viewers' hearts racing until the very end.
>> 'King the Land' Episode 14 Recap: Junho and YoonA Face Crisis After Their Relationship Gets Revealed
Source (1)