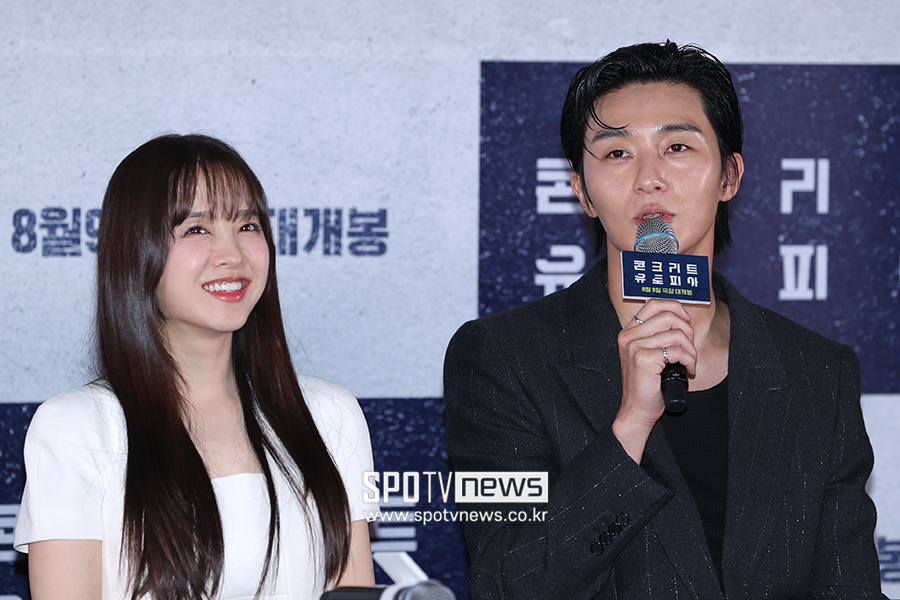 Park Seo Joon shared his experience of working with Park Bo Young at the July 31st press event for Concrete Utopia.
In the upcoming disaster film, Park Seo Joon and Park Bo Young portray a married couple, but their characters are mostly seen fighting for survival amid the crisis, leaving little room for romantic moments. Regarding the lack of romantic scenes with his co-star, Park Seo Joon expressed, "As a viewer, it made me feel sad to see the two characters in that situation. I can't help but wonder how the movie would have been if it had captured more romantic moments between them."
Park Bo Young also shared, "If I have a chance, I hope to reunite with him for a more romantic project."
Director Um Tae Hwa teased by saying, "We created Min Seong's Instagram account for the film. If you take a look at his account, you can see how sweet the married couple had been before the disaster occurred. I think it will help you understand better how the story goes."
Concrete Utopia is a disaster film that follows a group of survivors who seek refuge in the Hwang Goong apartment, the only building left standing in earthquake-devastated Seoul.
The upcoming film will drop on August 9th.