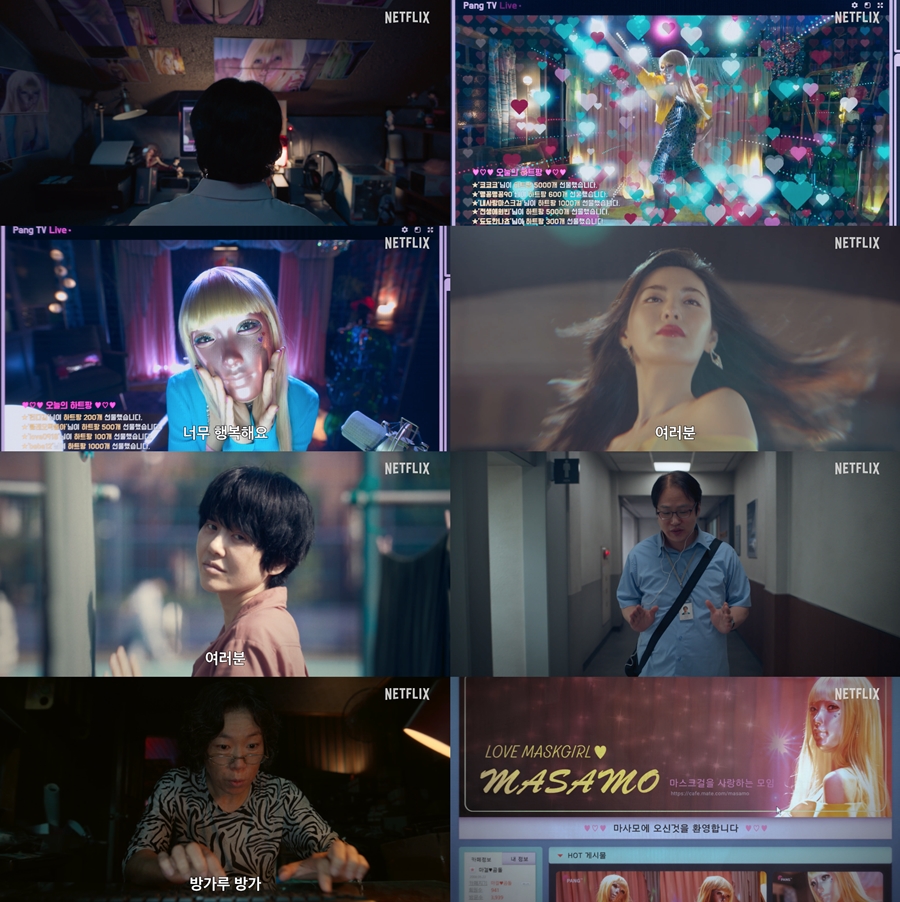 Netflix has just unveiled the teaser trailer for their highly anticipated original series, Mask Girl.
Set to premiere on August 18th, this thrilling new show follows the life of Kim Momi (played by Go Hyun Jung and Nana), an ordinary office worker struggling with appearance issues and chooses to cover her face with a mask. However, things take an unexpected turn as she starts streaming videos online and finds herself in a dangerous incident. The series is helmed by Kim Yong Hoon, who won the Jury Prize at the 49th Rotterdam International Film Festival with Beasts Clawing at Straws.
The new teaser for the series starts with the main character, Momi, livestreaming and asking the audience if she looks pretty. But the mood quickly shifts when she is shown standing over a dead body with a knife. "3 names, 3 murders, 3 lives," reads separate title cards in the teaser while an exciting montage of scenes from the upcoming K-drama plays. It also showcases thrilling scenes like a girl crying in a mask, a fist fight, and a shotgun being fired. Additionally, the teaser introduces Kim Kyung Ja (The Glory's Yeom Hye Ran), a single mother in distress in an abandoned church, and Ju Oh Nam (Be Melodramatic's Ahn Jae Hong), Momi's co-worker at the office.
The trailer has already sparked enthusiastic reactions, leaving everyone eager to see what Mask Girl has in store for us.
Here are some of the excited responses to the trailer:
"The original web comics are super good. The plot twists are so unexpected and fascinating. I am definitely going to watch the adaptation.  This is something worth looking forward to."
"Mask Girl looks fascinating. It's giving me sci-fi vibes because of the chrome metallic."
"Wait is that Miss Kang from The Glory?? Yeah it's her! I'm glad to see another performance from her. She was amazing in that show!"
"This looks super awesome! I will definitely watch this."
and here I thought it'd be another look at people perception an apperances of others, but the trailer was like MURDER, VIOLENCE AND A PYSCHOTIC FUN LOVING BJ.

To say I'm excited for this drama is an understatment. #MaskGirl pic.twitter.com/uZ8yWxyJC0

— Andrew✨ (@Aussieandrewd) July 20, 2023
"I thought it'd be another look at people perception an appearances of others, but the trailer was like MURDER, VIOLENCE AND A PYSCOTIC FUN LOVING BJ. To say I'm excited for this drama is an understatement."
Finally after 8 months of waiting!! Mask Girl 1st trailer is out 🥳 dangg I didn't expect this dark thriller 😱#이준영 #LEEJUNYOUNG #마스크걸 #MaskGirlpic.twitter.com/1EkiBfUmw1

— J ♡❁ (@adorejunyoung) July 20, 2023
"Finally after 8 months of waiting!! Mask Girl 1st trailer is out! dangg I didn't expect this dark thriller."
"Oooh!!! Is it Sci fi, horror, slasher? It's ALL OF THE ABOVE!!!"
"After finishing Celebrity I needed another show can't wait to watch!"
"K-Netflix is gonna be bigger than Hollywood."
"Korea has so many good shows… Sweet Home, D.P., The Glory, Squid Game, Extraordinary Attorney Woo, Celebrity… this looks good too"
"Hey, it's the abused wife who became a detective Batman from The Glory!"
"South Korea making the best horror media for absolutely no reason:"
Credit: Netflix