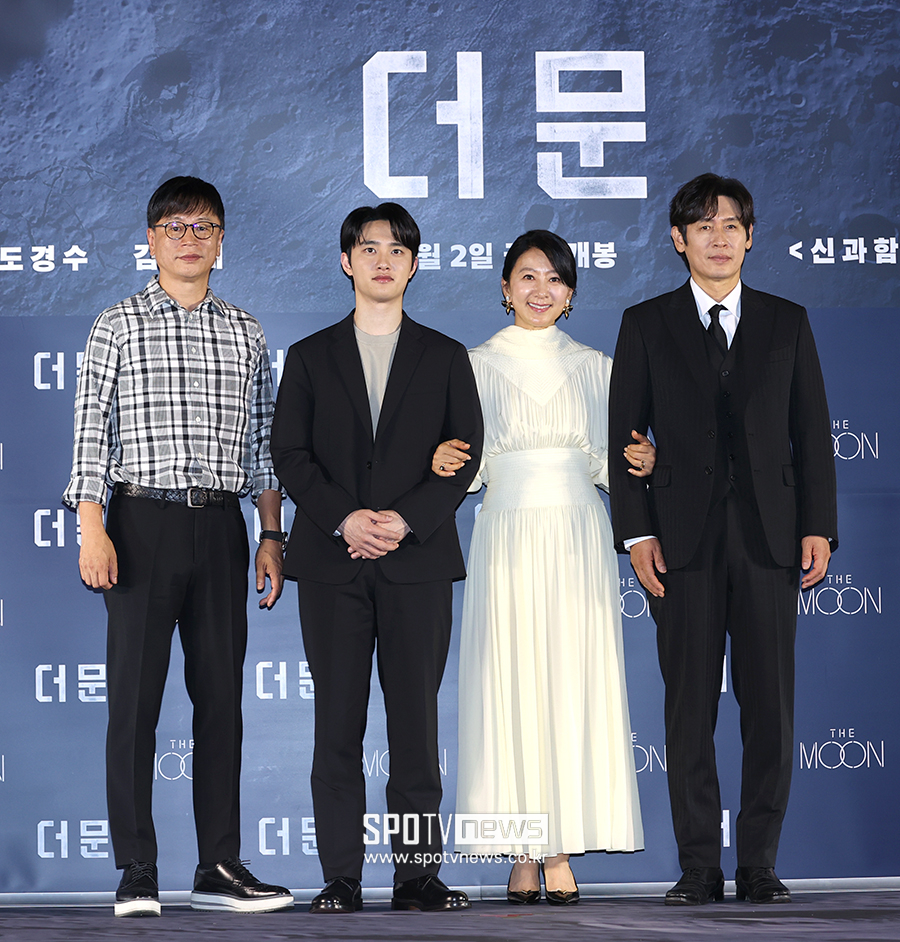 The South Korean cinema takes an astronomical leap forward with the upcoming space film The Moon. The press conference for The Moon took place today, featuring appearances from Director Kim Yong Hwa and actors Seol Kyung Gu, Do Kyung Soo, and Kim Hee Ae.
The Moon is an ambitious new venture by Kim Yong Hwa, best known for the Along with the Gods series, which raked in millions of moviegoers. This time, he aims to mesmerize audiences with a unique survival drama set during South Korea's first manned lunar exploration mission. The story centers around Sun Woo, an astronaut stranded on the moon due to an accident, and Jae Guk, a former space station director making desperate attempts to rescue him.
Seol Kyung Gu, Do Kyung Soo, and Kim Hee Ae breathe life into the characters. Seol transforms into the former director Jae Guk, while Do portrays Sun Woo, the astronaut left alone on the moon. Kim Hee Ae slips into the role of Moon Young, the main director of NASA's Lunar Reconnaissance Orbiter.
Sharing his experience, Seol said, "The script was a glimpse into an unknown world. The reason I chose this project was purely Kim Yong Hwa." He added, in jest, "I was craving a commercial movie. I thought I could trust and leave myself in the hands of Kim, who had made a film that attracted millions. I didn't even need to read the script."
Do Kyung Soo gave a sneak peek into his character, saying, "Sun Woo is the youngest member of the team. He embarks on a lunar mission to fulfill his father's unaccomplished dream but ends up isolated due to an accident. He's engaged in a fierce struggle to complete the mission all by himself."
The director didn't shy away from showering praises on the actor. "If I may dare to say, Do Kyung Soo is a truly remarkable actor. I've heard many stories about him – he's really manly, altruistic, and bears a lot of pain. The fact that it doesn't show is his charm."
Kim Hee Ae recalled her experience, "As the main director of NASA, I had to speak English. The terminology was completely new to me. I remember feeling nervous speaking English and pretending to be smart in front of the foreign actors."
The three actors didn't have the opportunity to meet due to the nature of the story. Kim Hee Ae mentioned, "It didn't even feel like they weren't next to them. Actors can't experience everything. It's about unleashing imagination and one's own interpretation, so it wasn't a problem. It was actually fascinating and a great experience," she said.
The project came with much consultation from experts, Kim Stated. "Since the story is based on reality, it had to be accompanied by rigorous verification," he explained. "We asked the experts about every single entertaining element of the scenario, whether it was feasible, and if not, what we should do to make it possible. The experts were so eager for this movie that they helped us more than the staff."
Source (1)