K-pop group BTS celebrated their 10th anniversary today.
RM and Jimin posted messages on Weverse and other personal social media as soon as midnight struck. V also left a message on his Instagram Stories along with a series of videos.
First, RM said, "They say a lot can change in ten years, and it's true. There were countless ups and downs. It feels like I'm a completely different person compared to when I was in my twenties. I find my old self a stranger now. It's really special how certain words hold magical power. Until one noun becomes a pronoun, BTS becomes BTS, and ARMY becomes ARMY, there were a lot of turbulence as well as love. We built our own world that perhaps no one else can understand."
He continued, "Thanks to ARMY and the many people who helped us, we had an extraordinary experience that we will never be able to replicate. When I look back, there were times when I was always on the go, never stopping to rest. Even now, I'm still figuring out what the next chapter holds for us. It feels like anything is possible," he continued.
"The worries we had when we were seventeen and twenty are still valid. As we slowly become adults, I've learned that there are many things in the world that cannot be explained with words and that things that seem unchanging will eventually change."
He added, "The birth of a single name requires an immense amount of support and love from so many people. I am still so inexperienced. Perhaps in the future, I'll still feel worried and anxious, like a fish out of water. But I won't stop moving forward. Separately, yet together, distant but close, I hope to have you by my side, and I hope to be there for you. To the members, staff, family, and friends! And to ARMY! You've worked so hard. Let's enjoy the next 10 years together in this damn world! I love you."
Jimin said, "I can't believe that I'm 29 right now, considering I was only 19 when I first met you all," and he continued, "We used to wonder what it would be like when we reached our 10th and 20th anniversary. Honestly, not much has changed. Instead of feeling sad, I'm filled with pure happiness because it seems like there's something that we, everyone included, are creating together, step by step."
He also expressed, "Actually, since last year, it felt like our time together had stopped, and I felt a little down." He continued, "Each of us thinking in our own places, contemplating what we can do now, and continuously making attempts, these actions themselves are what we're doing together. It's not something that anyone can do, giving support, love, and strength without any reason. That's why I feel so strongly about how happy we are."
He expressed gratitude by saying, "And all of you who have been there supporting us, I hope you feel an immense amount of happiness and love too. To the incredible ARMY, whom I'm forever grateful for and deeply love, let's continue to experience happiness together for a long, long time."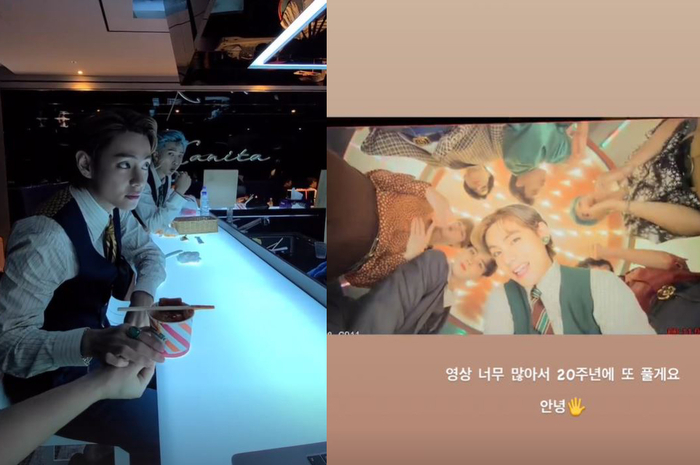 V said, "It's already been 10 years since we debuted… A big thanks to my fellow members for staying healthy and making unforgettable memories with me. And to all you amazing ARMY, thank you from the bottom of my heart. You give us the strength to keep pushing forward. Take good care of yourselves and may every day bring you happiness. That's all we want for you. I love you all so much. Purple you! APO! BANGPO!"
Meanwhile, in celebration of their 10th anniversary, BTS is hosting 'BTS Festa' and conducting various events both online and offline.
>> BTS Reunites for 10th Anniversary: A Comeback Single and Lavish Festivities Await
Source (1)