Song Hye Kyo and Han So Hee continue to display their friendship and support for each other, despite their unexpected exit from the drama The Price of Decision (literal title).
On May 17th, Han So Hee left a comment on Song Hye Kyo's Instagram post, saying, "You're still mine." This comment caught attention, especially considering Han So Hee's previous comment stating, "You're mine now," when they were confirmed to star together in a new drama.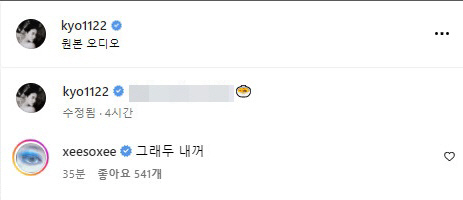 However, recently, the two actresses and director Shim Na Yeon made the decision not to proceed with the new project. This was due to differences in their perspectives on the drama's direction with the production company. The production company confirmed that the actresses will not be part of the show and promised to provide further details about the issue after further discussion.
The stars had openly expressed their support for each other when they were considering the offer to star in the drama. Their close friendship was evident through Han So Hee's enthusiastic comments on Song Hye Kyo's posts and Song Hye Kyo sending a coffee truck to Han So Hee's filming set for Gyeongseong Creature, which left fans even more disappointed about their departure from the new thriller drama.
Meanwhile, Song Hye Kyo is currently searching for her next project following The Glory, while Han So Hee is scheduled to focus on shooting for Netflix's Gyeongseong Creature.
Source (1)