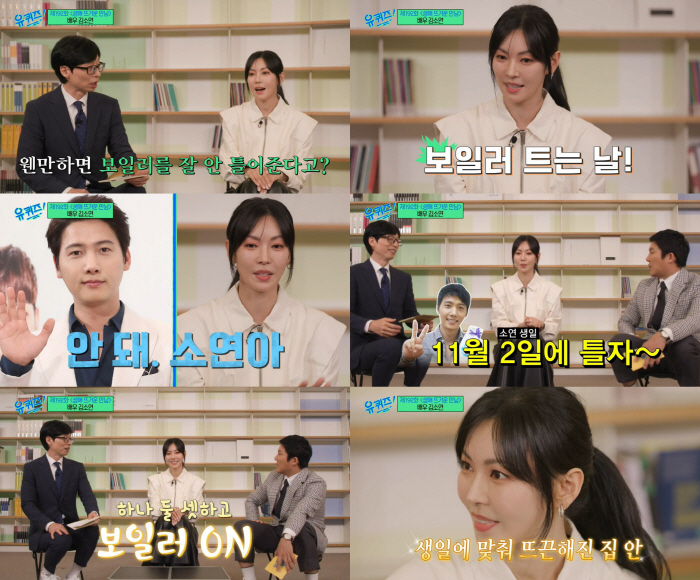 Kim So Yeon has taken to Instagram to reassure her fans who were concerned about her comments on the latest episode of You Quiz on the Block.
During her appearance, the actress shared a story about her living habits. "Lee Sang Woo would not turn on the heating system most of the time so my body can adapt to cold temperatures and boost my immune system," she said. "He thinks that keeping the proper room temperature is key to overcoming the cold outside."
The actress went on to say, "I actually wanted to turn on the boiler since I feel cold easily, but he always said no. Thankfully, he promised to turn it on for my birthday, which falls on November 2nd. We even counted down and turned it on first thing in the morning. Birthdays usually don't mean much as you get older, but last year, I was eagerly looking forward to mine just to turn on the heater."
Following the airing of the episode, some fans expressed concern for the actress's health, noting that she tends to feel cold easily.
Following the show, the actress provided insight into the situation, clarifying any misunderstandings. "My husband cares about my health, so he wanted me to boost my immunity and stay warm through exercise, instead of turning on the boiler too early," she said. "That's why we agreed to turn it on around early November, specifically on November 2nd, which also happens to be my birthday – it was just for fun. I believe I've become healthier thanks to him. However, I also feel sorry that he had to spend both fall and winter in unnecessary warmth."
She shared, "I apologize for any misunderstandings that may have arisen from my poor choice of words, and I sincerely appreciate your concern for my well-being."
>> Kim So Yeon Reveals How Lee Sang Woo Won Her Heart on 'You Quiz on the Block'
Source (1)