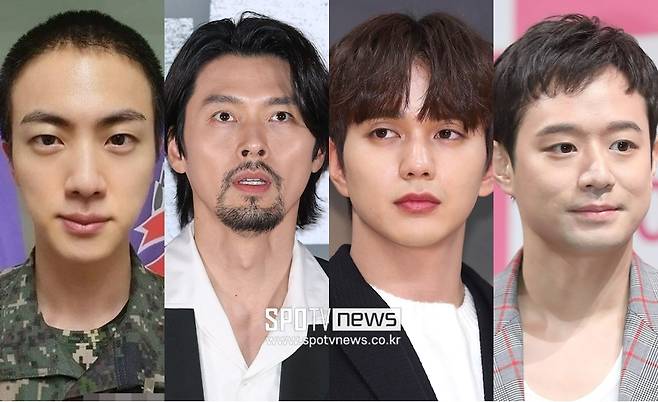 BTS' Jin made headlines after it was announced that he became an assistant instructor (assistant for drill instructors) for the new recruits.
Since assistant instructors are to set an example for the recruits, only a few with exemplary performance are chosen to become one. So the stars who faithfully completed their military duty as assistant instructors is always a hot topic.
Hyun Bin served as an assistant instructor in the marine corps. The actor enlisted in the marine corps in 2011, the year after making a huge hit with Secret Garden, surprising his fans. At the time of enlistment, Hyun Bin was within the top 5% of all applicants in terms of his physical ability, and he completed an exemplary military life as an assistant instructor.
Yoo Seung Ho drew attention when he enlisted at the young age of 21 in 2013. It's common for celebrities to begin their military duty in their late 20s, but Yoo Seung Ho halted his activities in his early 20s and went to the army, like any other boy his age. Now, he's considered one of the stars who showed an ideal military life.
Having served as an assistant instructor in the recruit training center, the actor later shared that he was a "tiger assistant instructor," saying, "I was angry that recruits called me 'Yoo Seung Ho' instead of 'sir.' So when I saw anyone whispering my name, I went tougher on them."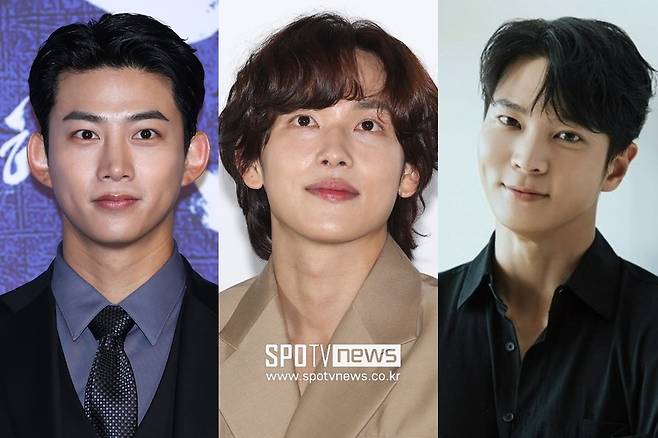 2PM's Taecyeon,  Yim Si Wan, and Joo Won were also assistant instructors. Taecyeon was an assistant instructor in the 9th Infantry Division, aka the White Horse Division, and even won the nickname "Captain Korea" when he presented a future combat stunt at the festival on Armed Forces Day.
Yim Si Wan was selected as an assistant instructor with a high score in basic military training and was selected as a special warrior two months after enlisting, which was quite exceptional. The actor was even selected as the "special warrior" after being recognized for his outstanding performance in all areas of the tests, including shooting, sit-ups, 3km running, and push-ups.
In the case of Joo Won, he was better known as a brother-like assistant instructor. During a live broadcast on ROK Military social media, he said, "There were new recruits who asked for counseling because I was older than them. I feel rewarded when I receive a call from them later on that they're doing fine in their divisions after successfully completing the recruit training." He was also the assistant instructor for Big Bang's G-Dragon.
Besides them, Kwon Sang Woo, Lee Si Eon, Kang Kyung Joon, Wheesung, Chun Jung Myung, and Lee Tae Gon were assistant instructors. Also, it was previously reported that Extraordinary Attorney Woo star Kang Tae Oh was also selected as an assistant instructor.
Source (1)