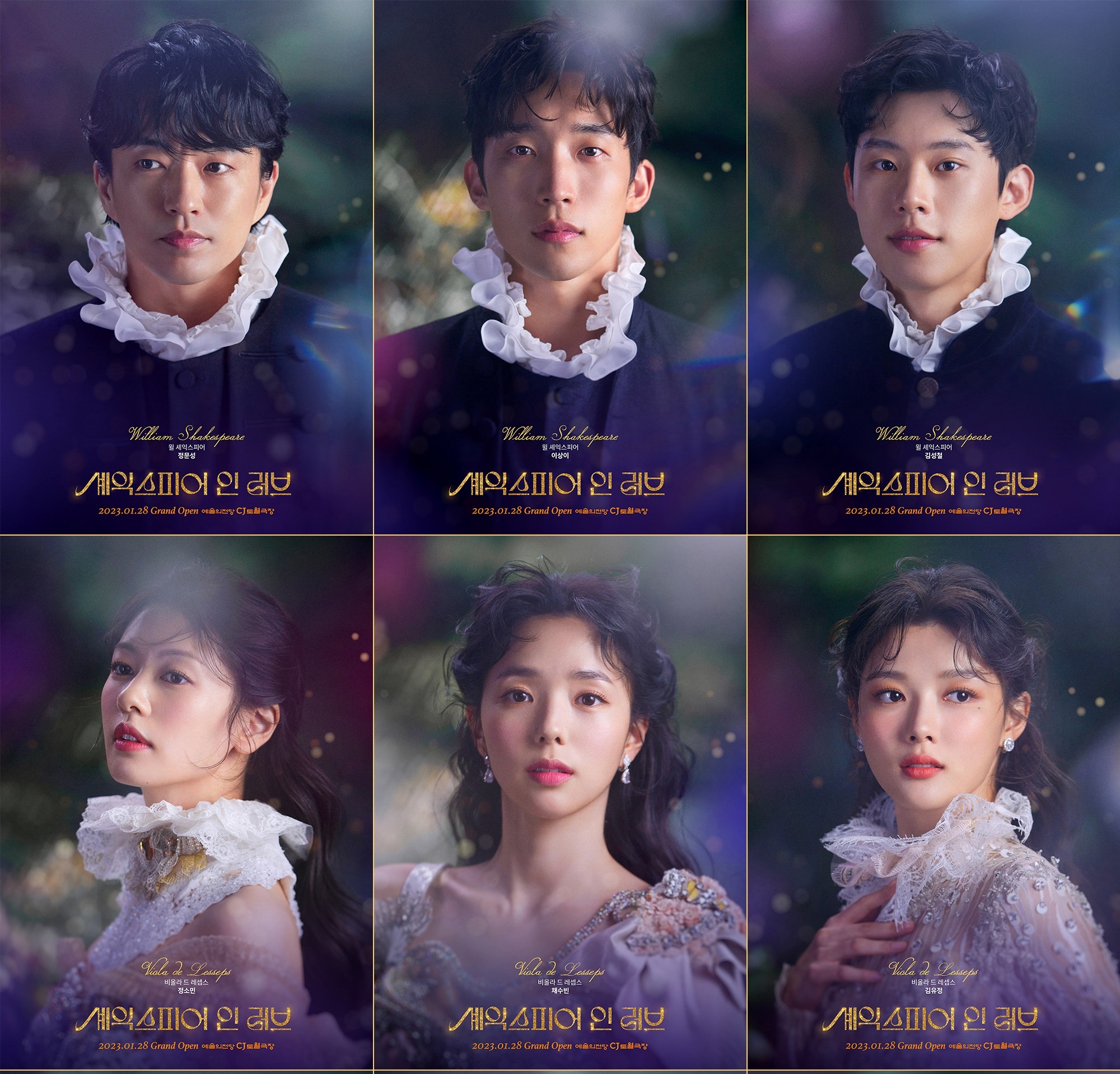 Kim Yoo Jung, Jung So Min, Chae Soo Bin, Jung Moon Sung, Lee Sang Yi, and Kim Sung Cheol will be leading the premiere of Shakespeare in Love in Korea.
Adapted from the 1998 film of the same title, Shakespeare in Love tells a fictional love affair involving playwright William Shakespeare and Viola de Lesseps while Shakespeare was writing Romeo and Juliet. The play will premiere in Korea in 2023.
Jung Moon Sung, Lee Sang Yi, and Kim Sung Cheol were cast as William Shakespeare, who wants to regain lost artistic inspiration through a muse. Jung Moon Sung shared, "I'm really excited and happy to play Shakespeare, the writer I admire the most." Lee Sang Yi and Kim Sung Cheol expressed their excitement about starring in a play after a long time. Kim Sung Cheol added, "Since this is the play's premiere in Korea, I'll prepare thoroughly to show you an absorbing performance."
Kim Yoo Jung, Jung So Min, and Chae Soo Bin turn into Shakespeare's love interest Viola de Lesseps, a confident woman who strives to achieve her dream of becoming a theater actress, which was considered taboo at the time.
Kim Yoo Jung, who's making her stage debut, said, "It'll be an opportunity to experience a lot and a meaningful time to show a new side of me." Jung So Min shared, "I've always wanted to perform on stage someday. I'll do my best." Chae Soo Bin showed her excitement, "I'm excited and grateful to be back on the stage after a long time. Meeting the audience in such a big theater is a new challenge for me. I'll show you a good performance."
Meanwhile, the Korean version of Shakespeare in Love premieres on January 28th at the CJ Towol Theater in the Seoul Arts Center.
Source (1)