tvN released new pictures of Park Min Young, Ko Kyung Pyo, and Kim Jae Young from Love in Contract.
Episode 4 had Kang Hae Jin (played by Kim Jae Young) announcing his marriage to Choi Sang Eun (Park Min Young) in front of the press and cameras as he was upset by his father who forced him to get married to a random rich girl. Curiosity is rising about how the love triangle will be resolved as Jung Ji Ho (Ko Gyung Pyo) was seen gritting his teeth watching the sudden marriage announcement of the two on television.
The newly released stills have Ji Ho and Sang Eun sitting back to back at a cart bar. Five years ago, the two met in court, and the picture shows the second encounter they had when they didn't know each other that well. Sang Eun is seen having a serious conversation with Woo Kwang Nam (Kang Hyung Seok) while Ji Ho unintentionally eavesdrops on their conversation.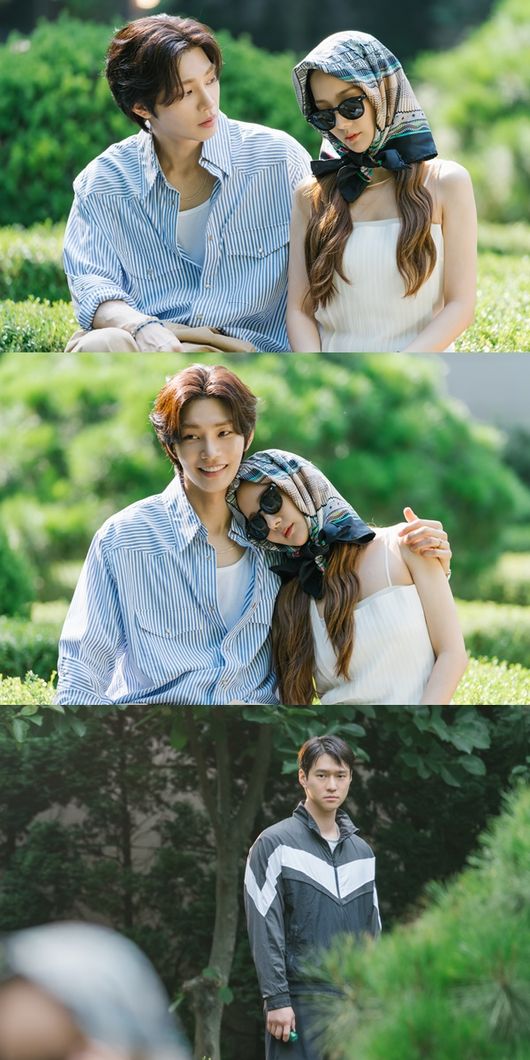 Other photos have Sang Eun and Hae Jin spending time together in a broad daylight and her dozing off on his shoulder. Ji Ho is seen looking at them from a distance, with eyes filled with jealousy.
Regarding the upcoming episode, the production team shared, "The real reason Ji Ho signed a contract with Sang Eun will unveil in episode 5. Ji Ho will begin to look back on his feelings which will put him in a whirlpool of emotions that he has never experienced before. Stay tuned for the next episode!"