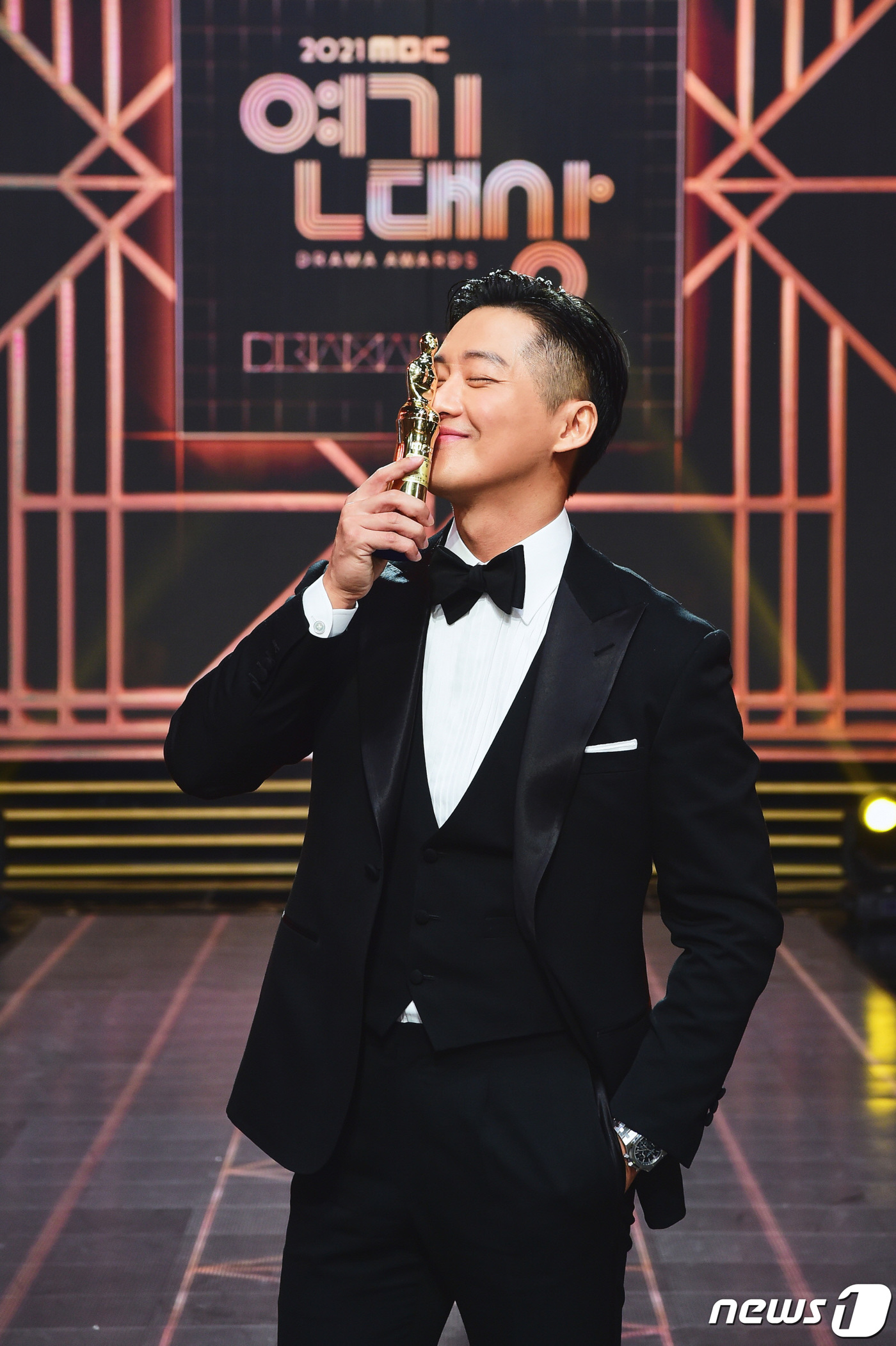 MBC held its Drama Award ceremony on the 30th. On this night, The Veil star Namkoong Min took home the Grand Prize, while The Red Sleeve became the biggest winner of the night with a total of eight awards.
The event was held without an audience to prevent the spread of COVID-19.
The Grand Prize went to Namkoong Min for his outstanding performance as a former intelligence agent looking for revenge in MBC's blockbuster drama The Veil. In his speech, Namkoong Min said, "The Veil was a technically time-consuming drama. Every scene required a lot of time, and experts were with us. About halfway into the drama, I started wishing that we had more time."
He continued, "I was anxious from all the stress. But whenever I went to the set, the lovable actors of The Veil were there as their characters, and it really gave me so much strength. I was exhausted mentally and physically, but I was able to stay strong till the end." Lastly, Namkoong Min expressed his affection for his long-time girlfriend Jin Ah Reum, saying, "Ah Reum, thanks for always being there for me. I love you."
The Red Sleeve has dominated the ratings and the buzz since its premiere in November 2021. And on this night, the drama picked up a total of eight trophies, including Top Excellence Awards for Lee Junho and Lee Se Young, Lifetime Achievement Award for Lee Deok Hwa, and the Best Couple Award.
You can check out the full list of winners below.
Grand Prize: Namkoong Min (The Veil)
Drama of the Year: The Red Sleeve
Top Excellence Award for a Mini-Series (Actor): Lee Junho, Lee Se Young (The Red Sleeve)
Top Excellence Award for a Daily Drama: Cha Seo Won, Uhm Hyun Kyung (The Second Husband)
Excellence Award for a Mini-Series: Lee Sang Yeob (On the Verge of Insanity), Jang Young Nam (The Veil)
Excellence Award for a Short-Form Drama: Jung Moon Sung (Moebius: The Veil), Kim Hwan Hee (Here's My Plan)
Best Couple: Lee Junho and Lee Se Young (The Red Sleeve)
Lifetime Achievement Award: Lee Deok Hwa (The Red Sleeve)
Best Supporting Actor: Jang Hye Jin (The Red Sleeve), Kim Do Hyun (The Veil)
Best Screenwriter: Jung Hae Ri (The Red Sleeve)
Best New Actor: Kang Hoon (The Red Sleeve), Kim Ji Eun (The Veil)
Translator Kim Hoyeun: If you are a fan of K-drama, K-movie, and K-pop, I am your guy. I will continue to provide you with up-to-date K-entertainment news.