Yoo Jae Suk won the Grand Prize at the MBC Entertainment Awards for the second year.The 2021 MBC Entertainment Awards, held on the 20th, recorded 6.5% ratings for part one and 7.2% for part two. Such ratings are the highest among all three networks' award ceremonies.
Among all the award recipients, Grand Prize winner Yoo Jae Suk became the hottest topic as he wrote a new history once again. This year's Grand Prize marked the emcee's 18th grand prize overall—and his 8th from MBC. With this, he once again proved his worth as Korea's best emcee with the most awards. Yoo Jae Suk impressed the fans with his speech, "I will make sure I can give you a smile until the day my body runs out."
Yoo Jae Suk's hit variety show Hangout with Yoo became a big winner of the night, sweeping nine awards, including Grand Prize and Variety Program of the Year. Yoo Jae Suk and director Kim Tae Ho, who will be leaving MBC next year, shared an affectionate moment together. Director Kim teared up as he said, "I was able to brace myself and pluck up because he was with me. I respect him."
Meanwhile, the 2021 MBC Entertainment Awards showed impressive results in both viewer ratings and popularity, raising expectations for 2022.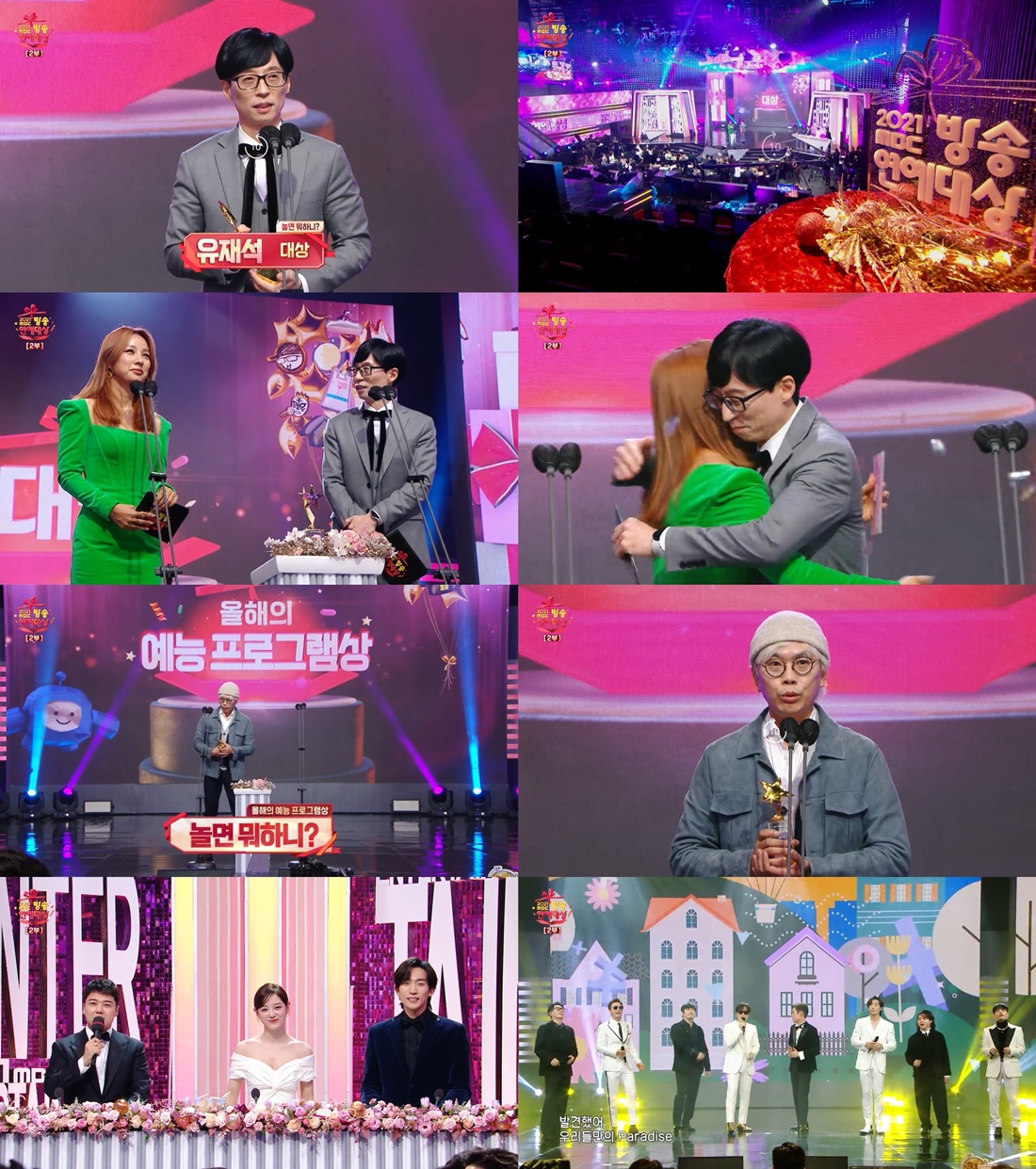 You can check out the full list below.
Grand Prize: Yoo Jae Suk (Hangout with Yoo)
Variety Program of the Year: Hangout with Yoo
Entertainer of the Year: Kim Gura, Kim Sung Joo, Park Na Rae, Yoo Jae Suk, Jun Hyun Moo
Top Excellence in Variety: Ahn Jung Hwan, Shin Bong Sun
Top Excellence in Radio: Jang Sung Kyu
Excellence in Variety: Yoon Se Yoon, Jang Dong Min, Hong Hyun Hee
Excellence in Radio: Ahn Young Mi, Muzie, Jung Sun Hee, Moon Chun Shik
PD Award: I Live Alone Team
Best Entertainer Award: Yoo Byung Jae, Yang Se Hyung
Best Character Award: Jung Joon Ha, HaHa
Best Couple: Yoo Jae Suk, Lovelyz's Mijoo, and HaHa (Hangout with Yoo)
Best Teamwork: MSG Wannabe (Hangout with Yoo)
Popularity Award: Kim Jong Min, Sandara Park, SHINee's Key
Special Award for Variety: Girls' Generation's Yuri, Fin.K.L's Ock Joo Hyun, Aiki, (G)I-DLE's Jeon Soyeon
Achievement Award: Ha Choon Hwa
Rookie Award for Variety: Parc Jae Jung, Mijoo
Rookie Award for Radio: Jung Joon Ha, Shinji
MC Award: Boom, Park Sun Young
Writer of the Year: Park Hyun Jung
Digital Content Award: Change My Home
Special Award for Current Events and Cultural Programs: Kang Da Som, Oh Eun Young, Jung Joon Hee
Writer of the Year for Current Events and Cultural Programs: Kan Min Joo
Special Award for Radio: Yum Min Joo, Heo Il Hoo
Writer of the Year for Radio: Park Se Hoon
Radio Contribution Award: NCSoft
Translator Kim Hoyeun: If you are a fan of K-drama, K-movie, and K-pop, I am your guy. I will continue to provide you with up-to-date K-entertainment news.