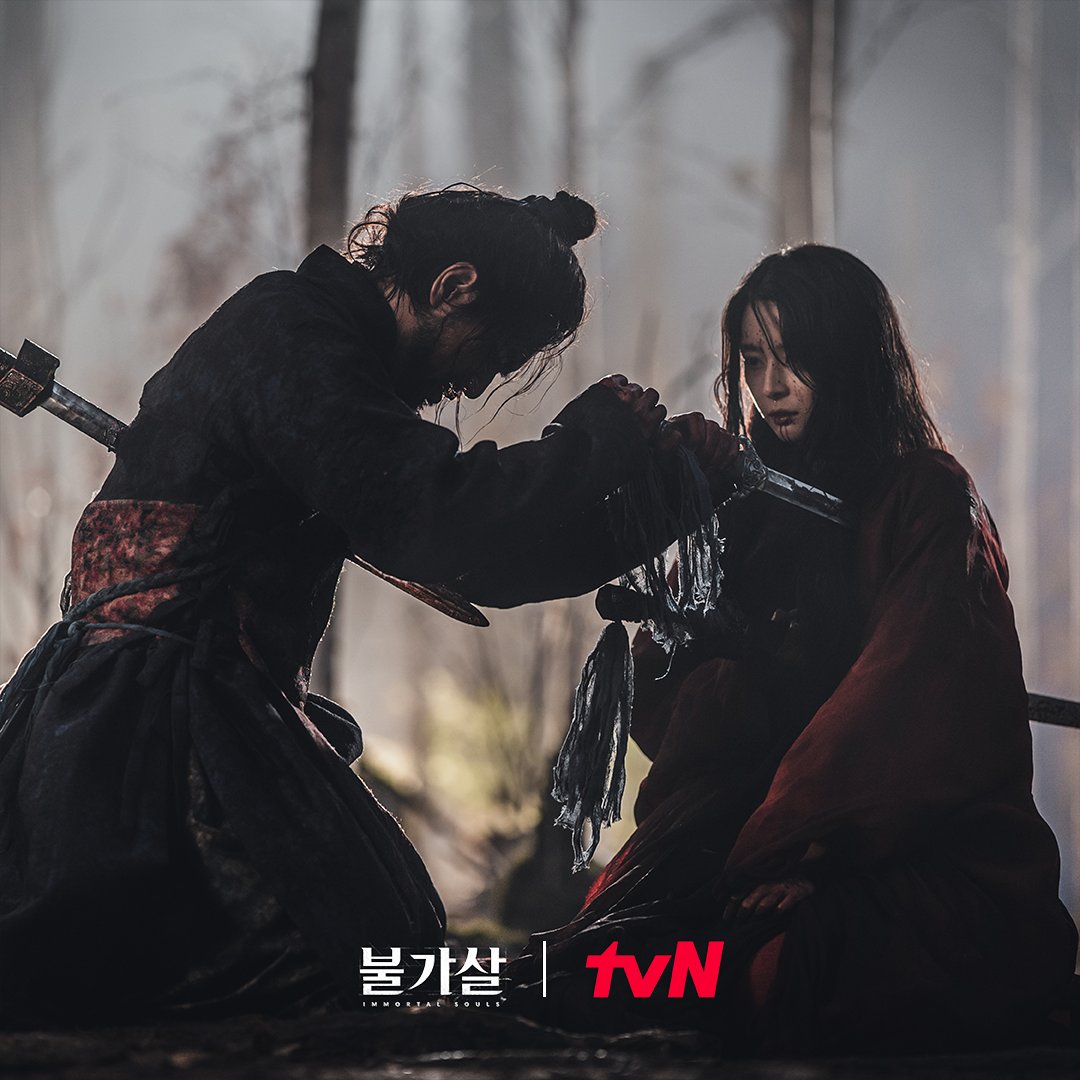 Keen attention is being paid to the worldview of the new K-creature drama Bulgasal: Immortal Souls.
The first two episodes told a story of a man and a woman whose fates have been entangled for 600 years. At the same time, it painted out a fantasy unique to the drama where the Korean monsters and special abilities exist. Let's look into the rules that'll help us understand this unique worldview.
What Is Bulgasal?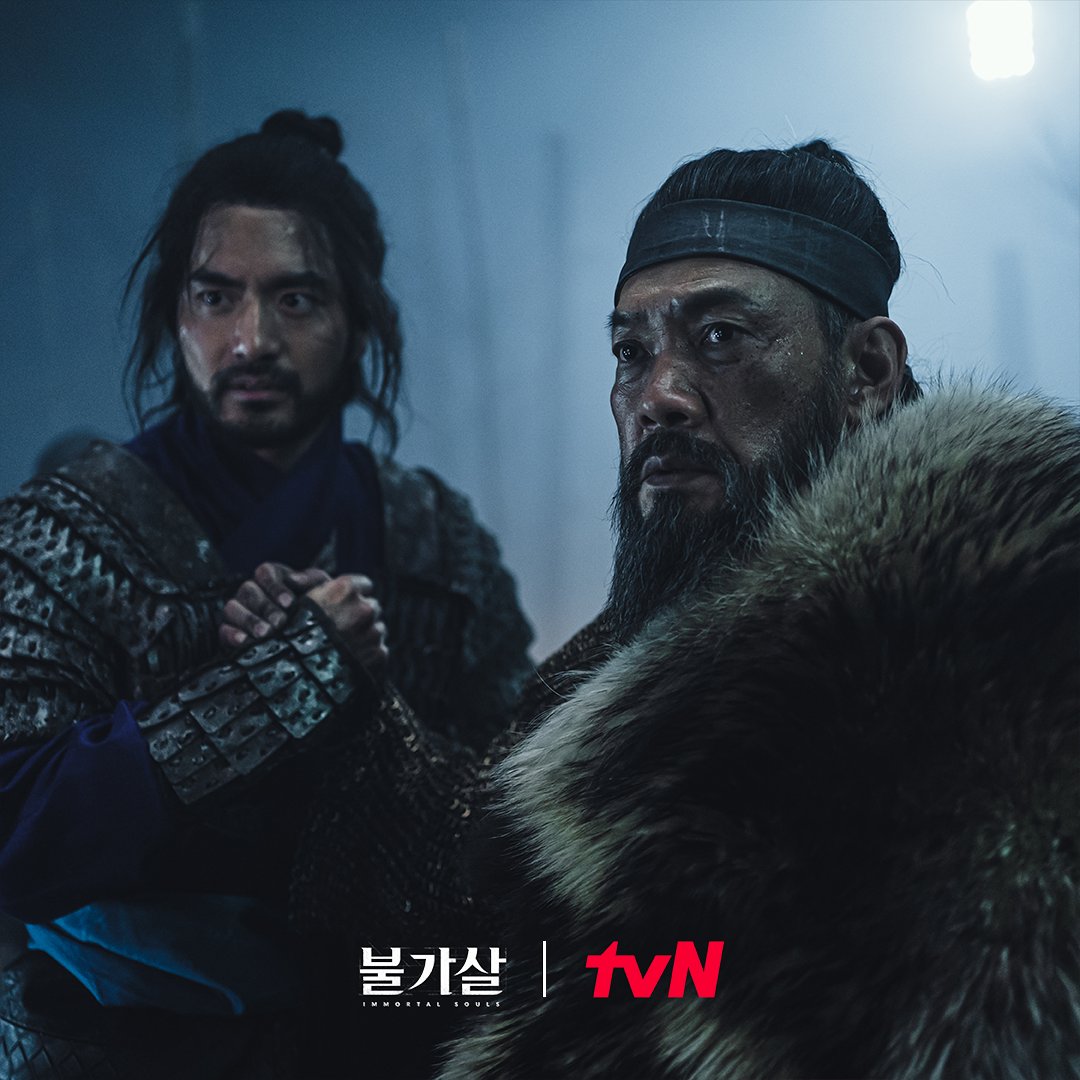 Bulgasal is an immortal being that can neither die nor kill because it has no soul. It is a monster that lives by drinking the blood of living things. And when it feels hostile towards someone, its nails turn black and black veins appear on its eyes and face. The terrifying energy emitted at this time causes the weak ones to nosebleed and the weaker ones to spill blood from every hold in their bodies and eventually die.
Gokon (Soul) and Reincarnation
In episode one, Dan Hwal  (Lee Jin Wook)'s soul is passed over to female Bulgasal, the past life of Min Sang Woon (Kwon Na Ra). And when it did, gonok was formed on her hand and soon got absorbed. In episode two, the gonok was dropped when the reincarnation of the monster that Dan Hwal hunted in the past was killed, which was then crushed with a sword. These gonoks are the core of souls. If the gonok is broken, the person will die and be reincarnated. But when it breaks for the eighth time, the soul will completely shatter, and the person will be gone for good. This applies to all things with souls, including people, monsters, and animals.
The female Bulgasal was reincarnated as identical twins. The older one remembers her past life, while monsters chase the younger one for her soul. As a result, the older one was killed, and Min Sang Woon only remains to seek a way to kill Bulgasal. Why was she reincarnated as identical twins? What does it mean?
Dan Sol's Special Power
Six hundred years ago, Dan Sol (Gong Seung Yeon) had extraordinary abilities as Dan Hwal said, "You see things you shouldn't see." And that ability is reading the growth rings of memories possessed by the soul. When she squeezes on someone's hand, she can go back in time and read their memories. But it has a huge burden on her body, so she doesn't use her powers recklessly. Dan Sol tragically ended her life, trying to protect her son. Will she also be reincarnated in modern time? And if she does, will she also have the same power?
The timeline that continues from the past to the present also stimulates curiosity. Dan Hwal, a boy cursed by Bulgasal 600 years ago, realized that the mysterious woman who saved him was indeed Bulgasal. And when the two met again, she tried to kill him. But at that moment, the soul was transferred, which turned Dan Hwal into Bulgasal. Dan Hwal managed to plunge his sword into her, but unlike how he lost all his family and was forced with the pain of living as Bulgasal, the woman died as a human. And for 600 years since then, he's searching for her reincarnation to end his vendetta.
Source (1)
Translator Kim Hoyeun: If you are a fan of K-drama, K-movie, and K-pop, I am your guy. I will continue to provide you with up-to-date K-entertainment news.