Twitter has revealed the "Top K-pop Artists Worldwide" for this year.
Today (10th), Twitter released data collected from January 1st through November 15th, 2021. And the "Top K-pop Artists Worldwide" shows which K-pop artists were the most tweeted on the platform.
This year, BTS claimed the top spot as the most-tweeted about K-pop artists worldwide. But this is not the only feat they achieved. For the fifth year, the act became the most-tweeted musician around the world, beating Kanye West, Beyonce, and Rihanna. Blackpink also ranked seventh on this chart, proving their global influence.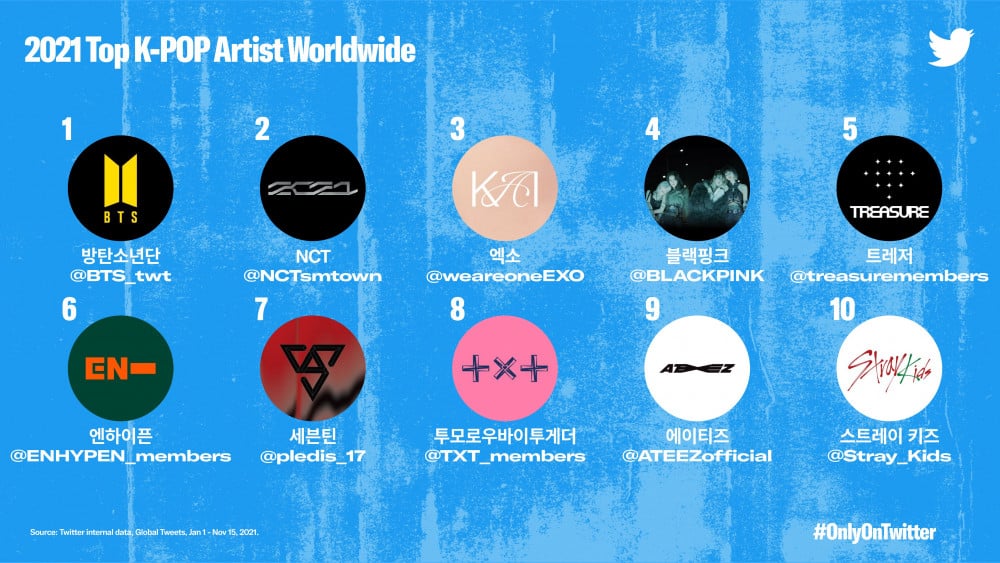 Additionally, NCT landed at No. 2 on the "Top K-pop Artists Worldwide" for two consecutive years. EXO, BLACKPINK, TREASURE, ENHYPEN, Seventeen, TXT, ATEEZ, and Stray Kids also put their names in the Top 10.
Meanwhile, K-content also showed impressive performance on worldwide ranking charts. Netflix's mega-hit series Squid Game and BTS' reality show In the Soop each ranked 3rd and 8th on "Most Discussed TV Shows Worldwide."
Translator Kim Hoyeun: If you are a fan of K-drama, K-movie, and K-pop, I am your guy. I will continue to provide you with up-to-date K-entertainment news.