Come down memory lane with us and remember the 13 times K-Pop celebrities were scared out of their mind on reality TV for this month's Friday the 13th.
1. EXO Luhan was quite scared in his segment from the hit reality show Running Man, and later confessed that he had an extreme fear of heights and getting onto an elevator frightened him.
2. NU'EST's Ren and the Mirror Spirit on Produce 101. 
3. SNSD Yuri's ghost scare from Wonderful Outing.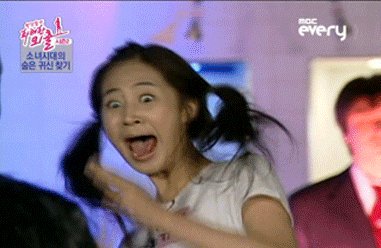 4. BTS Jin scared by RM in Run!BTS.
5. BLACKPINK Jennie being scared on her walk through a haunted maze with partner Lee Kwang Soo on Running Man.
6. Red Velvet Irene getting scared from "fireworks" on stage.
7. Another BTS Jin scare… this time from him seeing something under the water!
8. When Jay Park got spooked by The Sacred Riana on Asia's Got Talent 2017.
9. Comedian Park Narae terrified of having to zipline on I Live Alone.
10. Singer Eun Ji Won getting scared while riding along the sand mountains of Dubai on Carefree Travelers.
11. Twice's Mina, Momo, and Na Yeon frightened on a Giro Drop in Vietnam on Carefree Travelers.
12. Super Junior Lee Teuk holding on for dear life as cheerleaders raise him up during his MC days on Star King.
last but not least, the scaredy-cat king of all….
13. Yu Jae Suk getting scared on an episode of the infamous Infinity Challenge, in which a spy cam was set up in order to scare him. He ended up crying.

We can't wait for more celebrity scares to come in Korea's variety shows! They may be scared, but it gives us a good laugh.
For more K-Pop related content, check out the link below:
https://www.ondemandkorea.com/k-pop