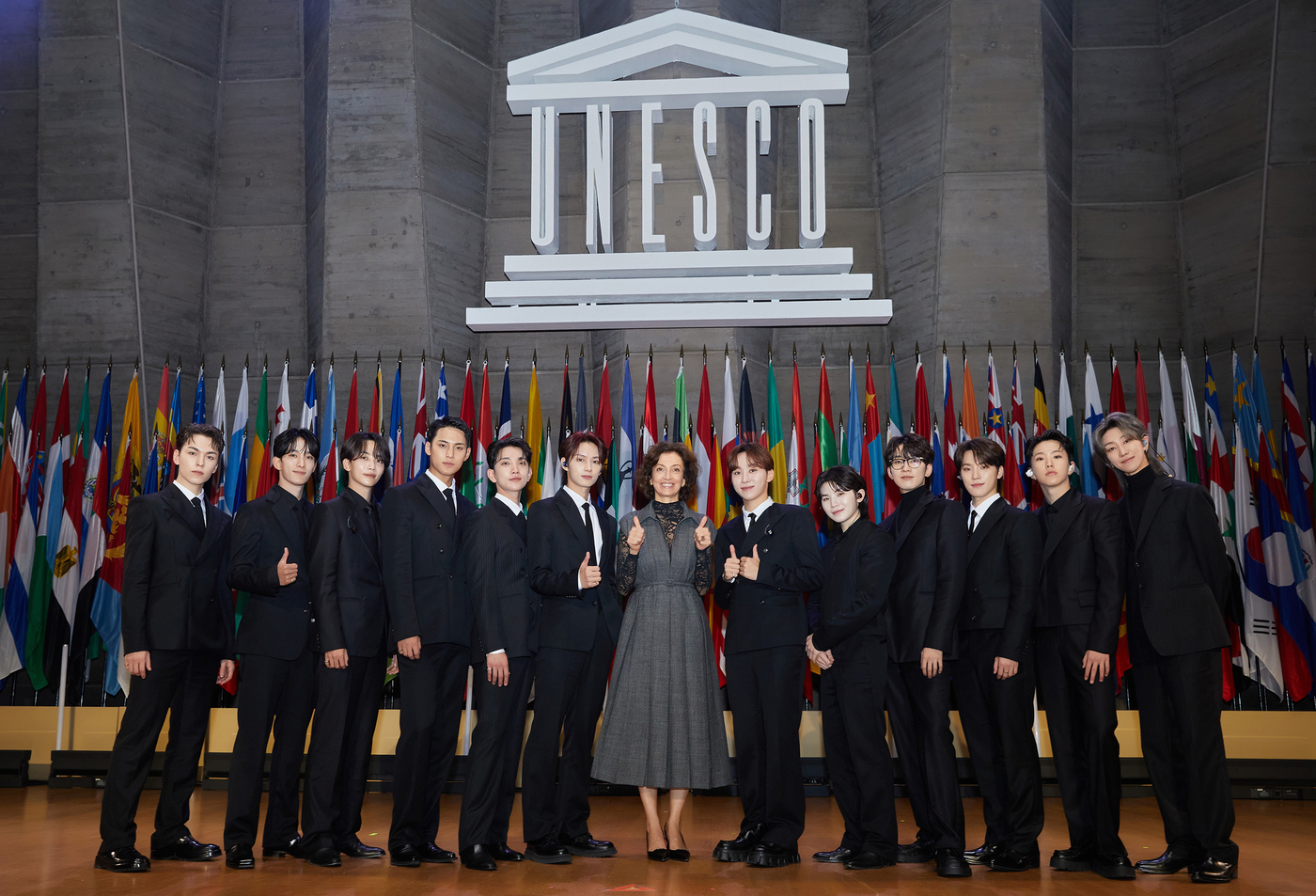 SEVENTEEN was exclusively allocated a special session at the 13th "UNESCO Youth Forum" held at the UNESCO headquarters in Paris, France, on the 14th (local time). Representing the group, members Seungkwan, Jun, Woozi, Mingyu, Joshua, and Vernon (in order of speech) addressed the audience in three languages: Korean, Chinese, and English. Following their speeches, the group performed five songs embodying their distinct positive message of overcoming despair together.
Kicking off the speeches, Seungkwan spoke of his special connection to Jeju Island, his hometown, and UNESCO. He mentioned, "Jeju Island was the first region in the world to be designated by UNESCO in three natural environment categories." He continued, "As a boy who dreamed of the future on an island recognized as a World Natural Heritage site by UNESCO, I stand here today at the UNESCO headquarters."
>> SEVENTEEN Spills the Tea on Their Birthday Tradition; Mingyu Talks About His Sister
Jun talked about SEVENTEEN's solidarity by becoming each other's teacher. He expressed, "From the first day we met in 2012, there's one thing I'm sure of every day: though it's tough alone, together as 13, we can make it." He continued, "We were teachers to each other. Together we practiced, created, and gradually became better versions of ourselves. We might not be perfect individually, but together, we are the best team."
Woozi reflected on the group's challenging journey. He said, "We couldn't expect the success we have now from the beginning," and added, "What mattered was whether we could overcome these limits together. Though success didn't come easily, the times spent passionately with the 13 members were always delightful. The members were always cheerful and never lost their sense of humor, teaching and learning from each other in SEVENTEEN's unique way."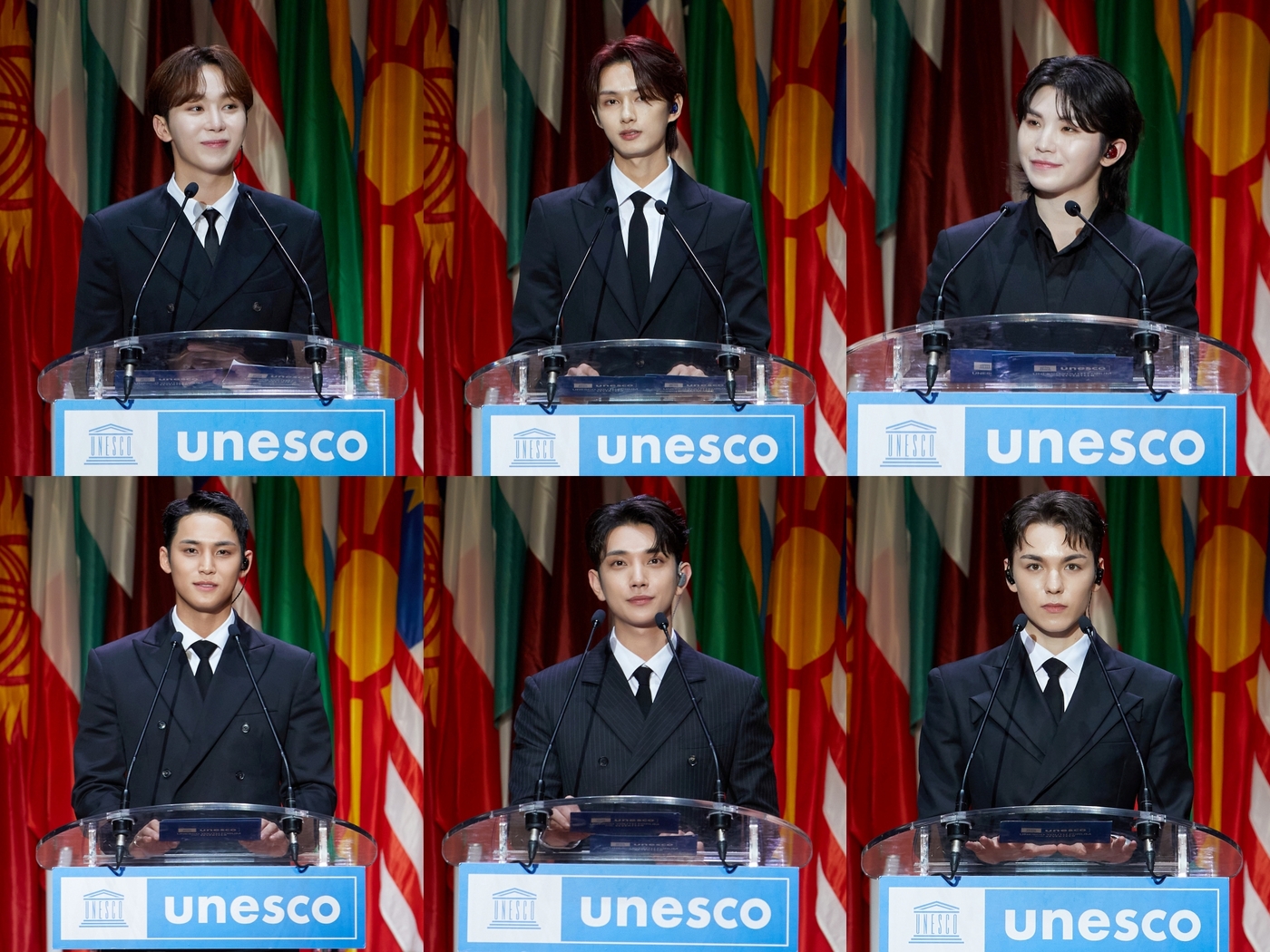 Mingyu highlighted SEVENTEEN's first donation and its significance. He recalled, "In the fall of 2016, a year after our debut, we received our first payment. Although it wasn't a large amount, we wanted to share this joy. We gifted 13 goats named after each member to children in Tanzania." He mentioned that a letter from the children, promising to raise the goats well for their dreams, deeply moved the members and prompted their continued charitable activities.
Joshua promised to expand SEVENTEEN's charity efforts globally in collaboration with UNESCO. He stated, "Going forward, we plan to improve education infrastructure in the least developed countries by building schools. We'll also strive to keep the conversation around education going. We pledge to work as ambassadors to UNESCO, to further raise awareness of the critical challenges in our time."
Joshua emphasized, "Just as it did for SEVENTEEN, #EducationCanChange_Me, #EducationCanChange_MyDream, #EducationCanChange_theWorld. Let's make it so we're all #GoingTogether by learning together."
Last to take the podium, Vernon emphasized SEVENTEEN's message to the world by reciting parts of the lyrics from the five songs they performed that day. Vernon declared, "Let's 'open a new future' together. 'I care for you, you care for me. We can be all we need.' Even a small action today 'can give people courage for many days to come. We will shine together.' 'We've just met but we can dance together.' 'If we are together. You and I are never losing our way. You and I, we will be walking straight.'" With these inspiring words, Vernon beautifully wrapped up the speeches, reinforcing the group's commitment to positivity and unity.
Source (1)