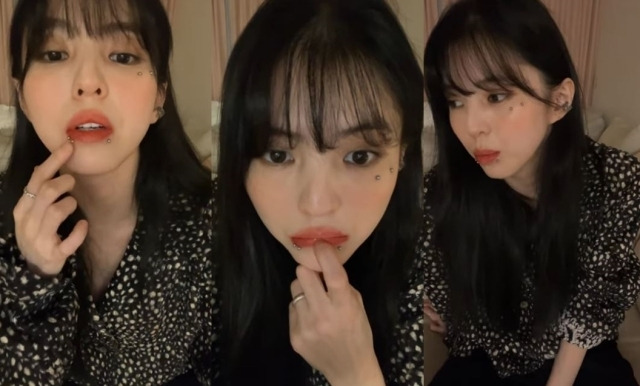 Han So Hee showed her new face piercings.
On the 25th, she went live to give fans a rundown on her latest happenings and future projects. Rocking new piercings on her lips and cheeks, the actress was totally transparent: "I've wrapped up shooting for my drama, set to air in December. I've been contemplating balancing commercials and photoshoots because I want them to serve as another channel to showcase my persona."
She acknowledged her slightly slurred speech due to her new lip piercings. "My lips are a bit swollen from the piercings," she added. Responding to a fan's request to share TMI news, she said, "I got a haircut and piercings. I was walking proudly, thinking no one would recognize me because of the bangs and piercings. But then two women asked for photos, so I happily obliged."
Han So Hee didn't mince words when talking about her piercings. "My skin is pretty thin, so piercing my lips hurt more than my cheeks," she revealed. "But piercings are temporary. I just did it because I've never done it before. I can take them out whenever I need to. If they add an element to the roles I play, I'm considering keeping them."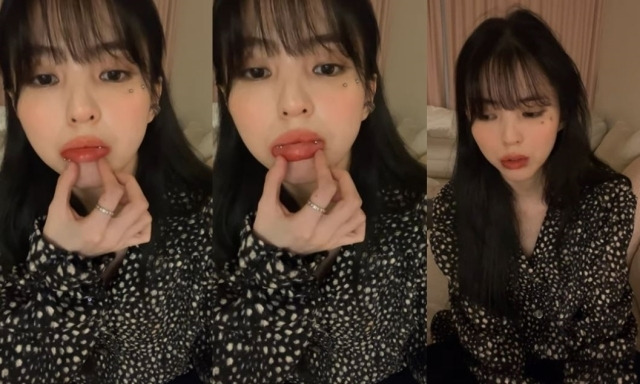 She also shrugged off concerns about scarring. "Scars? They can be removed. For now, I'm just glad I did something I wanted to," she said, even sticking out her pierced lips for all to see, before apologizing to those who may find it unsettling.
Finally, Han wrapped up with some inspirational talk and a public service announcement. "I'm in a phase where I'm gathering the strength and courage to start something new," she mused, adding, "It's getting cold, so make sure to bring a coat when you go out at night. I just wanted to say that."
The actress first showcased her piercings on the 24th, causing quite a stir among the people. No captions were needed—her stoic expression and freshly pierced lips were enough to catch everyone's eyes.
In other news, Han will make her return to the small screen this December in Netflix's new original series Gyeongseong Creature. The creature thriller, set in the spring of 1945, sees two youths facing off against a monster born of greed. The actress plays Yoon Chae Ok, a skilled tracker who has traveled through Manchuria and Shanghai since childhood to find missing people.
>> Cha Eun Woo and Han So Hee Sizzle as a Stunning Couple in Giordano's Newest Photoshoot
Source (1)