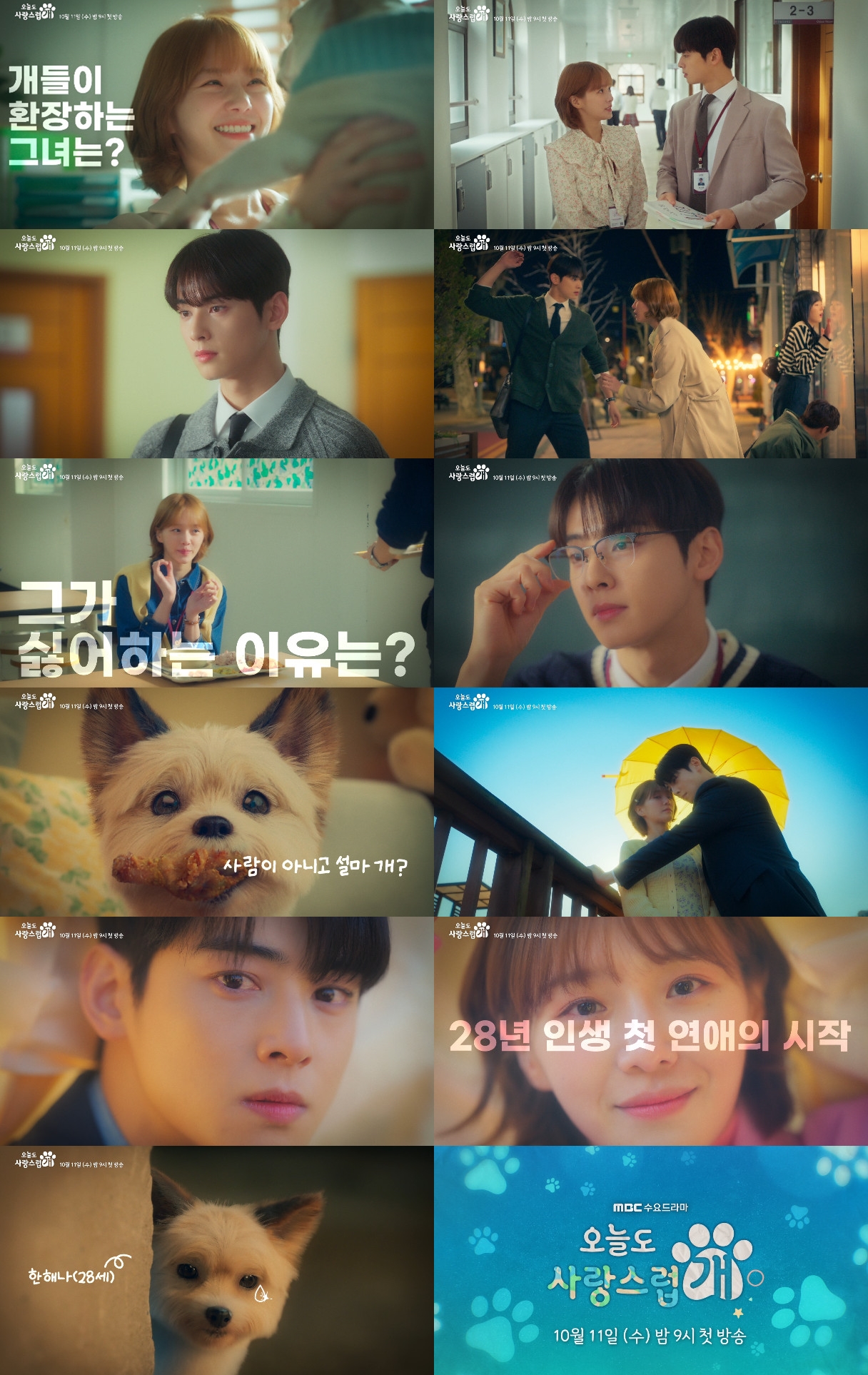 The veil is lifted as the first teaser trailer for A Good Day to Be a Dog captures the eye and stokes excitement among prospective viewers.
MBC's new Wednesday drama A Good Day to Be a Dod dropped its initial teaser on the 7th, amplifying the anticipation. This unpredictable fantasy romance centers on a woman cursed to turn into a dog with a single kiss and a man who could break the curse but is terrified of dogs. The show is based on a popular webtoon of the same name by author leehye.
The drama boasts a star-studded cast featuring Cha Eun Woo, Park Gyu Young, and Lee Hyun Woo, striking the perfect chord with viewers even before the release. The teaser kicks off with Park Gyu Young, playing Han Hae Na, who is visibly exhausted by her popularity among dogs due to her curse.
Park aggressively approaches her fellow teacher Jin Seo Won (Cha Eun Woo) in her quest to lift her curse. But due to his dog phobia, Cha responds coldly and indifferently even to her question, "Why do you dislike me so much?" Even then, Park shows off her adobe charm, saying, "I am exceptionally cute," and the dog version of her certainly captures everyone's heart.
As the story unfolds, the two characters gradually draw closer, igniting the sparks of romance. Under an umbrella, Cha Eun Woo sincerely apologizes to Park Gyu Young, saying, "It's not that I dislike you. I'm sorry if I gave you the wrong impression," creating an intriguing tension between them that leaves viewers on the edge of their seats. The teaser concludes with an additional layer of intrigue as Cha comes face-to-face with Park who's turned into a dog.
Meanwhile, A Good Day to Be a Dog is set to premiere on October 11 at 9 PM KST.
Source (1)