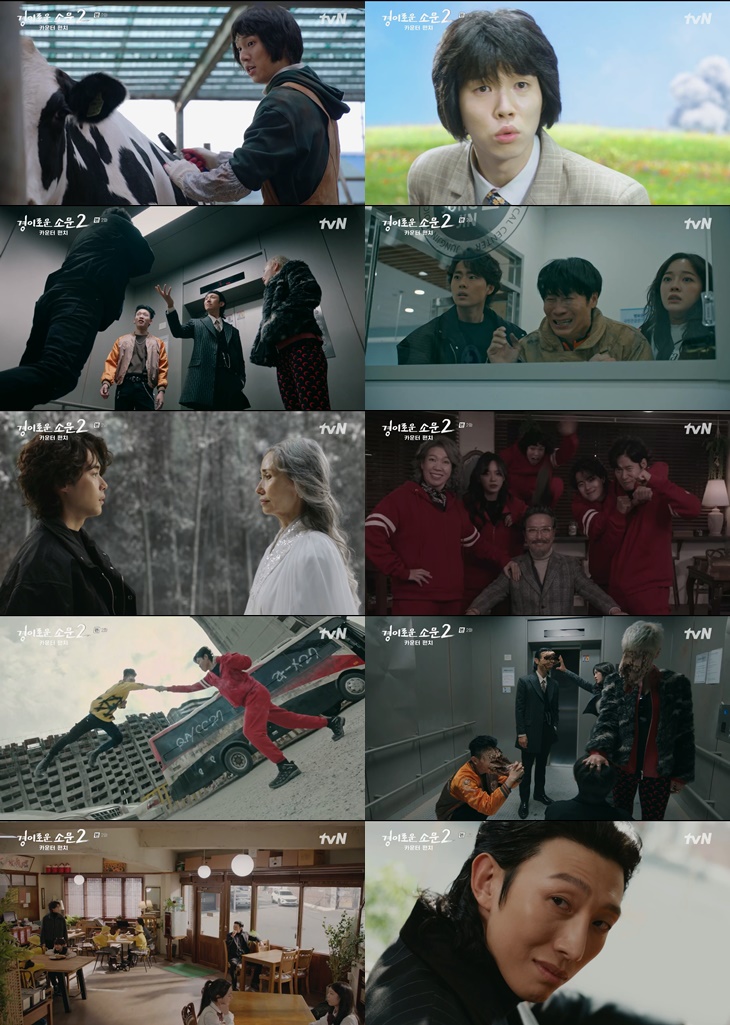 The Uncanny Counter Season 2: Counter Punch saw a significant rise in viewership, jumping to 5.4 percent for its second episode from its premiere's 3.9 percent.
somun is indeed the uncanny counter!#TheUncannyCounter2 #TheUncannyCounter2EP2 pic.twitter.com/JVPlFfbQJq

— tuc 2 spoiler! (@devilchasers) July 30, 2023
THE SCREAM I SCREAMED WHEN SOMUN FINALLY APPEARED!!! his entrance is a cinematic masterpiece 🥹❤️‍🔥#TheUncannyCounter2 #TheUncannyCounter2Ep1 #ChoByeongKyu pic.twitter.com/vu8XmnwSke

— ⛅️ (@kdramatreasure) July 29, 2023
These 3 evil spirits are really on a different level, they killed all the counters in China and was able to acquire their powers! And now has the ability to read, erase memories and heal people as what the counters can.#TheUncannyCounter2 #TheUncannyCounter2EP1 pic.twitter.com/rsvfrjssKW

— 💙 (@kdramatreats) July 29, 2023
The first episode captured the Counters doing their thing – saving people from demon attacks and trying to level up their powers. Then, in episode 2, Pil Kwang (played by Kang Ki Young), Kelly (Kim Hieora), and Wong (Kim Hyun Wook) hit Korean soil after causing havoc in China. The tension kicked up a notch with firefighter Ma Joo Seok (Jin Seon Kyu) going all dark after losing his wife to a demon. These demons weren't playing around either – they became even stronger by stealing powers from the Chinese Counters.
This is such a heartbreaking scene, Hana and So Mun consoling him. He didn't just lost his wife but also their unborn child 😢#TheUncannyCounter2 #TheUncannyCounter2EP2 pic.twitter.com/v0NuOw2XeV

— 💙 (@kdramatreats) July 30, 2023
jeokbong rough time since day 1 and somun being there watching him getting a lesson from do hana with his "I've been there…" look #TheUncannyCounter2EP2#TheUncannyCounter2 pic.twitter.com/RBj2WuGguX

— ☘️ (@rainsketches) July 30, 2023
I don't know why I suddenly felt that one of them is going to die this season as soon as Mun said "Everyone in this photo will be alive until the end" 😩

next week's preview worries me!

but this scene is so cute. I love this squad 🥺❤️#TheUncannyCounter2 #TheUncannyCounter2Ep2 pic.twitter.com/p3tZO3QzMk

— r o s e ✵ (@kdramasrose) July 30, 2023
The Counters got themselves a fresh face on the team – Na Jeok Bong (Yoo In Soo), a young countryman. Ga Mo Tack (Yoo Jun Sang) thought he was a perfect fit since he's all about helping others. They welcomed him warmly, and now Jeok Bong is officially part of the crew, raising expectations about his upcoming chemistry with the Korean Counters.
SO YALL ARE TELLING ME TO WAIT FOR 1 WEEK UNTIL THE NEXT EP????#TheUncannyCounter2#TheUncannyCounter2EP2 pic.twitter.com/u9DlCxiWe2

— tuc 2 spoiler! (@devilchasers) July 30, 2023
The second episode ended with a cliffhanger when Pil Kwang visited a noodle restaurant to meet So Moon (Jo Byung Gyu).
Source (1)