Smugglers has wrapped up its press screening and audience preview on July 18th, and it's already generating buzz.
A star-studded cast, including Kim Hye Soo, Yum Jung Ah, Jo In Sung, Park Jung Min, Kim Jong Soo, and Go Min Si, along with director Ryoo Seung Wan, attended at the event.
This action crime drama takes us on a wild ride as traditional female divers lose their livelihood and turn to smuggling for survival in a peaceful seaside village on Jeju Island. But their new venture quickly entangles them in a massive smuggling case, leading to a thrilling story. Ryoo Seung Wan, known for previous box office hits such as Veteran, The Battleship Island, Exit, and Escape from Mogadishu, directed this latest production.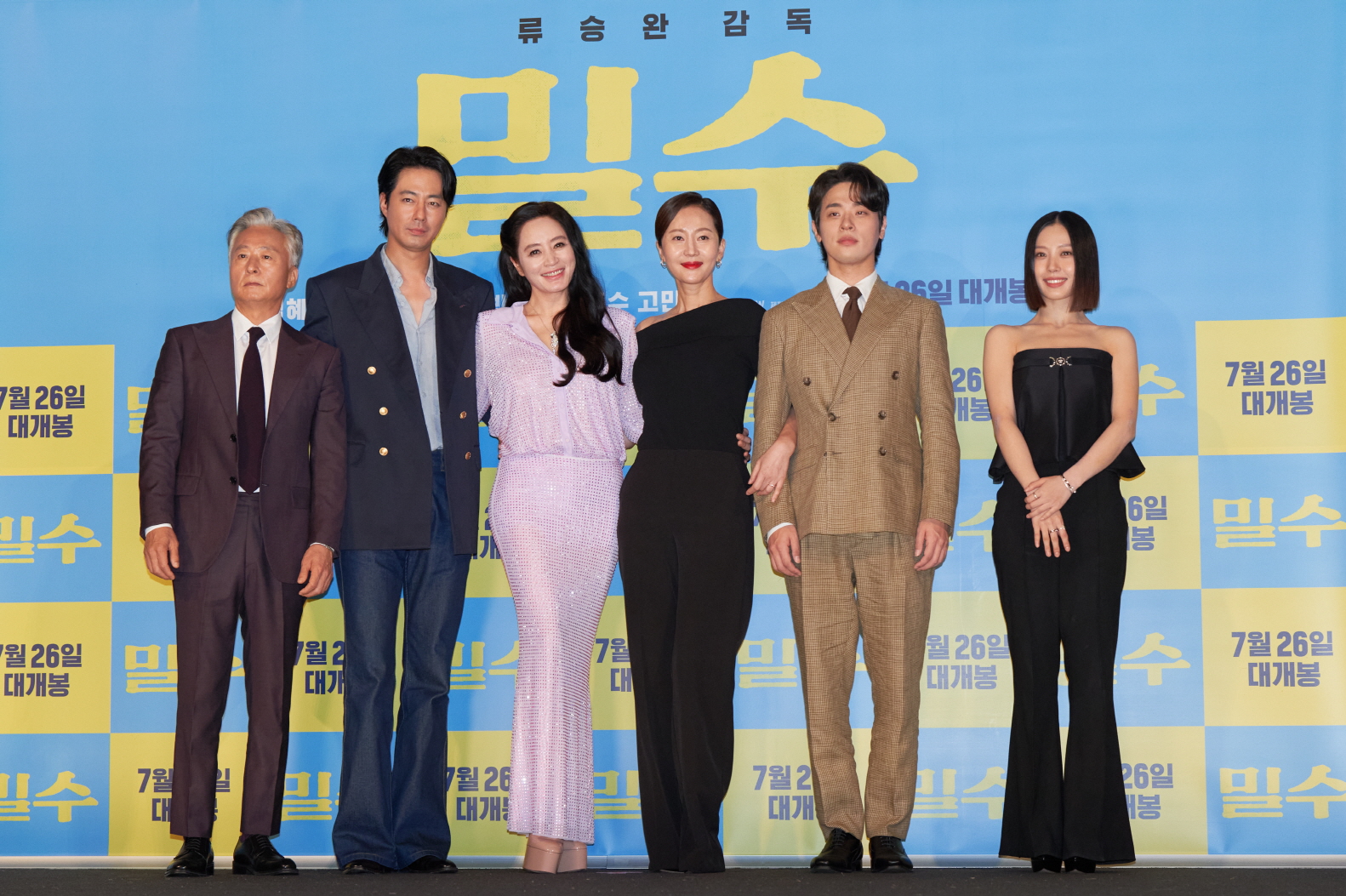 At the press screening, the actors got asked about their experiences on set. Jo In Sung responded, "The director said he sees his younger self when he looks at me, so I thought I should express the director's image while acting. But, man, it's a head-scratcher trying to figure out what that image is supposed to be," bringing laughter.
Park Jung Min chimed in with a chuckle, "The most challenging part was my face appearing right after Jo In Sung's shot," explaining that there wasn't a single difficult thing and that he had a breeze filming.
Kim Hye Soo shared a nail-biting story about an accident that happened towards the end of the shooting. "There was an accident just before the last two cuts. While coming out of the water, I got injured on my forehead. It was more disappointing not being able to be on the set than being hurt because I really loved the set at that time," she revealed.
But it's not all drama and injuries. The audience preview wrapped up with a bang – explosive reactions and laughter everywhere. Early reports are in, and it seems like Smugglers has hit the mark.
Reviews from media outlets:
Film Journalist Lee Eun Seon: "A random review of Smugglers: It's all about tough and brave women kicking some wicked butt in a twisted, foul world. This entertainment-packed film has got it all, and even the underwater scenes give it a fresh twist. Park Jung Min rocks as he takes on the seasoned veterans, and Go Min Si's charisma is like a lively staccato. It's safe to say that these two steal the show in Smugglers."
Sports Hankook: The story of passionate women unfolds like a summer night's fireworks on a refreshing sea. Ryoo Seung Wan skillfully weaves the characters' drama, adding the unique flavor of the era to create a smooth period drama. Kim Hye Soo and Yum Jung Ah's relationship, shifting between friends and foes, gradually heats up from the beginning and reaches a boiling point near the climax. The community formed by these women may be small, but it's filled with powerful loyalty, leaving viewers with a deeply moving experience.
News1: It was a work that shattered expectations and showed unexpected points. It's like thinking you're about to eat your usual meal, but suddenly you find yourself savoring a delightful seafood feast. The film is full of excitement with thrilling underwater action scenes and captivating, unique characters. The suspenseful plot races towards unpredictable moments, bringing freshness to the story.
Ten Asia: While it may not have a mind-blowing twist, the story remains unpredictable with its clever twists and turns. Throughout the film, the relationship between Kim Hye Soo and Yum Jung Ah change, driving the narrative forward. The fast-paced development, combined with thrilling underwater action scenes, will have you on the edge of your seat, even screaming at times. Moreover, the movie's 70s setting adds a nostalgic touch, and the enjoyable cinematography enhances the overall fun.
Response from audiences:
와 <밀수> 보고 나왔고 이거 도둑들 여자버전을 늘 소망해왔고, 오션스8 몇번이고 돌려본 사람이면 좋아할 영화임 ㅋㅋㅋㅋㅋ 아 짜릿해!! 김혜수랑 염정아가 오해로 혐관이 되고… 고민시는 김혜수의 아기고양이가 됨 https://t.co/iCZjyjczdo

— 브리프사 (@imbriepsa) July 18, 2023
"Wow, just watched Smugglers! It's like the female version of The Thieves I've always dreamed of. If you've binged Ocean's 8 multiple times, this flick's a must-watch! Kim Hye Soo and Yum Jung Ah go from buddies to frenemies thanks to a little misunderstanding… and Go Min Si turns into Kim Hye Soo's adorable lil kitten!"
<밀수> 후기

1. 김혜수와 염정아가 서로 사랑하고 싸우고 울고 사랑한다

2. 마지막 액션씬이 정말 기발하고 신선하다.
물속에서는 마동석이 와도 물주먹이 되는 물의 속성을 너무 잘 활용함
바다의 최상위 포식자는 해녀들인듯 ㅋㅋ

3. 조인성 퍼컬은 류승완이다

4. 고민시가 레전드로 사랑스러움 pic.twitter.com/lbqENMiY0s

— 딩 (@_03130408) July 18, 2023
"Smugglers review:
Kim Hye Soo and Yum Jung Ah laugh, fight, cry and love.

The final underwater fight scene is truly ingenious and refreshing. The film made excellent use of the underwater scenes, convincingly showing that even Ma Dong Seok would become useless with his punches underwater.

Jo In Sung's personal color is Ryoo Seung Wan.

Go Min Si is a legend, absolutely adorable."
* 배우별 후기(1)
1. 김혜수 염정아가 사랑하다 싸우다 사랑하다 함.
2. 조인성이 섹시하게 싸움.
3. 박정민 캐릭터 이름이 왜 장도리인지 알겠음. 장도리로 혼내주고 싶음.
4. 고민시 진짜 감초 역할 너무 제대로 찢어버림.
5. 김종수 배우님 그렇게 안봤는데 무서운 사람이네.

— 쨔류 (@clu_6124) July 18, 2023
"Smugglers actor reviews (1):
1. Kim Hye Soo and Yum Jung Ah love, fight, and love again.
2. Jo In Sung oozes sexiness even during his fights.
3. Park Jung Min's character's name is Jang Dori (literal translation: clawhammer), and it makes sense now. I want to smash him with a clawhammer.
4. Go Min Si truly nailed that pivotal supporting role.
5. I never imagined Kim Jong Soo could be so scary."