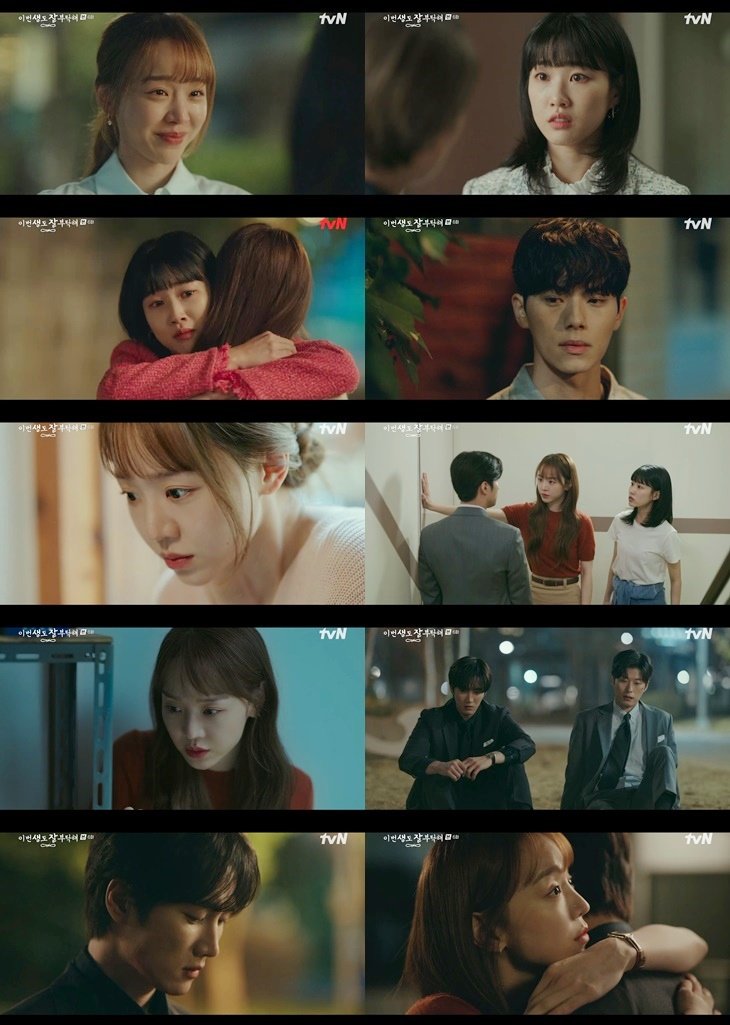 >> 'See You in My 19th Life' Review: A Healing Fantasy That Offers Peace to Those Left Behind
Episode 6 of tvN's See You in My 19th Life unveils the mystery surrounding the death of Yoon Joo Won (played by Kim Sia) in a car accident.
Ban Ji Eum (Shin Hye Sun) confesses her true identity as Joo Won to Yoon Cho Won (Ha Yoon Kyung) and expresses her deep affection for her family.
Yoon Cho Won tries not to believe it, but she becomes confused when Ban Ji Eum tells her the detailed events from a long time ago. Eventually, when her mother (Kang Myung Joo) mentioned how Ji Eum, who said she would come see them again if she was reborn, was "special yet strange," Cho Won rushed to find Ban Ji Eum and burst into tears.
jieum said her best life is her 18th, not only because she met seoha, but because she had them as her family 🥺#SeeYouInMy19thLife#SeeYouInMy19thLifeEp6pic.twitter.com/yiTzrrgHWW

— i (@adoreshinhs) July 2, 2023
"I waited for her at times. I even looked outside when I heard some noises. But she never came."

their mom really believes that juwon will come find her in her next life 😭 she's really waiting for juwon to come home#SeeYouInMy19thLifeEp6 pic.twitter.com/qv6kakkV09

— daisy han (@kdramadaisy) July 2, 2023
"I miss you, juwon."

chowon chose to believe jieum 😭😭😭 the yoon sisters have really reunited#SeeYouInMy19thLife#SeeYouInMy19thLifeEp6 pic.twitter.com/6Qk0PS5xkz

— daisy han (@kdramadaisy) July 2, 2023
It was revealed that there was a hidden truth behind the car accident that killed Ban Ji Eum (Shin Hye Sun) in her past life. Ban Dong Woo (Moon Dong Hyuk), Ji Eum's older brother, overheard the CEO of Wonjo Capital, Moon Seo Ha (Ahn Bo Hyun), saying, "It wasn't an accident. An innocent person died, and I was terrified." Dong Woo informs Moon Seo Ha about this fact to bag money, and Ban Ji Eum also threatens the CEO of Wonjo Capital upon realizing that her past life's death was a homicide.
je: who ordered you to do it?
: what are u talking abt?
je: the accident one that u mentioned. i di3d in that accident. who ordered u?
: u must be crazy
je: i can k1ll u in 10 secs

CRAP DONT MESS WITH HER#SeeYouInMy19thLifeEp6pic.twitter.com/93Ari6UqEP

— ♡ (@cleankdrama) July 2, 2023
The episode ended with Ji Eum waiting for Seo Ha in front of his house and giving him a warm hug, offering comfort as he appeared exhausted both physically and emotionally.
jieum: can i stay by your side right now?
seoha: can you give me a hug right now?

JIEUM COMFORTING SEOHA🥹🥹 I AM TOO SOFT FOR THIS#SeeYouInMy19thLifeEp6 #SeeYouInMy19thLifepic.twitter.com/wxYWzKoYLW

— ♡ (@cleankdrama) July 2, 2023
Esta escena fue tan emotiva, la forma en como Jieum lo abraza a Seoha y le dice que ellos no tendrán un final malo/triste.🥺 tanto ella como el son el lugar seguro del otro.💜#SeeYouInMy19thLife#SeeYouInMy19thLifeEp6#AhnBoHyun #ShinHyeSunpic.twitter.com/SNBrTKKs1x

— 🦋 💫 𝗠𝗮𝗿𝗶𝗶 🏳️‍🌈 🇦🇷 (@pkjimin_bts) July 2, 2023
Meanwhile, part-timer Min Ki (Lee Chae Min) was always present whenever Ban Ji Eum became entangled with her past life connections. Moreover, he further piqued curiosity by remarking, "You still have no idea how complicated things can get when you become involved with people from your past life."
mingi is everywhere like a fvckin stalker. a cute stalker to be exact. but i know he's on the good side and only want to help jieum;; I BELIEVE IN KANG MINGI 😎💃🫂#SeeYouInMy19thLife #SeeYouInMy19thLifeEp6 pic.twitter.com/A79dl16yJZ

— 🗃️ (@jonghyeopsgf) July 2, 2023
Source (1)