Hwang Ui Jo, a national team member representing FC Seoul, recently became entangled in a controversy regarding his private life. However, he swiftly announced his intention to take decisive legal action against the spread of rumors.
On June 25th, Hwang Ui Jo's management company, UJ Sports, stated on Instagram that they had come across false rumors about his personal life. Consequently, they promptly requested an investigation to thoroughly examine the matter, asserting that all recent posts were based on unfounded claims.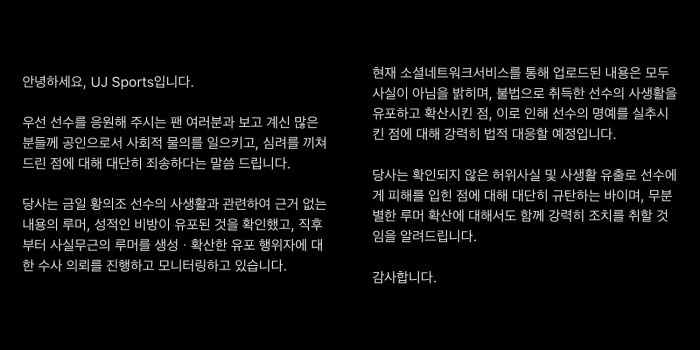 UJ Sports stated, "We have requested further investigations against the individual who spread the false rumors and are currently monitoring the situation. Strong legal action will be taken against anyone who illegally shares information about Hwang Ui Jo's private life or defames him." The statement continued, "We condemn the harm caused to the athlete due to baseless information about his personal life leaking online, and those who spread rumors will face severe legal consequences."
A post titled "The Private Life of National Soccer Player Hwang Ui Jo" recently surfaced on social media, creating significant waves within the online community. The woman who identified herself as his ex-girlfriend wrote, "Hwang Ui Jo has manipulated multiple women by pretending to be in relationships with them. However, he quickly changes his stance and claims he has to go abroad after having a one-night stand, just to avoid committing to any of them. He is involved with various women, including celebrities, influencers, and non-celebrities." The post in question has since been deleted.
In response to the scandal, Hwang Ui Jo has made his Instagram account private.
>> T-ara's Hyomin and Footballer Hwang Ui Jo Confirmed to Have Broken Up
Source (1)