Samyang Foods, the main sponsor of tvN's Jinny's Kitchen, is benefitting greatly from the show's popularity in Bacalar, Mexico, where K-street food is introduced. Their flagship product, Hot Chicken Flavor Ramen, is prominently featured on the program, resulting in strong publicity both domestically and internationally.
According to industry insiders on April 2nd, Samyang Foods, CJ Cheil Jedang, Dongseo Food, and others participated as sponsors for the production, with Samyang Foods benefiting the most. In the show, BTS member V, who is interning at Jinny's Kitchen, was captured enjoying the "Buldak Jjajang Ramen," a dish that combines Samyang Foods' black bean sauce with Hot Chicken Flavor Ramen. The show also featured "Fire Ramen," which contributed to Hot Chicken Flavor Ramen's popularity by using it as its main ingredient.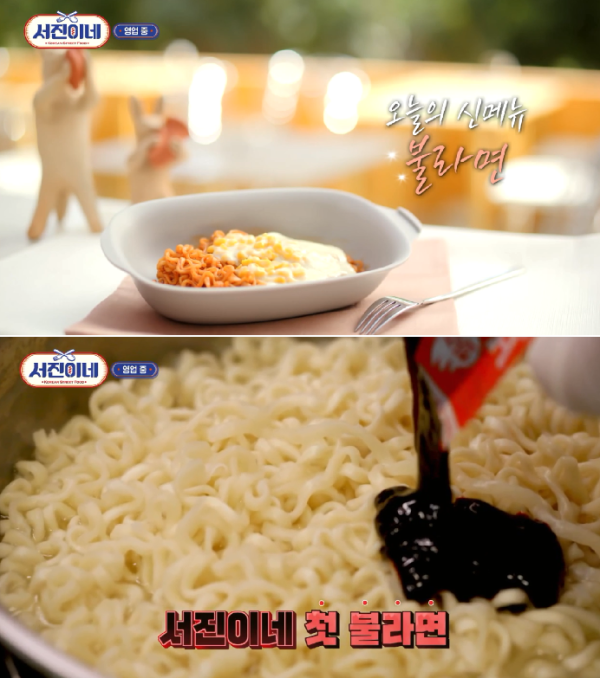 People online are sharing recipes for spicy black bean sauce ramen and spicy ramen. Fans from all over the world are especially interested in the noodles that BTS's V ate.
Hot Chicken Flavor Ramen is Samyang Foods' main export item, with over 70 percent of the firm's foreign sales coming from the Hot Chicken brand. Samyang Foods made over $694 billion in sales last year, and more than $458 billion of that came from exporting ramen.
The stock market industry is predicting that the total market value of Samyang Foods will soon surpass $763 billion, breaking free from the undervalued period. The firm's current total market value is evaluated at around $662 billion.
>> Park Seo Joon's Hotdogs in 'Jinny's Kitchen' Are Starting a Craze?