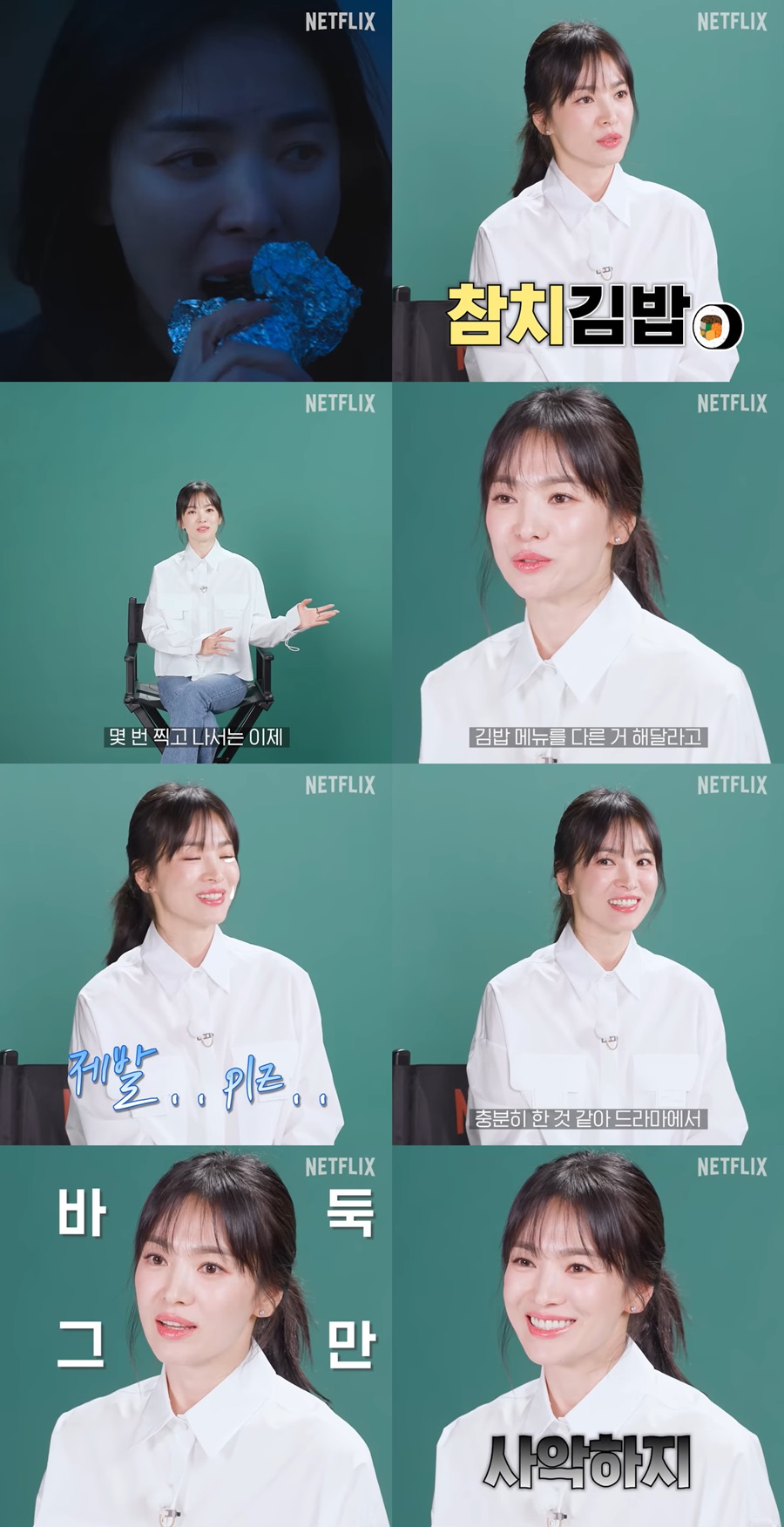 Song Hye Kyo has shared a behind-the-scenes story of the kimbap mukbang scene from The Glory in an interview with Netflix Korea.
The actress revealed the word 'honor' came to her mind when she heard the keyword 'The Glory' and expressed her affection for writer Kim Eun Sook and director Ahn Gil Ho. 
She also shared her first impression of her character Moon Dong Eun, explaining, "She is someone who grew up without a safe adult to healthily bond with, and while playing her, she has become the person who I want to protect."
Regarding the keyword' kimbap,' she revealed a funny story related to one of her mukbang scenes. "I had rolls and rolls of tuna kimbap. After taking a few takes, I was so done with it that I had to ask for a different kind," she said, making everyone laugh. Some scenes in the drama have Moon Dong Eun munching food on the streets, and Song Hye Kyo stated that those scenes are meant to portray how Dong Eun eats to survive, not to live.
"She is wicked," Song Hye Kyo said after hearing the keyword 'Park Yeon Jin' (played by Lim Ji Yeon) and picked the word "strategy" when she heard the word 'Go.' Regarding the game Go, she jokingly said, "I've had it enough in the drama. I don't want to play it anymore."
Regarding what makes her smile every day, she said, "My pet dog Ruby gets me going every day."
이렇게라도 동은이 웃는 거 보니 과몰입러 맘이 좋아 #더글로리 #TheGlory #송혜교 #SongHyeKyo #넷플릭스 #Netflix pic.twitter.com/YV4W02TQ5O

— Netflix Korea|넷플릭스 코리아 (@NetflixKR) January 4, 2023
Song Hye Kyo closed off the interview by saying, "I am back with a new role. I hope it receives lots of love."
Source (1)