>> VOTE NOW! For The 1st Annual ZAPZEE Awards
The day after JTBC's Reborn Rich ended, Song Joong Ki admitted to being in a new relationship with a British woman. Since then, this new "couple of the century" has been the talk of the town.
On the 29th, KBS's Entertainment Weekly did a cover on Song Joong Ki and his new girlfriend. The woman believed to be his girlfriend is British actress Katy Louise Saunders. One year older than the actor, she's the daughter of a British father and a Colombian mother, but she hasn't appeared in any works since 2018.
In fact, when Song Joong Ki won the grand prize at the 8th APAN Star Awards held in September, he thanked "Katy, Nala, Maya, and Antes" in his speech, adding strength to the speculations. Nala is Song Joong Ki's dog, and Maya and Antes are Katy's dogs, according to her social media.
Soon after the dating news hit the wire, rumors of marriage and pregnancy also surfaced. Some of the "proof" were – the fact that Saunders was Song Joong Ki's plus one to professional folder Im Sung Jae's wedding, the fact that the girlfriend had her hands on her stomach when they were spotted in the airport together, and the sighting of the two at an ob/gyn.
However, Saunders reportedly found a new career as an English teacher and met Song Joong Ki as his teacher for English and Italian. Some even noticed that Saunders graduated from Bocconi University, a private college located in Milan, and that's where Song Joong Ki's character in the drama Vincenzo went to, leading to speculation that the two might've been acquainted from then.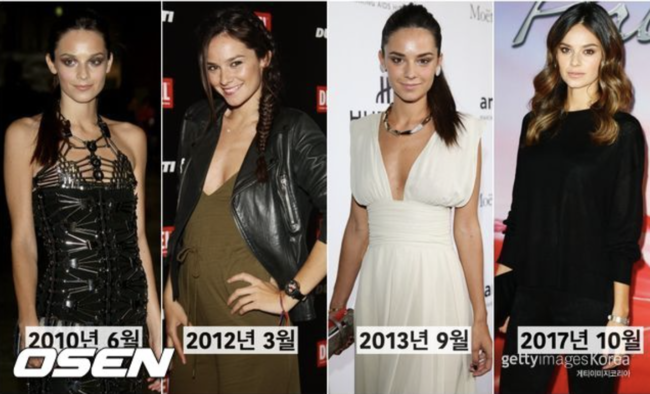 Moreover, OSEN reported that Saunders worked as an actress for 16 years, from 2002 to 2018, and one of the photos taken in March of 2012 showed her pregnant, making headlines. Some fans even found a picture of her with a little blond girl, sparking rumors online that she already gave birth to two girls.
With all the rumors and speculations circulating online, Song Joong Ki's agency High Zium Studio stuck to its original position regarding the actor's relationship, "We can't confirm or deny anything other than the fact that he's in a relationship."