The recent episode of KBS's Entertainment Weekly introduced celebrities' wise investments, from startup investments to stock options and stocks.
First, Lee Je Hoon is a famous angel investor of Company M, a unicorn company in Korea with a corporate value of 1 trillion won (about $750 million). The actor invested millions of dollars in the company in 2015. AFterward, Company M drew keen attention as a hot startup, recording sales more than 50 times in 4 years. Company M, which is about to go public soon, is worth up to 4 trillion won (about $3 billion). Experts speculated that Lee Je Hoon would've also raked in quite a profit.
After the drama Dream High, Bae Yong Jun halted his activities and has been investing in various startups. Among them is Company B that makes action figures, and the actor owns up to 10% of the shares. The estimated value of this company before its lighting on the KOSDAQ last year was about 200 billion won (about $150 million). If Bae Yong Jun later sells his shares, he'll earn about 20 billion won (about $15 million) in profit.
There are also stars who invest in stocks based on the value of the company. Stars who became a hot topic by investing large amounts of money in a comprehensive content company, Company K, include Lee Byung Hun, Hyun Bin, Lee Min Ho, and Park Seo Joon. According to the report at the time, Lee Byung Hun invested about 5 billion won (about $3.8 million), Hyun Bin about 2.9 billion won (about $2.1 million), Lee Min Ho about 2 billion won (about $1.5 million), and Park Seo Joon about 1.4 billion won (about $1 million). Additionally, Han Ji Min, Kim Go Eun, Han Hyo Joo, and Gong Hyo Jin also took part in the recapitalizing of Company K.
Company K issued another capital increase in August last year by securing an additional 100% stake in Yoo Jae Suk's agency, which led to Yoo Jae Suk and You Hee Yeol's investment in the company. You Hee Yeol has invested about 7 billion won (about $5.3 million), while the amount Yoo Jae Suk invested was not disclosed.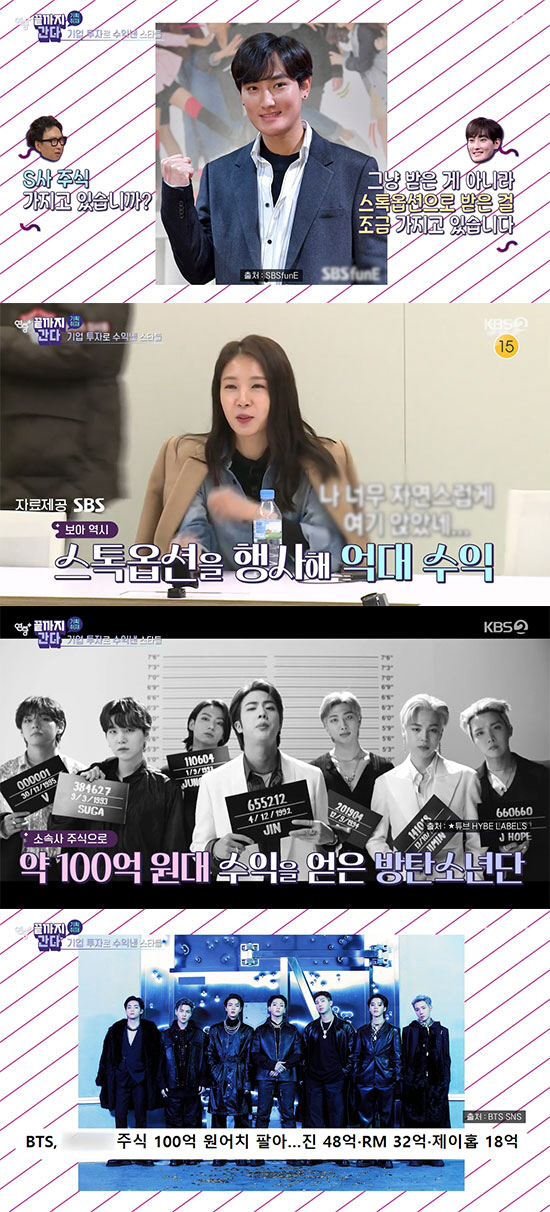 Kangta and BoA, two of the original members of SM Entertainment, were appointed as unregistered directors in 2014 and are receiving stock options periodically. As a result, Kangta gained a margin of 300 million won (about $226,000) and 400 million won (about $300,000) for BoA.
Lastly, in the case of BTS, the members sold Big Hit stock and bagged about 10 billion won (about $7.5 million). Prior to the company's listing, they received a total of 470,695 shares equally from Bang Si Hyuk. RM, Jin, and J-Hope sold their shares, profiting 3.2 billion won (about $2.4 million), 4.8 billion won (about $3.6 million), and 1.8 billion won (about $1.4 million) each.