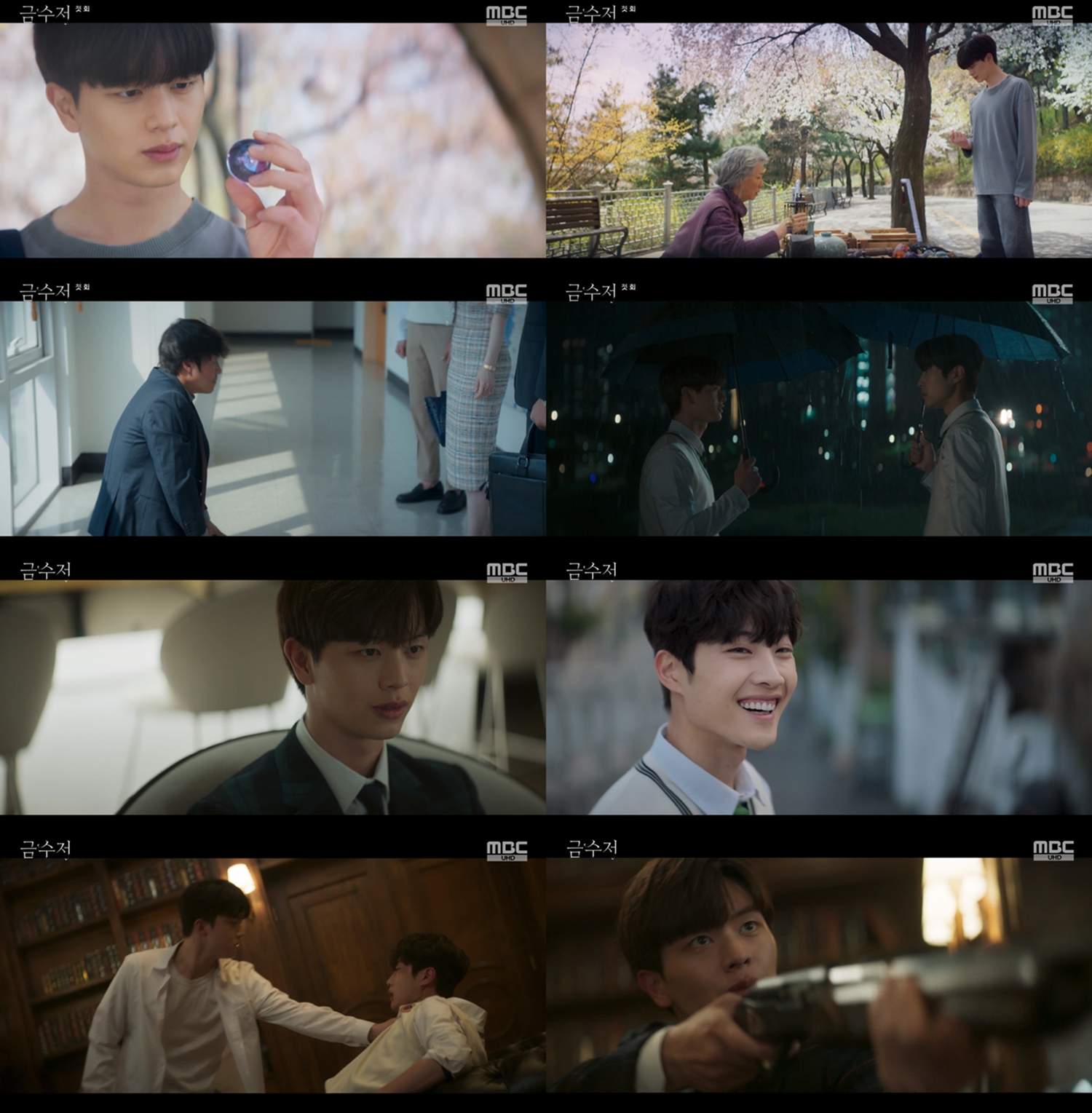 MBC's The Golden Spoon has heated up the small screen with its unpredictable story and fast-moving plot. It tells the absorbing story of Lee Seung Chun (Yook Sungjae) challenging a new life using "a golden spoon" as the medium. These are some of the best scenes in the first two episodes.
1. Do you want to be rich?
Walking down a street, Seung Chun finds a blue-lighting marble rolling in front of him, and following it, he ends up in front of an elderly woman who's selling items at a stall. She tells him to eat three meals with the spoon at the house of his friend of the same age, which will result in "switching their parents." Hearing this fairytale-like story, Seung Chun half-believing, half-doubting, buys the golden spoon and starts having meals at Hwang Tae Yong's (Lee Jong Won) house.
2. Brawl in the rain!
Tae Yong uses Seung Chun to draw up an investment report, and when Hwang Hyun Do (Choi Won Young) finds out that the report was actually written by someone else, he gets furious. Because of it, Seung Chun was accused of extorting Tae Yong's money and was on the brink of getting expelled. Seeing his father kneeling in front of Tae Yong's stepmom, begging for mercy, Seung Chun is swept with a sense of humiliation and anger. 
When Seung Chun threatens to expose the conversation between him and Tae Yong that he recorded, the two get into a brawl in the rain. Then, Seung Chun falls into the river and loses consciousness.
3. Their destinies have switched
Having eaten three meals at Tae Yong's house, Seung Chun successfully "switches" his life with Tae Yong's. After he's swapped bodies with Tae Yong, Seung Chun quickly adapts to his new wealthy life. Seung Chun bought expensive clothes and bags and sent them to his real mother Jin Seon Hye (Han Chae Ah), but she turned the gifts away. Viewers had no other choice but to sympathize with how Seung Chun was feeling upset.
On the other hand, Tae Yang was quite content with the warmth of his new family, even if everything surrounding him couldn't compare to what he used to have. However, his old self popped out from time to time, throwing him into a world of confusion. 
4. Exhilarating Revenge
After switching their fate, Seung Chun took on his classmates and teachers who had been tormenting him for a long time, presenting a thrilling satisfaction. In particular, recalling the numerous insults he had received from Park Jang Goon (Kim Kang Min), Seung Chun pointed a rifle at him, and in the end, a gunshot rang out, tripling the tension.
Source (1)