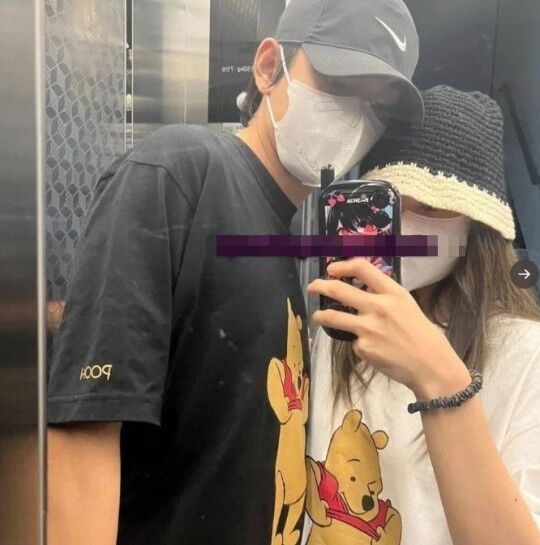 Concerns are growing as more pictures of BTS' V and BLACKPINK's Jennie are getting leaked. BLINKs and ARMYs are both calling out their agencies for lack of response to the ongoing rumors. On August 29th, a third picture of them caused an uproar online, featuring the two stars in matching Winnie the Pooh t-shirts posing for a selfie in a lift.
In May, the two artists first got embroiled in romance rumors as they were spotted together in a car on Jeju island. Neither of their agencies responded to the rumors at that time. However, on August 23rd, the rumors sparked once again after another new photo of them surfaced online. Then on August 29th, another alleged photo of the two idols got uploaded. With more photos being leaked, many raised concerns as Jennie's account seemed to have been hacked because all leaked photos seemed to have been taken from Jennie's iPhone.
The Twitter user who initially leaked the photo said that there are photos of them projecting intimacy with physical contact, and answered affirmatively to the question that asked if there were any photos of them making out and embracing each other. On August 30th, the user shared via a Telegram chatroom, I have never heard back from Jennie after sending several messages to her. I immediately contacted Jennie and V as soon as I saw this picture. However, the user did not mention anything about how they got their hands on the picture.
This ongoing issue is no longer about whether the two K-pop stars are dating or not. As more fans are showing concerns about the possible hacking of Jennie's account, it is now time for the agencies to respond to the current matter.
Source (1)