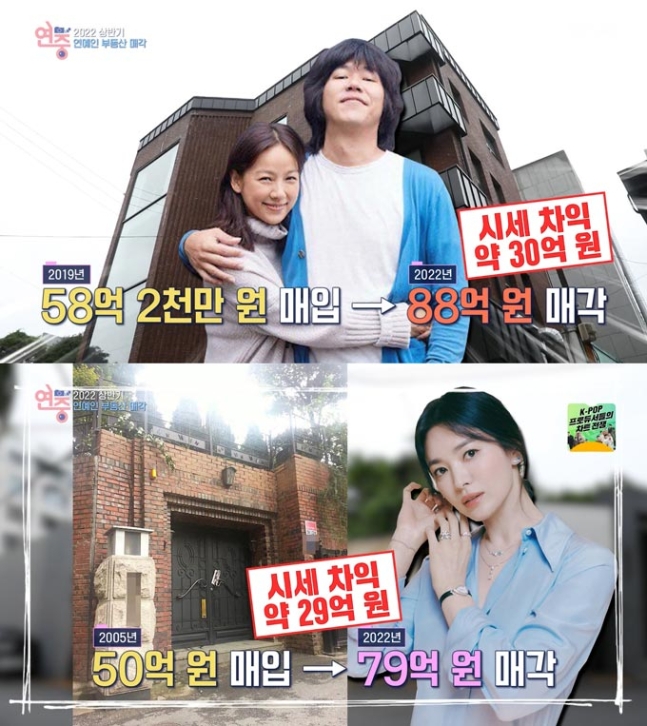 KBS's Entertainment Weekly covered the stars who made crazy profits through real estate investment.
Lee Hyo Ri and Lee Sang Soon couple sold their building in Hannam-dong, which they bought in 2019, for 8.8 billion KRW (about $6.8 million), making a profit of nearly 3 billion KRW (about $2.3 million).
Song Hye Kyo was also included on the list as she bought a house in Samseong-dong from Shin Ae Ra and Cha In Pyo couple in 2005 for 5 billion KRW (about $3.9 million). She sold this property in April 2o22 for 7.9 billion KRW (about $6.1 million), making a profit of 2.9 billion KRW (about $2.2 million). This building, however, has been taken down.
"The most preferred area for celebrities is Gangnam," a real estate expert shared. Despite the low liquidity, Gangnam is a stable investment area, according to his explanation. He then added that stars have recently shown interest in real estate investment in Hannam-dong, Yongsan-gu, Seoul and Seongsu-dong, and Seongdong-gu, all cities in Seoul.
However, according to the agent, the real expert in real estate investment was Rain, as he made about 30 billion KRW (about $23.1 million) by selling his properties.
Rain and Kim Tae Hee, known as "celebrity experts in real estate," bought a building near Gangnam Station in Seoul for 92 billion KRW (about $71 million) under their names last year. The couple also sold their home in Itaewon-dong for 8.5 billion KRW (about $6.6 million) and made a profit of 3.2 billion KRW (about $2.5 million).
However, there are criticisms surrounding celebrities' real estate investments as it's often viewed as a speculative investment aimed only to make easy profits.
In fact, Ryu Jun Yeol was caught up in a controversy when he bought a property in Yeoksam-dong using the name of his company and sold the building he built on that land property earlier this year. Due to the location of the building, the actor reportedly raked about 4 billion KRW (about $3.1 million), causing a stir. In response, Ryu Jun Yeol's agency explained, "The building was built for the purpose of the clothing business, but the business was put on hold. Hence the reason he sold the building."
Source (1)